"Have a blessed day," isn't a typical catchphrase, but for Ousmane Sy, it captures his friendliness in just the right way.
"I think his trademark is he always tells everyone to have a blessed night," his co-worker Quentin Aker said.
Sy and Aker are both valet drivers at the HERE apartments, located near the Oread Hotel on Indiana Street. Sy has worked with SP+, the valet driving company at HERE, since April 2009. Sy said that he has never once called in to miss work.
"[SP+] knows I work hard," he said. "I like to work, never be late, never call in."
As a resident of Kansas City, Missouri, Sy commutes to Lawrence four days a week, and works nights from 11 p.m. to 7 a.m. parking cars and interacting with residents.
Aker, a December 2016 graduate from the University, often works nights with Sy.
"[He is] always in good spirits," Aker said. "We always laugh together and have such a good time together, even if we don't say a lot. Just how he acts, as like a coworker, very compassionate, very funny, very friendly, just someone you'd want to be around."
When Sy clocks in on a typical night at work, he works with one other person, like Aker, or just by himself. He will not only park cars, but also pull cars down when residents request to have their car. On his off time, he watches Nigerian movies, according to Aker.
When he clocks out, he travels home to Kansas City for some much needed rest.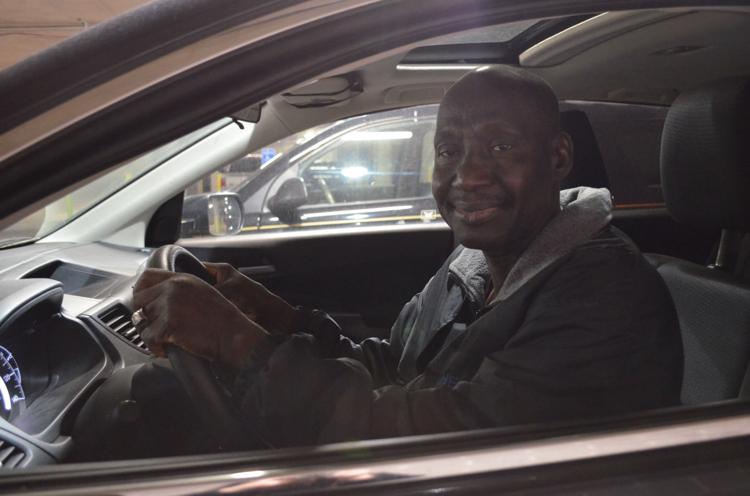 Sy is from Mauritania, a country in West Africa, and has lived in the United States since December 2000, and has been working since Feb. 2001.
Sy speaks many languages, including French, English and his native language of Pulaar. In Mauritania, Sy served as an elementary school teacher and even wrote his own book in the 1980s.
"When I was at Senegal, I didn't stop. I tried to help the refugees," he said. "I created, with the help of other teachers, we created one school, with teachers and refugees. I taught there."
As a result of a war between Mauritania and the neighboring country of Senegal, Sy was deported to Senegal in 1989. He lived there until December 2000, before he moved to the United States.
Sy said his family has always motivated him to work hard, especially his four sons, who live in the United States. He also assists his nephews and nieces following his older brother's death.
"Now, I don't work for myself, I work to help other people back home," he said.
Outside of work, Sy enjoys reading, studying and assisting others by donating clothing and shoes. Sy said that he has donated close to 1,000 pairs of shoes recently to people in need.
"I like to help," he said.
While at HERE, Sy emphasizes the importance of customer service.
"Any kind of job, is not for the owner … no customers, no job," he said. "Because [clients] don't park here, no cars, no job … [clients] give you the job, you have to respect them."
He always enjoys greeting his customers, and making sure they are happy.
"I know I have a problem with languages, to talk to people, maybe they don't understand me," Sy said. "But, however, I try to make them happy ... when they are happy, I am happy."
— Edited by Erin Brock