They said the 10,000 Japanese living there were to be protected, but the machine guns were pointed inward — facing him. The barbed wire was enclosing him, the guard towers watching him. What he remembered most was the extremity of the weather. It was hot, miserable, living above the lava beds in a desert in Southern Idaho. He remembers feeling lost among the miles of barracks, crammed into rooms the size of two-car garages, holding seven at a time, the public restrooms shared by hundreds. Former University professor and professional artist Roger Shimomura remembered that everyone he knew was suddenly living with him. At the time, we was only a toddler. 
His whole world was camp.
Shimomura spent nearly two years in Minidoka, Idaho, one of the 10 Japanese internment camps in the U.S. constructed to contain the Japanese population after Executive Order 9066 was enforced by President Franklin Delano Roosevelt in 1942. Along with extended family, Shimomura lived there with his parents. His mother also gave birth to his sister during his time in the camp, though at the age of 2, after leaving the camp, she died of influenza.
After being released from Minidoka, Shimomura didn't see the end of the racism that he had detected so early on, in fact, he never has. It's what he calls the feeling of being "forever foreign." 
Without fully realizing it, Shimomura began to paint his struggles of being a minority. 
"It never stopped," Shimomura said. "It never goes away. You always are reminded. To this day I'm reminded."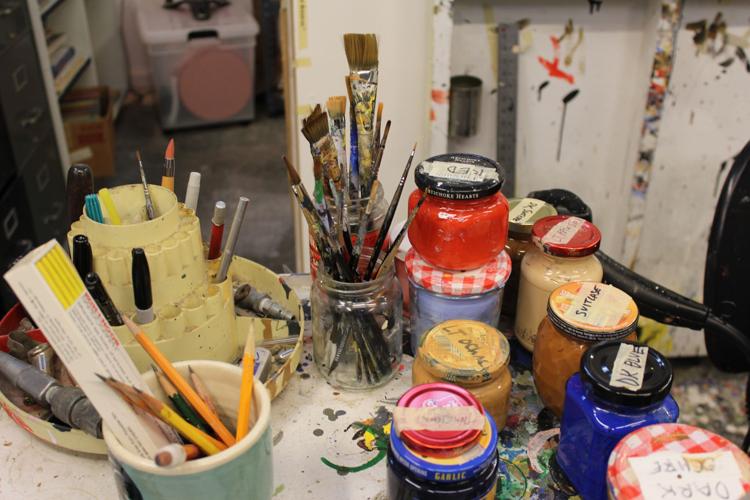 Shimomura works mainly in painting, printing, and theater performance. He earned his bachelor's degree in commercial design from the University of Washington, Seattle and then his master's in painting from Syracuse. His discovery of his proclivity for the arts was through trial and error. Realizing that he didn't work well with clients, Shimomura decided to abandon commercial design, and work toward painting professionally.
Shimomura's studio space at his home in Lawrence has lofted ceilings, every inch of wall space is covered with paintings of his Japanese grandmother, and of Muslims behind barbed wire or scenes of the internment camp.
"You're always making compromises in your work to please [clients]; obviously you had to in order to be paid," Shimomura said. "So you had to please your client and get your paycheck and then it was on to the next thing, and there was no period of reflection or discussion about what you did, or the significance of it. It was purely for money. I found that I didn't wear that well."
Shimomura said his first major pieces were noticed right away, though for the exact opposite reason that he had intended. His first works were mainly woodblock prints of geishas and samurais.
Shimomura's creation of classic Japanese art was intended to be a sarcastic way of doing what was expected of him based on his ethnicity. People would notice and come up to him and say, "I'm glad you're painting what you look like." Or, "Me and my wife collect paintings of them Geisha girls, do you do any of that?"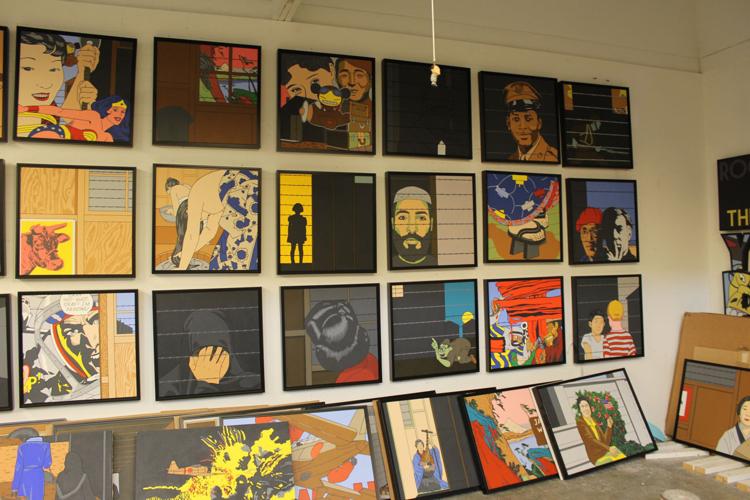 Shimomura was born and raised in Seattle. Eventually, he would receive a grant to go to Japan. He said at one point he realized how he wasn't as in touch with the Japanese culture as he had once thought. He didn't understand the language; he could communicate with others only as well as the other tourists.
The trip to Japan is what inspired Shimomura's satirical Japanese woodblock paintings, which he said was his "tongue in cheek way of ameliorating the agony of having the wrong identity of this country."  
The experiences he had with racism are what have lead Shimomura to begin to weave these social and ethnic concepts into his work.
In 1969, Shimomura made a jarring move to Kansas to begin teaching at the University. Quickly, he would learn racial issues were going to be the same no matter where he went.
Shimomura vividly remembers one of his first experiences in Kansas. He was going to Weaver's clothing store in Downtown Lawrence to buy a new coat for his wife.
Bringing his gift to the cashier, he was welcomed with a "Sorry, we don't take credit cards from Indians."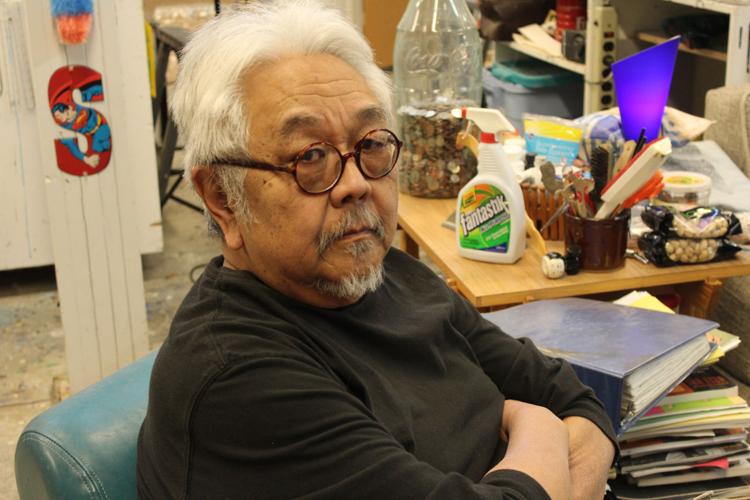 Facing ignorance and racism in the Midwest was a life changing factor for Shimomura, he said. Though he still faced some racism inside of the academic sphere, he prospered as a University professor.
When he first began teaching, Shimomura taught figure drawing and introductory drawing, and then shifted toward teaching painting classes. In the last 18 years out of the 35 that he worked at the University, he taught performance art as well.
For Shimomura, teaching performance was a personal interest that eventually became a major field of study for him, and he said the University was one of the first to offer a degree in performance.
Currently, Shimomura is working on a series that he has dedicated to his grandmother, and said he has titled this series of 12 paintings "Diary of a Midwife." The title is in reference to his grandmother's experience as a nurse in the Russo-Japanese war, and her life as a midwife, where he said she delivered a total of around 1,000 babies.
Shimomura was the last baby she delivered.
Alongside his current series on his grandmother, Shimomura is working on an entire wall of paintings that brings the viewer back to the internment camp. Many of the paintings in this series have the subjects behind barbed wire. One of the paintings even depicts crowds of people holding up signs reading, "Japs not welcome," "Stay away," "Go back to camp," on his return to Seattle after his release from camp.
"[The paintings] take a lot of liberties and sort of move into other areas that have to do with ethnic identity," Shimomura said. "Somewhere buried in all of those paintings is this idea of ethnic identity and how it ties into so many things, and then there's this particular nod to the people of Muslim faith, what they're going through. And there was this talk six months ago about putting them in internment camps. I mean, here we go again. The government has such a short memory."
Shimomura's experience in the Internment Camp continues to have relevance today, he said.
"It's as recent as today with the refugee and immigrant questions that are still being asked and challenged that relevance comes back," Shimomura said.
Krystal Hauseur, a curator for the Asian American Women Arts Association, has researched Shimomura's work extensively, and is writing a book covering his works and their meaning to society today.
When she was a student and writing her thesis, Hauseur said she became interested in Shimomura's work when he was a keynote speaker in 2002 for the College Arts Association.
"Roger's art tackles issues far beneath the surface of a canvas, what can immediately be visually consumed: issues that are often hidden and unspoken," Hauseur said.
Though Hauseur said sometimes tough subjects are viewed as off-limits to artists, she said Shimomura's work is a unique exception.
"Topics such as racism, discrimination, and stereotypes are often viewed as taboo, non-issues and/or brushed under the rug," Hauseur said. "Because he deals with such 'heated' topics, some may dismiss or look beyond his message. However, Roger's understands exactly how the gaze operates. One glance is all he needs to capture your attention and make you question what his art means."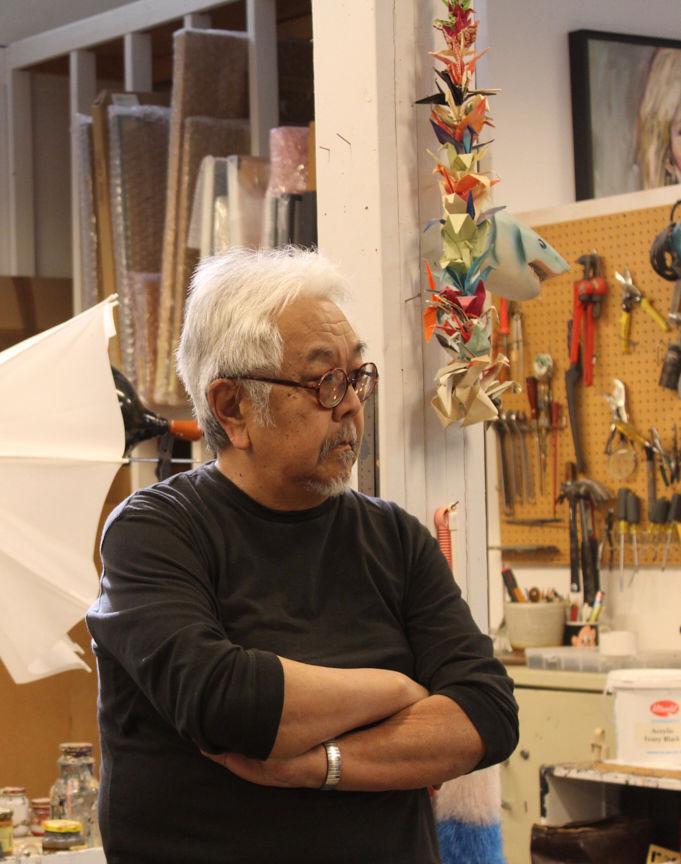 Passionate about educating the public about these concepts, Shimomura will be presenting his current series in April in New York City. For the future, Shimomura intends to further educate the public on the racism that ethnic minorities face, and raise awareness of the social issues that this country continues to face.
"As a minority, you're always trying to claim your territory," Shimomura said. "Your share of the territory. And it's always us against the white people. And that's what life has essentially been about and the work that I've done, trying to educate people on the subtleties of it."