Protests and activism have long been a part of the University's history. And while topics of protest change, and time passes, the way students express their activism seems to remain the same, according to Jane Tuttle, associate vice provost for Student Affairs.
"I think at their core [students] have a concern and they want to make something better. They haven't seen enough movement or enough action," she said. "So I guess I'd say that at our core we all just want to improve our chunk of the world."
She recalls that protests that happened around the 1990s were primarily focused on the war in Iraq. One of her tasks was to attend protests at Wescoe Beach and make sure that students were "staying within the parameters so they wouldn't get themselves in trouble," she said.
Tuttle remembers one specific protest in which it was raining and cold, and the person leading the protest was barefoot.
"I remember thinking 'this is a determined group of people,'" she said.
One aspect of protests that has changed over time, she said, is the way students organize.
"I think with social media, it's easy to get a crowd," she said. "Now is it easy to get a sustained crowd? I don't know."
Tuttle has worked at the University off and on since 1979. She started as a Resident Director in Ellsworth Residence Hall, and worked there full time until 1981.
Then she went back to school full time as a graduate student at the University, pursuing her Ph.D. in education in higher education. While a graduate student, Tuttle worked part time at Organizations and Activities – now the Student Involvement and Leadership Center – and the Information Center, for about five years.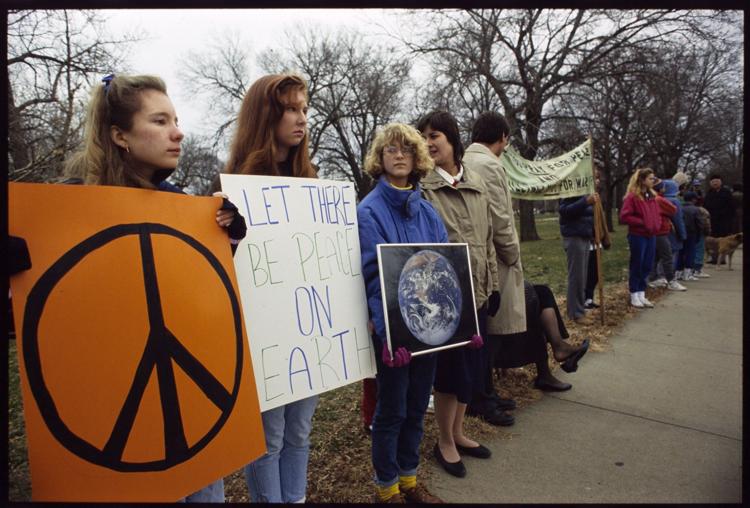 Tuttle and her family moved out of state for a period of time and eventually came back to Lawrence. She has been back to work at the University for about 20 years.
"In the time I've worked at KU, I have always found KU students as a whole to really care about the environment – that being KU – [and] to really care about the University," Tuttle said. "That's what I notice is that the students, even though they're protesting, they take great care of their 'home.'"
Tuttle said she believes that activism and protests are part of college.
"I think it's part of deciding what's important to your values and what you are willing to do for your values," Tuttle said. "And I still think you need to be respectful of your surroundings and your fellow students and the people who work here."