Kansas Athletics could cut an estimated 250 seats from the student section at Allen Fieldhouse following Student Senate's cut of the $7 athletics fee for the upcoming fiscal year.
During the full Senate meeting on Wednesday, March 20, Student Body President Noah Ries said in his officer report that Athletics responded to the proposed cut to the athletics fee by saying it would cut seats in Allen Fieldhouse or raise the price of the All Sports Combo to make up for the $305,000 loss in funding the fee provided.  
"I just want to be transparent in saying that it could happen," Ries said in his officer report.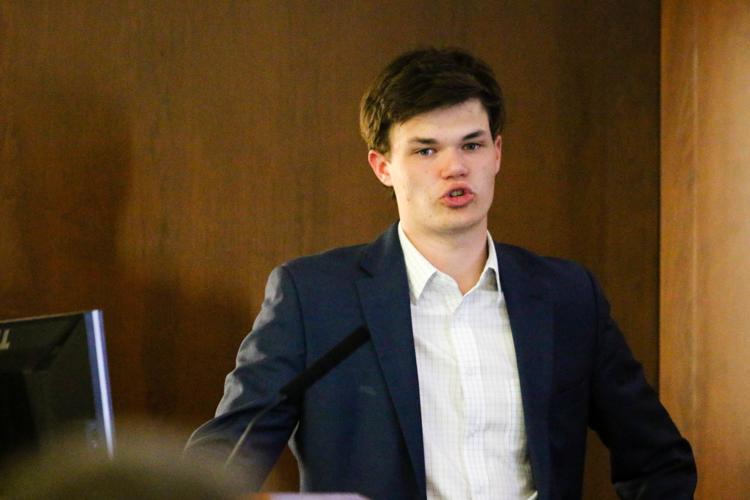 The cut from $7 to $0 passed Finance Committee on Wednesday, March 6, without any amendments to the fee.
The fee increased $10 from fiscal year 2019 to $492.95.
Ries, who supported passing the bill without the athletics fee, said the price of the All Sports Combo could potentially rise to $210 — a $55 increase.
While presenting the required campus fees, Finance Chair Seth Wingerter said because Athletics is so revenue-driven, the $7 fee was an "unnecessary subsidy left over from things necessary in the past."
"If it was taken away, it could be better allocated to other sources. It could more directly impact the lives of students," Wingerter said.
According to Wingerter, KU Athletics has a $100 million budget each year because it's so "revenue-driven."
While Athletics has not made any formal decisions, it is expected that it will take one of those actions in response to the cut.
"They're not just going to drop $300,000 and not try and come back with anything," said Chief of Staff Zach Thomason.
Some senators saw the decision from Athletics as a threat to students, should Senate choose to cut the fee.
"In a lot of ways, it is a threat toward student body... It's unfortunate, but if they want to try lash back at students for us trying to be fiscally responsible, that's their choice," said Trey Duran, director of Diversity and Inclusion and voting member of the fee review subcommittee.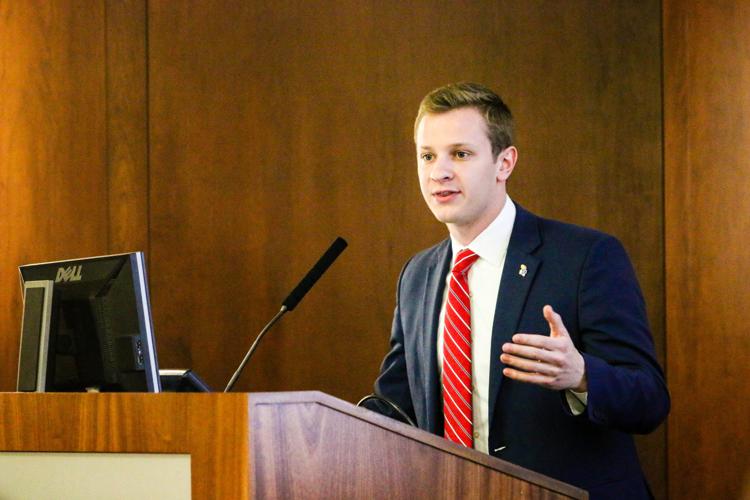 Chancellor Douglas Girod also has the power to reinstate funding to the bill, as then-Chancellor Bernadette Gray-Little did in March 2014 when Senate voted to lower the fee from $25 to $0. Gray-Little reinstated the fee at $7.
Student Body Vice President Charles Jetty said he and Ries would make sure Athletics does not remove the seats in Allen Fieldhouse. He said the increase to the All Sports Combo would not have as much of an effect on students as the $7 fee.
"I think passing this is the best negotiation tactic we can possibly pursue," Jetty said.
Jetty argued that a $55 increase to the All Sports Combo, which he said remains the lowest in the Big 12 Conference, would not affect low-income students like keeping the $7 athletics fee would.
According to Brittney Oleniacz during the meeting, the fee review subcommittee discussed cutting the fee in half or reducing it to $1 or $2, but she felt the $7 from student fees would be insignificant to Athletics as a whole.
"I think that most of the subcommittee felt that this is such an insignificant amount to them as a whole corporation that, giving them $1 is not worth it, it's not worth our student dollars" Oleniacz said.
The full fee review bill passed with 31 in favor, two opposed and two abstaining.
Associate Athletic Director Jim Marchiony was not available for comment by time of press.
This story is developing. It will be updated as more information becomes available.