The Lawrence City Commission revised a previously proposed ordinance to lower fines for first and second-time marijuana offenses to $1 and lower the age limit 18 years old — rather than the initially proposed 21 years old — during its meeting on Tuesday, March 19.
Regardless of the proposal, Mayor Lisa Larsen said the ordinance doesn't legalize marijuana in Lawrence.
"If you get caught, you're going to get charged," She said. "It's going to go on your record. And it's going to impact your ability to possibly get a job."
The commissioners voted 4 to 1 on the motion, with Commissioner Stuart Boley voting against.
The first two offenses for marijuana possession are misdemeanors at the municipal court, and the commission has the ability to suggest penalties. But the third possession offense becomes a felony and goes to district court, where the commission has no control.
During the meeting, Boley said he was concerned about the second offense only being $1, and said he was in favor of having it be a higher amount.
"There has to be some message that this path is progressively going to affect you," Boley said. "I don't want anybody to get lulled into a felony."
City Commissioner Matthew Herbert said he was in support of the penalty being $1 for both offenses, but agreed with Boley that Lawrence residents need to be aware the Commission does not have control over the third offense.
"We don't have control over [the third offense] from where we sit, but it is my hope that what we do have control over can help facilitate change at a higher level," Herbert said.
Laura Green was one of community members who spoke to the commission in favor of the ordinance during the meeting. She said evaluations should be removed for first-time marijuana offenses.
"This is just a possession charge and it doesn't really warrant an evaluation unless it would be coupled with something more serious like drinking and driving," Green said.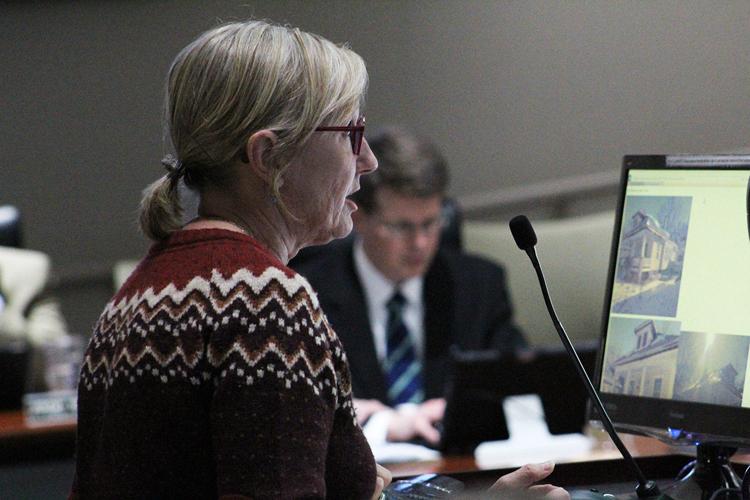 Kirsten Kuhn, another community member in attendance, echoed what Green said and added more about the evaluation.
"[The evaluation] really is a huge hindrance to people as far as the expense goes… we don't do any of this stuff for alcohol, this is definitely a pick and choose sort of issue," she said.
Glenn Hinkle, another community member in attendance, spoke against the ordinance. He said Lawrence should not jump on the bandwagon because other states are considering it.
"The weed you are contemplating sowing across our fair city will result in a harvest of pain, crime, desolation of families, denigration of children and increasing poverty among the poor," Hinkle said.
After public comment and discussion among members of the commission, the age was lowered to 18 and the fine made $1 for the first two offenses.  The commission is still working on the language of the ordinance in regard to the evaluation.
The commissioners leaned toward having the ordinance's language say the first offense "may" have an evaluation and the second offense "shall" have an evaluation, in order to give offenses a "stair step" approach.
Commissioners first discussed lowering the fines for first-time and second-time marijuana offenses during a work session on Feb. 12. Initially, the commission sought a proposed ordinance which would lower the fine to $50, similar to Wichita, but after a motion from Herbert the commission voted in favor of lowering it to $1.
During last night's meeting, Larsen said this ordinance is about justice.
"What I want to do with this is to bring some reasonable and equitable justice to this, that's what this is about for me," she said.
The ordinance will come back for a second reading after language is decided on.