Two years after the implementation of a controversial concealed carry law, some faculty and staff say they continue to feel anxiety and see it in their students during a panel Tuesday night in the Kansas Union.
Student Senate hosted the forum to reflect on concealed carry after Kansas state legislators lifted a college campus exemption from the Kansas Personal and Family Protection Act in July 2017. Panelists were from a range of offices and departments on campus, including:
Bulaong Ramiz-Hall, director of the Emily Taylor Center for women and gender equity
Darren Canady, professor in the English department
Deputy Chief James Anguiano from the Public Safety Office
Shawn Leigh Alexander, Faculty Senate president and professor of African and African American studies
Barbara Ballard, Kansas state representative and senior associate director of the Dole Institute of Politics
Adam Mansfield, staff attorney for Student Legal Services
David Hansen, educational psychology department chair
Certain locations in the state remained exempt from the law, including hospitals and community mental health centers. University buildings without "adequate security measures" permitted concealed carry ahead of the fall 2017 semester.
Open carry of firearms is also legal in the state but is against University policy. Those over 21 years of age can carry a concealed weapon most areas on campus, except for on the medical center campus, in areas with sufficient security measures such as metal detectors, and other specified restricted areas.
Kansas is one of only 10 states in the country that require state universities to permit concealed carry on campus. The others include Arkansas, Colorado, Georgia, Idaho, Mississippi, Oregon, Texas, Utah and Wisconsin.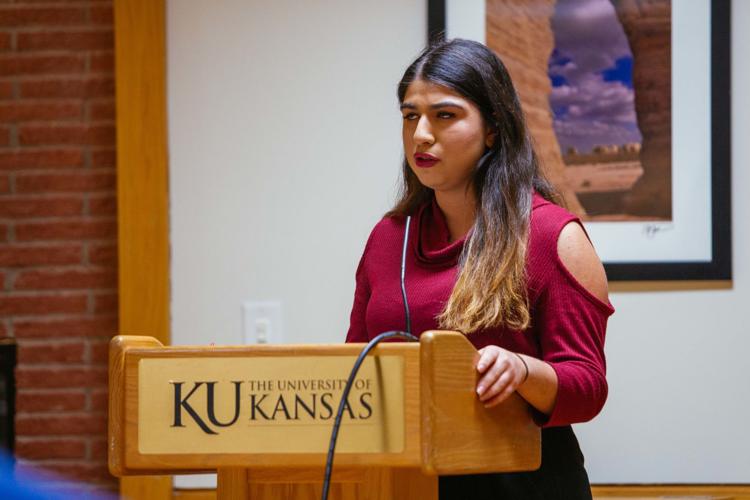 The panelists largely spoke on the issue concealed carry creates with free speech at the University of Kansas. Several panelists said they worried about discussing sensitive topics in class. They said these conversations could get heated and worried how concealed weapons could hinder those discussions. 
Others said they felt these anxieties when discussing a student's grade.
"I do have a fear on this campus of what it means when a student now confronts you and talks about a grade. And that discussion of not holding yourself down and saying, 'Your grade is this because you earned this,'" Alexander said. "Now the discussion is, 'What grade do you want?'"
Panelists also discussed issues concealed carry creates within communities with underrepresented identities. Marginalized students feel significantly less safe on campus than their peers, some of the panelists said, and concealed carry also creates a stigma around students of color who choose to carry.
"I think what we know to be true, as we've seen over the years, especially in interactions with police officers, is the characterization of black and brown bodies as inherently violent," Ramiz-Hall said. "I think what happens is because we are a country built on the foundations of white supremacy and anti-black racism, black and brown people who may have a gun for their own protection are actually deemed violent."
Alexander said he worries about self harm among his students even more so than an active shooter on campus.
"I've always tried to get the administration to wrap their heads around that and how they're going to talk to the public, the parents, the community known as KU after that happens," Alexander said. "I don't think they've actually thought through that process."