Campus-wide energy usage has been a leading cause of campus emissions, and the KU Center for Sustainability is working on multiple ways to reduce the amount of energy used.
According to the university's sustainability plan, energy from purchased electricity accounts for 87% of the $14 million utility budget each year, and nearly 66% of total campus emissions result from purchased electricity.
The Center for Sustainability has launched several energy conservation initiatives to reduce energy usage on campus as well as yearly spending on energy. For example: The LED replacement program, started in 2015, replaces all fluorescent light bulbs around campus with more efficient LED bulbs. Over 39,000 LED lamps have been installed around campus since Sept. 1, resulting in an estimated $352,390 in annual savings.
"Our goals are centered around energy usage," energy program manager Cassi Kuhn said. "Our thought is if we lower our energy usage, we'll save money and lower emissions."
To fund energy conservation and sustainability projects around campus, the University introduced a required student fee to be allocated to fund these projects.
"The fee is under the campus environmental improvement fee," said Jeff Severin, director of campus planning and sustainability. "A large chunk of that fee supports the KU recycling program. There's a second part of that fee that is called a renewable energy and sustainability fee."
Some students were open to the idea of paying for these sustainability projects as opposed to their money going to other areas on campus.
 "I feel like there's a lot of my tuition going towards wasteful things," said Karen McCain, a senior liberal arts and sciences major. "I would definitely support it being used for efficient and green infrastructure."
Senior philosophy major Sam Proctor suggested that the university look into newer technologies to be used in building designs in order to lower its economic effect. 
"I would like to see more push towards not using so much energy in whatever means it takes," Proctor said. "We could talk about putting solar [technology] on top of our buildings here."
As the University has added new buildings around campus since 2015, such as Capitol Federal Hall and the Earth, Energy and Environment Center, emissions have gone up due to more building circulation. Kuhn believes campus energy usage can be lowered to the state they were at before the University added these new facilities.
"We have a pretty robust goal to lower our energy use back to 2015 levels," Kuhn said. "Now that we've got all these new buildings on campus, we want to lower our energy usage back to that level and keep it at that."
In the fall of 2018, the Center for Sustainability released its first energy master plan to outline future goals in energy conservation. Becoming the first university in the state of Kansas to do so.
The University purchases all of its electricity from Westar Energy. Starting in fall of 2020, 100% of energy used on campus will be from wind energy coming from a wind farm being built by Westar in Nemaha County, Kansas.
According to Kuhn, converting to 100% wind generated energy would save over 125 million pounds of carbon dioxide from being released into the atmosphere, based on 2019 fiscal year energy numbers.
"It's really exciting to know that our electricity will be coming from a renewable source," Kuhn said. "I don't think that it means we can feel free to use all the electricity we want; we should still be mindful and good stewards and still cut out wasted energy." 
Transportation is another leading cause of campus emissions, accounting for 24.05% of total emissions, according to the university's sustainability report.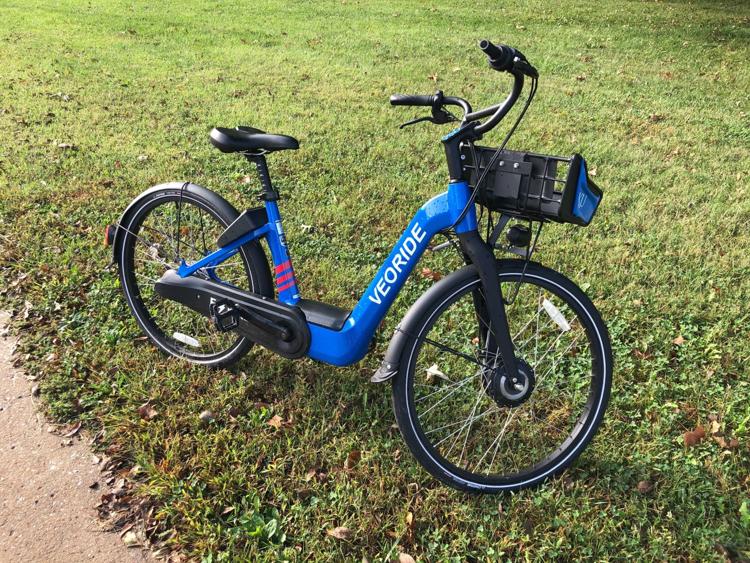 In 2018, the University partnered with VeoRide to unveil a new bike-sharing program. Promoting alternative forms of transportation was a goal listed in the sustainability plan to help lower emissions due to transportation and Severin said he believes the bike-share program has done that.
"The bike program is great in that it provides students with another alternative," Severin said. "Hopefully it encourages more folks to come to campus on the bus, knowing that when they get there they can move around by bike. The idea is to get more folks to think about alternative transportation."
McCain lives off campus and said she would like to see extensions done to the bus routes in order to accommodate a wider range of students. 
"I drive to campus every day and don't have a parking pass so it's kind of a pain," McCain said. "It would help if the buses ran by where I live."
Teaching students and staff ways to conserve energy and practice better sustainability habits is a major goal of the Center for Sustainability and an area it is constantly trying to improve upon.
"We are really trying to empower the campus community to be more sustainable," Kuhn said. "Whether that's in their decisions or work. It should really be integrated and baked into the pie and not something thought of after the fact like icing on the cake."
Senior biology major Eric Fuqua would like to see these new programs be pushed better to students and see more promotion about sustainability and efficiency efforts.
"I don't remember being told about any programs on campus," Fuqua said. "I learned about VeoRide from seeing them, but I don't remember any outreach to students."
A main goal for the Center for Sustainability is to work with First-Year Experience to "introduce sustainability initiatives and practices as part of new student orientation" and freshman pre-nursing major Autumn Gilbert believes those efforts have been apparent so far during her first year at the University.
"I think they're doing a pretty good job of promoting efficiency and sustainability," Gilbert said. "But there could always be improvements and they could always get better." 
In September, many KU students joined millions of others around the world in a climate strike to bring awareness to the increasing issue. Kuhn said she thought it was exciting and inspirational that students were willing to speak out about something they believe in.
"It really does show that people care and that something needs to be done right now and not in the future," Kuhn said. "Climate change is only going to continue and get worse, so we have to do something now."
One of the Center for Sustainability's goals is to "expand the capacity for sustainable initiatives through campus-wide networking and community outreach." Kuhn said she thinks these programs are a step in a positive direction, but knows there is more to be done.
"I do this job because I'm passionate about it and because I feel like I can make a difference," Kuhn said. "Keep pushing us to continue to do better and get involved and work on projects together, I think KU, as a campus, has a lot of possibilities for a lot of projects."