The construction that currently occupies the plaza outside the Kansas Union and a large part of Jayhawk Boulevard is on schedule to finish more than two weeks before fall classes begin.
According to Project Manager Gary Mohr, construction will be complete on Aug. 3. Only one aspect of the project — the seat wall on the south side of the plaza — is set to finish a bit later, but before classes begin on Aug. 20, Mohr said.
The project is the fourth phase in the Jayhawk Boulevard remodeling project which began in the summer of 2015. The current phase includes the portion of Jayhawk Boulevard directly outside the Union as well as the Union plaza itself.
According to the Union's Director of Building and Event Services Lisa Kring, these renovations include an almost complete remodel of Union's front patio area, formerly made of bricks and not in line with ADA code. On the former plaza, the bricks posed a "slip-risk" and created a large slant unmanageable for wheelchair users.
"It's not going to be brick anymore because we kept having people falling on their backsides. The brick was actually a huge slip factor," Kring said. "And for ADA, the cross slope on that brick was such that if you were in a wheelchair you'd be on a slant."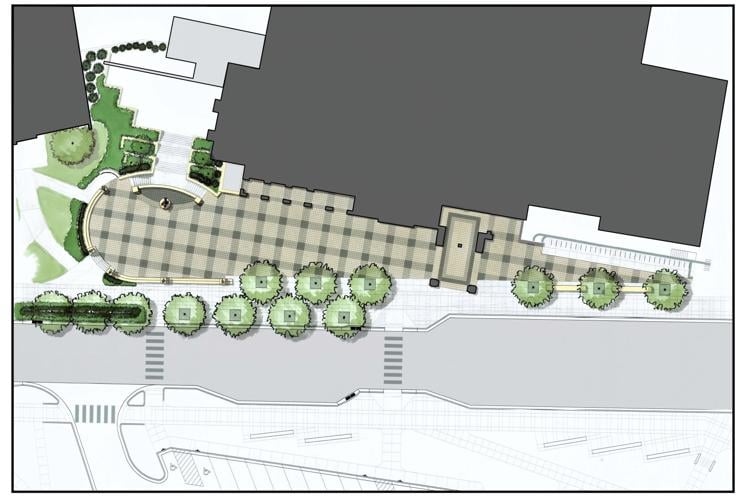 The new plaza will be made of pavers, include a curved wall of benches, have more lighting, and allow for more bus space. The Jayhawk that currently sits directly outside the union doors will be moved near the stairs on the side of the union as well as the flag poles.
This, Kring said, will allow for more space and still open access to the rest of campus.
Although the set up of the construction site is ever changing in terms of pedestrian detours around the chain link fences, a pedestrian walkway to and from the Union and the rest of campus will remain in place throughout the project, according to Mohr.
The final phase of the Jayhawk Boulevard construction will be completed next summer. According to Kring, the final phase includes the northern section of the Union's plaza, Jayhawk Boulevard up to the where it intersects with 13th Street, as well as the parking lot directly across from the Union.