Construction on 19th Street and Iowa Street has been extended into the 2019-20 school year, causing potential roadblocks for students.
Having previously been scheduled for completion in August around or before the time students return, the reopening of the intersection of 19th Street and Iowa Street has been delayed until October. Final completion of the project is scheduled for November, with the tunnel under Iowa Street opening at that time.
Beyond road closures and detours, the effects of the 19th Street construction have been felt in the Lawrence bus system. Bus routes 11, 27 and 38, having previously gone through the affected area, have had to work around the roadblocks causing the bus schedule to be slightly off.
"Any detours buses have to make to get around traffic can cause a ripple effect across the entire days' schedule," said Aaron Quisenberry, associate director of parking and transit. "At first they may be only a few minutes off, but, without the bus app being updated, bus times could be entirely unforeseeable as the day goes on."
In addition to some slower bus routes, the construction has caused a higher volume of drivers on 18th Street and could cause congestion in the upcoming school year according to Quisenberry.
"With one street down, that just transfers the load onto the next street on campus, and this could easily cause a bit more traffic on 18th Street," Quisenberry said. "There are plenty of other ways off campus, but we're just going to have to see how much traffic this causes."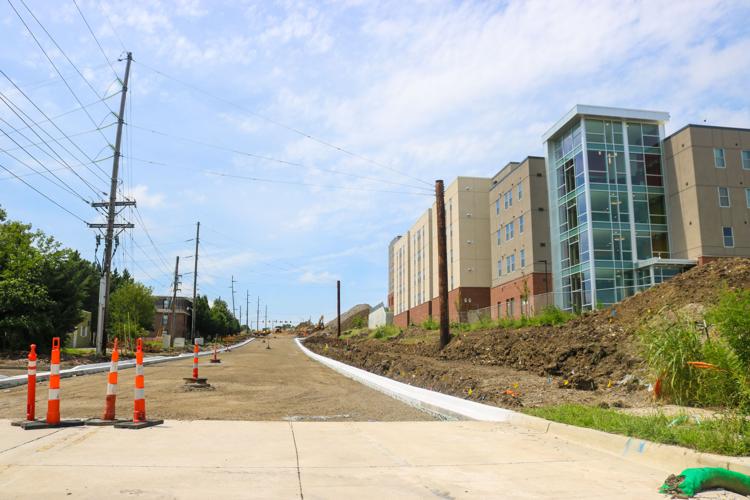 Delays in construction stemmed from multiple issues that plagued the construction crew throughout the summer.
Lawrence experienced an abnormally high amount of precipitation causing construction to be paused multiple times.
Beyond the weather, utility conflicts, design revisions and additional work have also caused construction to slow down at multiple points over the summer, according to project manager Andy Ensz.
"There have been a variety of reasons for the design revisions including utility conflicts, unknown site conditions and additional work," Ensz said. "But project costs remain within the budgeted amount."
The construction will not affect move-in day for Daisy Hill residents, according to Director of Student Housing Sarah Waters.