With concealed carry going into effect on campus in a couple of days, students at the University expect some minimal changes to the overall campus atmosphere.
Any person over the age of 21 has the right to carry concealed weapons in any building owned by the state that doesn't have the security measures required (metal detectors and security guards at any point of entrance). Universities and hospitals were given a four-year exemption that ends July 1.
A 2015 Kansas Board of Regents survey done across all universities in Kansas said that out of the 10,886 student responses, 70 percent wanted the law amended so that guns were not allowed on campus. Many bills in the legislature attempting to amend this law have failed to gain traction, making guns on campus a reality come Saturday.
"I think what we'll find, hopefully, is that we're going to be much the same as the rest of the Kansas and Lawrence has been for the past ten years," Campus Police Chief Chris Keary said.
For many, the exemption ending won't change much, if anything, in the campus atmosphere. Sophomore Travis Perkins, from Maize, said he doesn't think anything will change after this Saturday.
"I think after the first year of it nobody's gonna care because they're just going to get used to the fact that people might have guns," he said.
The fact that people are allowed to carry handguns open and concealed outside campus grounds is a reason why Perkins thinks this won't change. That and the fact that people won't know who is carrying a weapon, he added.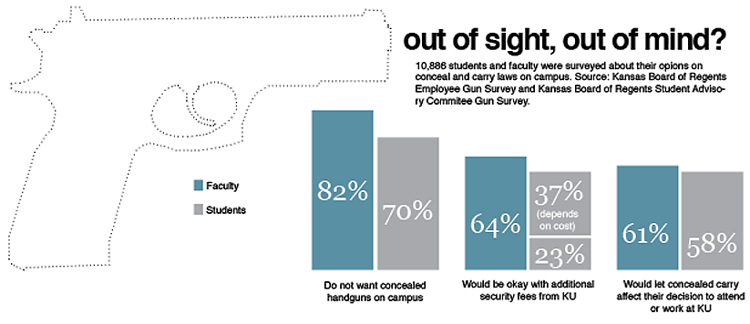 At the University of Kansas, in the fall of 2016, 41 percent of undergraduates, or 7,637 students, were 21 or older, making them old enough to carry a weapon. This number does not take into account international students who are not allowed to carry concealed weapons. Although there were 6,155 graduate students, over a sixth of them were international students.
International students, who make up around 9 percent of the University's total population with 2,300 students, could feel particularly unsafe with the carrying of concealed weapons on campus. 
Ed Saragih, an international student from Indonesia who graduated in May, said international students face not only coming to a country with a radically different gun culture than their own, but the overall experience with them might be completely different from their home countries.
"One reason why people decide to go to the United States for education is because they know it's at least a safer place than the area near where they could go to college in their country, and if that feeling of safety is being discounted, what else do they have?" he said.
Charles Olcese, director of International Student Services, agrees that it all comes down to safety. Amidst dealing with executive orders and regulations, the spring semester also brought more students inquiring about concealed carry and how it would affect them.
To assuage their feelings, his office hosted a variety of forums, one which included Chief of Police Chris Keary. Olcese said that the fact that international students, as individuals with nonimmigrant visas, are not allowed to possess guns is another point of worry for them.
"That is another level of anxiety or feeling vulnerable, so what we tried to do was to address that, trying to put that in context for them, and one of the things that the police chief was very helpful in doing was in articulating that while campus carry or concealed carry is new to the campus, it has been the law in Kansas for five years," he said.
Some frequently asked questions about concealed carry on campus.
Still, for Saragih, concealed carry coming to campus was what propelled him to finish college a year earlier than expected.
"My experiences with guns are not experiences where guns are fun, or guns are the best thing in the world," he said. "Guns are terrorizing people, that's what I know of guns."
Cody Campbell, a junior from Wichita, said, personally, his fear comes from the easy access to guns.
In 2015, Gov. Sam Brownback signed a bill that allows people to carry concealed weapons without a permit. This might be another factor to explain many people's uneasiness, much like Campbell's, when it comes to concealed carry being allowed on campus.
After July 1, Saragih said, he expects students to be more cautious of how and what they talk in class discussions, especially in controversial topics. If he hadn't been able to graduate earlier, he said he certainly would have taken more online courses or courses where attendance was not required.
The upcoming campus carry policy has driven some professors to rethink the way they teach, including offering virtual versions of the classroom or temporarily not teaching classes at all.
Nic LaPonte, law student from Seattle, who spent five years in the army, said carrying a gun is a big responsibility, and whoever who does it needs to be aware of this responsibility.
"Unless you've had a tremendous amount of weapons training, of handgun experience, of that sort of experience with those weapons, it can be seen as more of a novelty than it can be a serious responsibility," he said.
Ultimately, Perkins thinks that the number of people who will carry would be "minuscule," an idea Olcese agrees with.
"You won't know people have guns, it's not open carry; It has to be concealed," he said. "It really should be business as usual, it's just a new reality for us, and for many of us it's a scary reality. It means something more philosophically more than it does practically."
LaPonte said that it's an "existential threat," where your feeling of safety is stripped away. He said his only worry is people using this in a negligent manner.
"I could tell you even people who are in the service, who get an enormous amount of firearms training still have issues of negligent discharges, we still have issues of improper handgun and firearm safety," he said.
The University needs to implement programs and trainings to reduce the risks of accidents happening, LaPonte said. Perkins agreed.
"I think the University should be very open about what they're doing to make sure that for those people who want to bring guns on campus have the proper training and know what they're doing," Perkins said.
The University released more details on implementation procedures where a required training for staff, faculty and students is mentioned. However, it does not say when or how these trainings would happen.