Max Garcia's rented office space sits just off of 25th and Iowa streets. It's a small space, down the stairs in the Holiday Plaza Offices, underneath the Douglas County Democrats' office, in a dimly lit hallway behind a securely locked door.
Garcia, a Lawrence resident, has owned Max Tactical gun shop since July 2016, and has been working to grow the business ever since.
"I started small scale," Garcia said. "My business was based as a website. It was going to be bringing firearms in and transporting them all over the United States, but it didn't quite do that. I get more business from local people."
Garcia said his most popular guns purchased are typically pistols for concealed carry or self defense, but he has also seen a spark in popularity among the AR-15, a widely debated semiautomatic gun used for hunting and target shooting.
"I have two boys in the military and they fire that on a regular basis. It's reliable. It's a very accurate firearm, and it's just like the trends," Garcia said.
However, this popular gun used for hobby shooting has been surrounded by controversy lately in the conversation surrounding gun laws in the United States and their correlation to mass shootings.
---
A New Fight for Gun Laws
On Feb. 14, 17 people were killed in a shooting at Marjory Stoneman Douglas High School in Parkland, Florida, carried out by a former student with an AR-15. Following one of the deadliest school shootings in history, students from across the country took to social media to express their anger and determination to the public.
Emma Gonzalez, a student from Douglas High, has reached over one million followers on Twitter for her outspokenness about her experiences and determination for change.
As of today, @Emma4Change now has more followers than the @NRA. It happened in less than two weeks.

This is a movement.
This is the future.
Change is now. pic.twitter.com/8yHSpq9Zac

— Beau Willimon (@BeauWillimon) February 24, 2018
Students such as Gonzalez have brought to light the long discussed, but rarely acted on, issue of gun control and the subsequent debate over the Second Amendment, training, background and access to firearms such as the AR-15.
Because states are given the right to pass their own laws on guns, there is not much consistency across the country or restriction from the federal government. This makes Gonzalez's and her classmates' fight on social media a tool for reform from their respective representatives and government and also to rally their peers from all areas of the country.
---
State Politics and Policies
In the state of Kansas, gun laws are particularly loose compared to the rest of the country, according to Kansas Senator Barbara Bollier (R-Mission Hills).
"We are a typical red rural state in our gun laws," Bollier said. "I had never put up a side-by-side comparison, but we certainly would be on the side of the NRA. Basically, our laws follow what the NRA wants at this point."
According to the National Rifle Association, Kansas does not require a licensing of an owner, a registration of the firearm or a permit to purchase or carry firearms, including rifles, shotguns and pistols.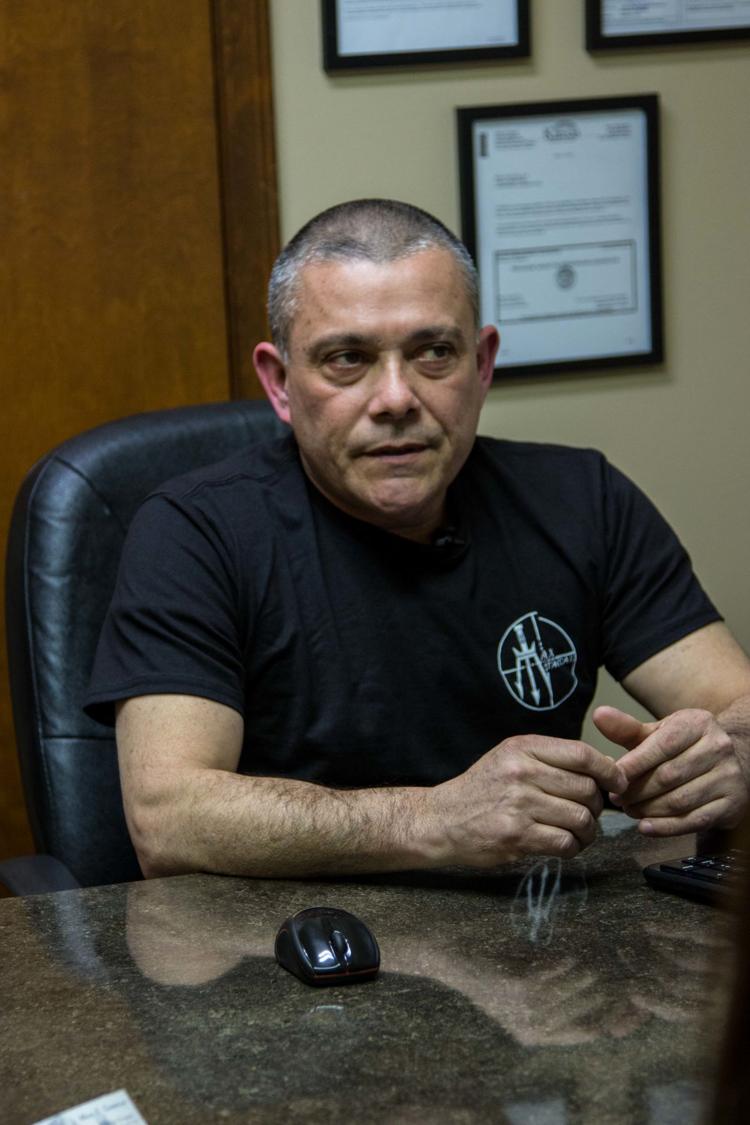 Kansas does require background checks of storeowners like Garcia. It looks for records such as domestic violence reports and warrants, but, according to Bollier, there are still loopholes.
"If you purchase a gun through sporting goods stores, yes, there's a background check. But if you purchase a gun at a gun show or online, there is not a background check," Bollier said. "So, clearly, there's essentially not a background check."
Additionally, the current law states that those under 21 years of age cannot purchase firearms "with a barrel less than 12 inches." This means that those under 21 are unable to purchase pistols, but can purchase shotguns and rifles.
"I think it's just because hunting, you hunt with a rifle," Garcia said. "You don't have pistol safety [courses], you have hunters' safety for a rifle."
Though Kansas has long been a state known for these lenient gun laws, one of the most recent changes has been concealed carry on campus. After a four-year exemption period beginning in 2013, the University was required to permit students 21 years or older to carry concealed weapons in most locations on campus starting this past July, as outlined by an amendment to the Kansas Personal and Family Safety Act. This law has not been updated on the NRA website.
According to the KU Public Safety Office resource page, aside from athletics facilities such as Memorial Stadium and Allen Fieldhouse, and "secured areas in the facilities of university police," students may carry concealed firearms on campus, and staff and faculty members cannot prohibit concealed carry in classrooms.
The University does not permit open carry and does not provide "publicly available secure storage."
KU PSO declined request for comment.
---
The University in Adjustment
Since the enactment of the campus carry law, the University has taken action to ensure the safety of students, faculty and staff. In June of 2017, PSO made plans to hire three new security personnel and three new police officers, the Kansan reported.
"We want our officers out of the cars, walking around in the buildings, interacting with people, so that it gives people a sense that there are people around," University Chief of Police Chris Keary told the Kansan in July 2017.
In addition to this, the University has added "adequate security measures," such as metal detectors, at the entrance of event locations and hung signs alerting students of insufficient storage for firearms.
The University also offered optional concealed carry trainings, and the KU International Student association and Saudi Student association have begun hosting panels to give international students in particular a better idea of what concealed carry on campus involves.
Since the law was enacted, overall crime on campus has gone down around 13 percent with no weapons violations in the past six months, the Kansan reported.
However, an unattended gun, which was later reported as stolen, was found in a Wescoe Hall bathroom on Sept. 5, 2017, and shell casings were found scattered near Strong Hall on Oct. 2, 2017.
---
The Future of Firearms
Now, the Kansas Legislature is looking to pass a bill which would make firearms even more accessible to citizens.
The Kansas House of Representatives passed House Bill 2042 on Feb. 1, which would change the legal age to carry weapons from 21 to 18. It is now being discussed in the Kansas Senate.
Harrison Hems, the chief of staff for Senate Majority Leader Susan Wagle, had not responded to a request for comment at the time of publication.
Bollier, on the other hand, is pushing for her own Senate Bill 431, which previously died in Senate after a turnaround deadline and was later reintroduced.
This Extreme Risk Protection Order, more commonly known as a "Red Flag" bill, would give courts the ability to temporarily remove a gun from someone showing violent behaviors either to themselves or another person. Though Bollier's bill is primarily meant for domestic violence and suicide prevention, some suspect a bill such as this could prevent shootings like the one at Douglas High, in which the shooter had previously shown a number of warning signs of future violence.
"It provides a process for a family member who is concerned that someone with a gun is at risk to him or herself or to others," Bollier said. "If they're of age and you can't legally remove it from them, then you could have intervention through a judge."
Connecticut, Washington, Oregon, California and Indiana already have Red Flag laws in place, and at least 19 legislatures across the country are currently looking at implementing their own.
However, the legislature is split on the future of state gun laws, with HB 2042 passing in the house in a 76 to 44 vote and SB 431 still in committee. In light of this, Bollier had one message for University students: get involved.
"Your vote matters. So, don't give it away," Bollier said. "You hold this world in your hands and you have absolutely as much power as I do with your vote. So use it and get out there and help candidates that you want to see elected."
— Edited by Hannah Strader