Members of a previously approved ad hoc subcommittee that was formed to check the integrity of Student Senate elections have been fully appointed, allowing the subcommittee to have its first meeting Thursday, March 28.
Membership includes Nick Hinman, who initially proposed the subcommittee; Derek Dunn, from the Student Rights Committee; Max Schieber of the University Affairs Committee; and Phoenix Schroeder of Diversity, Equity and Inclusion Committee. Student Rights Committee chair Sophia Dominguez-Heithoff will act as oversight to the committee.
"This has the opportunity to turn into a discussion with more than one voice talking to us," said Hinman, a sophomore senator representing freshmen and sophomores in the College of Liberal Arts and Sciences. "It can become a discussion of what we can do, what perspectives are not being heard and what perspectives need to be heard."
Members will discuss the subcommittee's proceedings at their meeting on Thursday, as well as elect a chairperson and secretary.
Hinman said members already established the idea to go back through up to a decade of Senate elections to look at underlying issues in the establishment as a whole, rather than looking solely at the 2019 election cycle.
"The intent is not to target people," Hinman said.
Hinman proposed the subcommittee to Student Affairs following the establishment of only one Senate coalition in the 2019 elections. He said he wanted to use the subcommittee to ensure the accessibility of Senate.
For members of the subcommittee, being involved in it means a way to better the future of Senate.
"I think democracy thrives when you have competition," said Schieber, a freshman senator. "And so, I want KU's democracy to thrive. Ultimately, one coalition is not going to kill Student Senate, but I think it is going to hurt Student Senate, and I want to make Student Senate better."
Senate elections have rarely seen only one coalition in the running — in the past decade, every election has had at least two coalitions run, and both the 2017 and 2018 elections saw at least three coalitions, according to KU Info.
However, Hinman said this unique circumstance could draw concerns of potential candidates feeling unable to challenge candidates who are "handpicked by the current administration."
"This one coalition is of course not a direct sign that something is wrong, but we can't just assume the reason no one else is running is because everyone loves these candidates, and everyone loves this coalition so much," Hinman said. "That's not in good democratic spirit."
Student Senate Rules and Regulations (SSRR) currently require a subcommittee to be established every other year to investigate the equity of the elections code throughout the fall semester, with the next required semester for the subcommittee being fall 2019.
Chief of Staff Zach Thomason, who is also serving as the campaign manager for Crimson+Blue, said the subcommittee established in SSRR would allow a more thorough look into the election code while better representing the committees across Senate.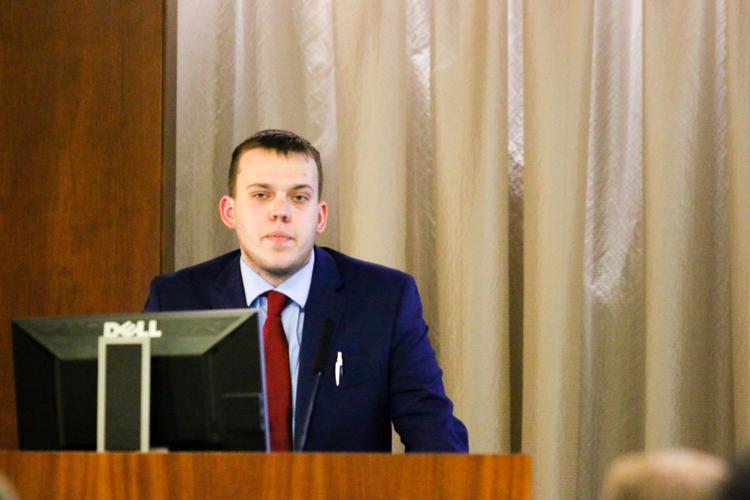 The ad hoc subcommittee allows three members from Student Rights, one from University Affairs and one from DEI, while the established subcommittee in SSRR allows for one representative from each committee as well as select Senate executives. Thomason said this committee would allow for better representation from the committees, as Student Rights would not have a "supermajority."
"To me, this kind of adds a layer of unnecessary action that will be more thoroughly and more equitably answered next year," Thomason said.
Thomason also said he does not believe there is a lack of accessibility in Senate, as Senate has seen some growth over the past several years, despite a general trend of decreased involvement across student organizations.
"Everything is open to exploring the cause behind things, but I don't think the situation is what it's being made out to be," Thomason said about the single coalition. "I think that, you know, the poor attendance thing, that more than anything is just a product of apathy on this campus."
While Thomason said he doesn't believe there are significant accessibility issues within Senate, he said, in part, the creation of the subcommittee speaks positively on Student Senate in itself.
Unopposed KU student body presidential and vice presidential candidates sit down to answer questions about their campaigns, announce a portion of their platforms and push for students to still vote in the election. 
"I think that senators should feel empowered to take these approaches and invest in these concepts. So, I don't know what this committee is going to come up with, if they come up with nothing, if they come up with the world and then some. I think that it exists because people think it needs to exist, and that in itself speaks to the beauty of Senate."
The subcommittee will also look into actions taken within the past year involving elections that senators believed to be "ethically questionable," Hinman said. Though he declined to provide specifics on these actions, he said he is confident in what the subcommittee will find.
"I can't really lie and say that there aren't certain things that have happened this year under this administration that have prompted me and a lot of other people who are not serving on the subcommittee to become concerned," Hinman said. "Whether they're expected part of the culture or not, they're certainly not good for the reputation of Student Senate, so some things need to change."
All subcommittee meetings and findings will be open to the public. The first meeting will be at 5:30 p.m. on March 28 in Anschutz room 429.