Eight members of the Graduate Teaching Assistants Coalition (GTAC) sat down with Interim Provost Carl Lejuez during his office hours Thursday, April 18, to present a list of recommendations to "improve conditions at our University," members said. The members were invited by Lejuez following their demonstration at the previous budget conversation in February.
"This is intended to help you understand what it's like to be us and the context of our asks," said Owen MacDonald, an MA student in the Department of African and African American Studies.  
Mikaela Warner, a graduate teaching assistant in the English department, continued following MacDonald's introduction and shared statements from University workers and students.
"When you say that taking a pay cut would be a symbol, we feel like you don't understand what it's like to live under the poverty line," one of the anonymized statements Warner shared said.
Lejuez earns about $410,000 per year in his salary as interim provost, according to a letter from Chancellor Douglas Girod to Lejuez, which offered him the position of interim provost. It's likely whoever receives the provost position permanently would have a higher salary, Lejuez said.
GTAC said if Lejuez reduced his compensation package to the amount suggested by faculty, it would create about $200 per graduate teaching assistant, Warner said.
"This isn't a symbol — it's real money to workers who are as underpaid as we are. And this isn't just about us — our living and working conditions are undergraduate learning conditions," Warner said. "We cannot do our best work under these conditions, and our students deserve our best work. Together, Dr. Lejuez, we have a shared mission to provide the best possible education for our undergraduate students, and I know that you care about that responsibility as much as we do."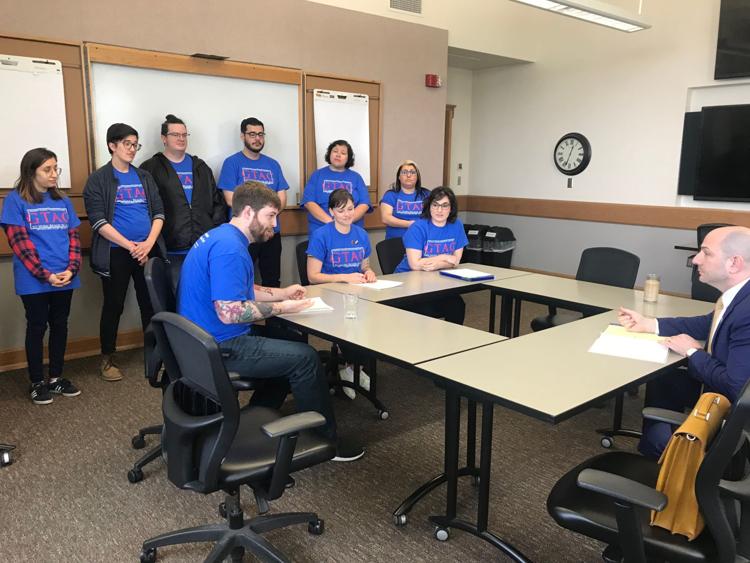 Hannah Allison, a doctoral candidate in the Department of American Studies, presented the full list of recommended changes to Lejuez. The list is as follows:
1. Releasing all currently requested information and issuing a public statement to administration to not fight information requests by April 24
Allison said parts of administration have become increasingly hostile to information requests.
"They've repeatedly required Faculty Senate to submit open records requests, even though Faculty Senate is an internal part of the University," Allison said. "Some administrators have also illegally denied other open records requests, which doesn't feel good or look good."
2) Convening a Grievance Resolution Committee working group
Last summer, the University and GTAC agreed to form two working groups — one to consider graduate teacher term limits and one to write the details of the Grievance Resolution Committee. Though both entities came to an agreement months ago, the University spent almost the entire academic year refusing to meet with the Faculty Senate and Student Senate appointees to the Grievance Resolution Committee, Allison said. Grievances are pending that should have been resolved.
GTAC recommend the committee exclude Ola Faucher, director of Human Resources at the University, as she "has captained the many obstructions that these appointees have faced," Allison said.
When reached, Faucher declined to comment. She said she did not know enough about the situation to do so.
"This is the first time I'm hearing about this," Faucher said.
GTAC said they want the first meeting set by May 1, and for it to take place before June 1.
3) Restructuring committee focused on graduate issues
This step proposes restructuring the current committee considering graduate issues. The 40 person committee, Allison said, has fewer than five graduate students and no graduate teachers.
It proposes restructuring the committee to include a minimum of 50% graduate students and graduate workers by May 15.
4) Working on health care
"Health care is an ongoing issue for graduate workers. During our last two rounds of contract negotiations, when we have tried to discuss healthcare, the University response has been, 'Well, that's complicated,'" Allison said.
GTAC is proposing article seven of the GTA contract be reopened, so solutions for work healthcare at the University can be found, Allison said.
5) Upping pay by 3% for all faculty workers and support staff workers by June 15
The last step GTAC recommended Lejuez take would be to increase faculty and support staff pay by 3%.
"Of course, pay is always an issue. As we've pointed out, GTAs make significantly less than a living wage," Allison said. "But unlike every other worker on campus, at least we got a raise this year. Because the cost of living increased by 2.8%, everyone else took a de facto pay cut."
Following the presentation of the recommendations, GTAC members in-attendance introduced themselves individually to Lejuez, and then they left.
Lejuez said following the presentation he was happy members of GTAC scheduled a meeting with him and that he would read their list of recommended steps. 
"I always want to have a dialogue. We always have to be to be open," Lejuez said.
—Edited by Nolan Brey