In collaboration with the University of Kansas and City of Lawrence officials, the 19th Street construction project began March 11 — the same week students left for spring break.
Upon returning, students were greeted by the closure of 19th Street from Naismith Drive to Ousdahl Road, and Stewart Avenue to Iowa Street: phase one-A of the project.
"The city worked with KU to determine phasing of the project and recommended starting during spring 2019 semester in order to be complete by move-in for fall 2019 semester, instead of starting construction in summer and going into the fall semester," said Andy Ensz, project manager of the construction.  
Although the construction was a surprise to students, not all reaction has been negative.
Olivia Jones, a sophomore journalism student from Maine, sees both the pros and cons to the construction.
"I think like most construction sites, it's super annoying and inconvenient while it's happening, but ultimately, is beneficial for the community," Jones said. "19th Street construction is no different."
Due to the construction, two campus bus routes have been rescheduled to accommodate students during the closure, according to a KU Parking and Transit alert on the MyBusLawrence app.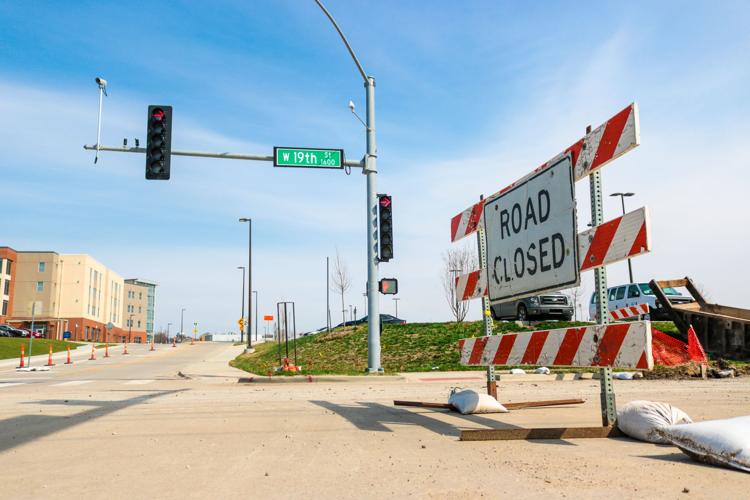 Jones said she still felt out of the loop on what was going on with the construction, though.
"This felt pretty random and it's not super clear what's happening," Jones said.
However, Aaron Quisenberry, associate director for KU Parking and Transit, said his team is working daily to continue providing construction updates for students and staff.
"We meet with our bus provider weekly, and earlier this week ... I asked our bus provider how things were going with the reroutes," Quisenberry said. "[They said] everything seems to be going OK, no complaints since we posted info at the Naismith Hall [bus stop] sign."
Quisenberry also holds meetings to hear updates on the new routing schedule from drivers.
KU Parking and Transit is working to find transportation accommodations for students during the construction to ensure they can still make it to campus.
"We will try to find a route that is relatively within the same distance to keep things on time," Quisenberry said. "Our goal is to get students to and from class and to and from campus."
For Quisenberry, beginning construction during the spring semester rather than over the summer was a question of accessibility to new students. It made more sense to start the project sooner with students who understood the bus route than when incoming freshmen arrived.
Quisenberry was worried about having new students coming to learn the bus routes in August and then having to "retrain them in October" when the street would have reopened.
"Logistically from our standpoint, it just made more sense for them to start the project sooner," Quisenberry said.
The construction crew is close to finishing phase one-A, which will open up the re-paved road between Naismith Drive and Ousdahl Road, before moving on to phase one-B of the plan.
According to project plans, there are three parts to the construction. The final part of the project — phase two — includes repavement of Stewart Avenue and the fire department parking lot, as well as the completion of an underground tunnel that connects west campus to main campus underneath Iowa Street.
"The tunnel will provide access from the northeast corner of 19th and Iowa to the southeast corner of 19th and Iowa, and from the southeast corner of 19th and Iowa to the southwest corner of 19th and Iowa," Ensz said. "It will help connect the main campus to west campus without having to cross Iowa Street."
In addition to affecting students, fire division Chief of Prevention Chris King said he is having to regularly modify fire truck routes due to closures in case of emergencies.
"Part of that whole planning process is that there is a coordination occurring. The first phase was down from Ousdahl to Naismith and that was closed," King said. "So we, the fire department, were able to coordinate with the contractor and the city department to maintain one access through there."
This planning allows the department to be more prepared for emergencies that could occur. To do this, the department uses a vehicle tracking system, which allows dispatch to locate the nearest team and send them to the location. This type of planning allows firefighters to lower their response time to fires.
"The ability to do that allows us to continue providing our services in a timely manner, and I think everybody recognizes that," King said. "There are no problems ever, there's only a challenge, because if you have a problem, you don't have a solution. The challenge is there are lots of solutions, you just have to find one."
Jones said she hopes that the construction will, in the end, be helpful to Lawrence residents and University students.
"I'm hopeful that such an extensive construction site will be beneficial," Jones said. "And that we will notice a legitimate, positive change in Lawrence."