Ronald Ragan, dean of the High Point University School of Pharmacy in High Point, North Carolina, has been appointed dean of the University of Kansas' School of Pharmacy, Interim Provost Carl Lejuez announced Tuesday in a press release.
Ragan, who is a University alumnus and former faculty member, will take over the position August 1. Current dean Ken Audus, who announced in November that he would not be seeking reappointment, has held the position since April 2004.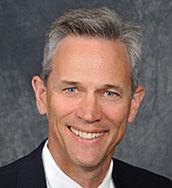 "There are great opportunities ahead, and this is the ideal time to return to Kansas and build on the success the school has enjoyed over the years," Ragan said in a press release.
Ragan initially joined the University as an adjunct instructor of pharmacy practice in 1997. From 2004 to 2012, he was associate dean for academic affairs for the School of Pharmacy. He also served on leadership teams that led the construction of the pharmacy building, according to the press release.
He has been at High Point University since 2012.
"I am proud to be a graduate of both the clinical program and the graduate program at KU and am honored to be returning to my alma mater as the eighth dean in the 134-year history of the school," Ragan said.
Lejuez said the search committee for this position did not involve an outside firm, and worked to involve students, staff and faculty from all the University's campuses.
"Our administrative support staff worked without the assistance of a search firm, and they and the others in the search committee did a remarkable job. I am grateful for their service," Lejuez said in the press release.
Ragan could not be reached for comment by time of press.