On the west side of Watson Library on Tuesday afternoon, Interim Provost Carl Lejuez updated the campus community on the roll-out of the new budget model during the first budget conversation of the semester.
Earlier conversations with Lejuez said he was hoping to have a budget conversation every month, but no budget conversation was scheduled for the month of January. At the previous conversation, Lejuez announced to those in attendance nearly 60 positions were eliminated since July 2018 due to the University's budget cut.
"I want to be really clear. It's been really hard for higher education. We're tens of millions of dollars behind where our budget needs to be, and where we want our state to be investing in our university, and not on the back of students," Lejuez said.
Lejuez said the information presented about the budget cut would not be new, but updates on previously presented budget information.
Lejuez started by showing a breakdown of the held-back faculty positions. He said that many were as a result of faculty retirements, and that he wasn't sure how many would be refilled. He also said people were not being let go, no new positions have been lost and no one has been furloughed.
"It's hard when you lose faculty. As I said before, we've had cases where we've had previous reductions, and they add up. We're doing things with fewer faculty," Lejuez said.
Lejuez was then interrupted by the Graduate Teaching Assistants Coalition, who expressed their concerns about low salaries and lack of summer health insurance, among other issues. Lejuez said he would address GTAC's concerns during the question and answer portion of the discussion, but members left the library.
Lejuez went back to discussing the budget reduction, saying one of the main takeaways should be that the cash rescissions for fiscal year 2019 are complete, and that there are no new cuts.
"We believe we can manage it. If there was another option, we would have taken it," Lejuez said about the cut.
After a group of students staged a walk-out from a campus budget conversation with the provost, students and faculty continue to vent their frustrations about stagnant graduate teaching assistant salaries and benefits.
Lejuez said that, throughout the rest of this year, they will measure the performance of units within their goals. Then, administrators will evaluate in January and February of 2020, and work toward proposing and finalizing the 2021 budget, with the new budget taking effect in July 2020.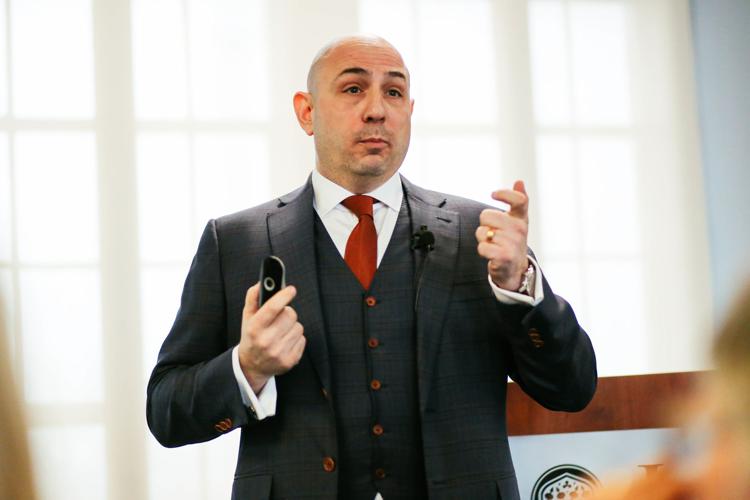 "The most that we can have everyone prepare, the better this will be," Lejuez said.
The first year for the new budget model will be a "shadow year" for the University to gather information and make improvements before the fiscal year 2021 budget.
"We have time to ease into it," Lejuez said. "We're measuring progress now, so by the next year, the budget model can actually kick in."
The new budget model, which was outlined in an email sent to all students on Monday, includes three categories: one for foundational priorities, one for institutional strategic priorities and a third for unit-level allocations.
"We don't just want to cut, we want to ensure that we're going to be fiscally healthy in the future," Lejuez said.
African and African-American studies professor Shawn Leigh Alexander asked Lejuez about his salary during the question and answer portion of the conversation.
"I believe that we have to pay what is consistent with bringing the best people into our roles… I understand people will not be happy with that, but changing my salary or changing one or two other salaries is not going to have an impact on anything meaningful that our people are feeling," Lejuez said. "If it's symbolic, I understand that, but this, I'll be really frank, this is not something I'm willing to do."
Math professor Satya Mandal was the last to speak at the conversation. Mandal told Lejuez that the University should stop national searches for administrators, and search internally instead, because internal hires are less expensive. He proposed all salaries be capped at $250,000.
"I suggest we cut ourselves off from this tumor," Mandal said, referring to national searches. "We cannot afford it."