Correction: Thursday's article "John Colombo to become interim dean of CLAS" misstated that the Provost's Office is searching for a permanent dean. As of June 7, the office is not.
John Colombo, director of the Life Span Institute, has worn many hats over his 37 years at the University of Kansas. Now, he's preparing to start a one-year term as interim dean of the College of Liberal Arts and Sciences July 1.
Colombo's appointment was announced by Interim Provost Carl Lejuez March 28, following an announcement that current Interim Dean Clarence Lang would be leaving the University at the end of the academic year.
"I am predominantly a scientist," Colombo said. "I hadn't really sought any administrative position."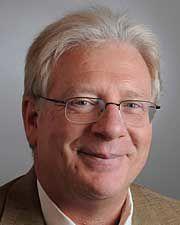 Colombo said research has been his most important focus at the University, and that he will continue his research during his time as interim dean.
"It is important for me personally to continue my research program," Colombo said. "I think it is healthy for a dean to have some research credibility."
The details of his research have changed over the years, but Colombo's main focus has remained cognitive development in early childhood.
"That has lead me to a whole bunch of different adventures in science," Colombo said.
Colombo has held many positions at the University during his 37 years on campus. He joined the University in 1982 as a research associate with the Lifespan Institute, then called the Bureau of Child Research.
In 1988, he became a full-time faculty member for the Lifespan Institute and joined the Department of Psychology. He was associate dean of the graduate school from 2000 to 2004, and became chair of the Department of Psychology in 2005. In 2007, he became director of the Life Span Institute.
Most recently, he served as the interim vice chancellor for research, in addition to directing the Life Span Institute. Simon Atkinson, vice chancellor for research at Indiana University-Purdue University Indianapolis, was selected as the permanent vice chancellor for research in February.
Colombo's appointment is set for one year, according to the Provost's Office. Lejuez, who was dean of the college before he became interim provost, could also return to the position in the future.
"[Colombo] is a person of character who understands both our mission to students but also as a research university," Lejuez said. "I think that combination is perfect for the college."
Having only recently begun planning for his move into the position, Colombo believes it is too soon to begin making detailed plans for his time in the position.
"It would be premature for me to have any visions. I'm an interim, although that typically hasn't stopped me from making changes I felt were important," Colombo said. "Any change has to be driven by how the unit works."