Mike Devine has had a good night. He is running around a grassy field with a deflated volleyball in his hand and a PVC pipe tucked between his legs, yelling out commands to the 10-or-so others who surround him. He deftly sprints through the field, spins around another player and punches his arm through one of three makeshift hoops at the other end of the field. 
Scattered cheers and applause from his teammates echo around him as he tosses the ball to the player he effectively stunned moments before, grinning. Shortly after, he gestures for the others to surround him. He talks to them for a few moments, then dismisses the team with a collective yell of "family." 
Devine, a junior from Germantown, Wisconsin, studying marketing and psychology, is one of the co-captains for the University of Kansas' Quidditch team.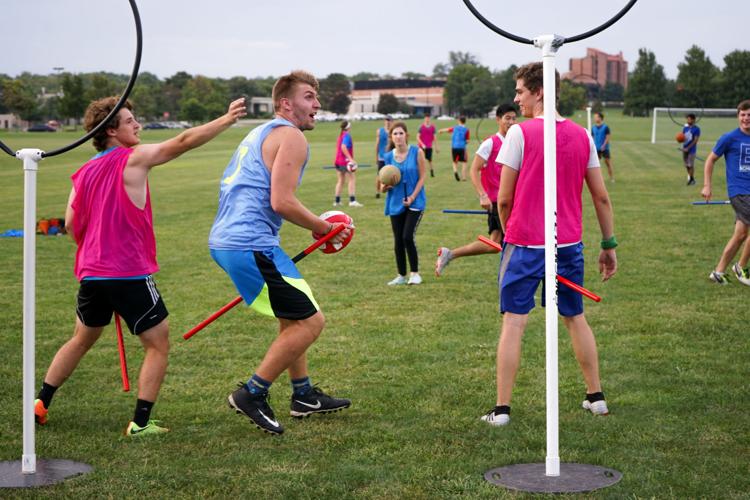 The team hosted a practice to kick off the new season, which will end in a run at the national tournament in Charleston, West Virginia on April 18 and 19.
Since Quidditch, the sport that gained its fame in the Harry Potter series, came to the University in 2010, US Quidditch reports the team has had over 150 wins, many of which come from regional tournaments. However, nationals is where the team sets its focus. With two top-five placements in the last two years, the team has gotten close to its goal: the elusive title of national champion.
Though Quidditch is a decidedly quirky sport, Devine explained it is the quirks that make it even more difficult.
"If you mixed the passing, scoring and teamwork of basketball, the physicality of rugby and the knockout procedure of dodgeball … all into one sport with a ton of different volleyballs and dodgeballs flying around, you get the sport of Quidditch," Devine said.
There are four positions on the team: one keeper, one seeker, three chasers and two beaters. Like in Harry Potter, the chasers and keepers are quaffle carriers; chasers aim to get the quaffle, which is a partially deflated volleyball, through one of the three rings at the other end of the pitch for 10 points while the keeper protects the rings. Beaters cannot interact with the quaffle, but they have bludgers, which are dodgeballs they use to temporarily knock a player out of the game. 
After 18 minutes, the snitch, represented by an unbiased referee with a tennis ball tied to the small of his back, is released, and the seeker attempts to wrestle the tennis ball from the snitch. Once the snitch is caught, the game is over, and the catching team receives an additional 30 points. 
If this isn't enough, the players are also on "broomsticks" — PVC pipes — that must be kept between a player's legs at all times.
While the team is focused primarily on winning nationals, Devine said the most important aspect of the team is not a quaffle or broomstick — it is the bond the team creates while practicing, competing in games, traveling to tournaments or informally hanging out.
"We all get along. I don't care who you are, what you do, what your thing is. If you're out here to play Quidditch, you're in my family, and you're on my team," Devine said. 
Adam McMorris, a senior from Shawnee studying psychology, is the other co-captain on the Quidditch team and has a similar mindset. Though he described his first two years on the team as "obsessive," he explained how everyone on the team, even the casual players, bond over the game's more unique aspects.
"At times, it takes some letting go of pride and ego to be OK with understanding that some people might scoff at it ... But that's OK because people can think what they want. But if you're having fun doing it … that's what matters, and you get support from that too," McMorris said. "That's what builds that family aspect."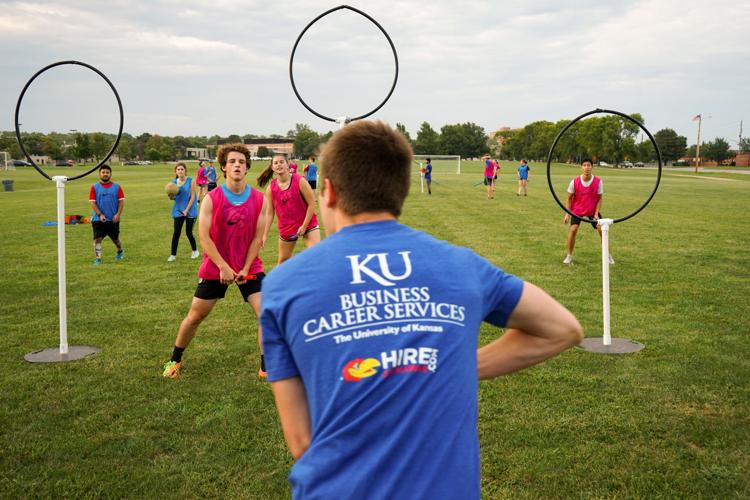 Rachel England, a senior from Kansas City, Missouri, studying illustration, has been on the team for five years and has seen many captains come and go. Devine and McMorris, she said, have been a good team so far and keep building the team's tight-knit culture.
"I think they've been really enthusiastic about it. They've tried different social media platforms to outreach; they've made new posters and fliers; they've been really organized and trying to keep 'Learn to Play' days and everything else very straightforward [and] very engaging for people," England said. "I think they just do a really great job in keeping people interested."
To keep prospective players interested, McMorris offers simple advice: Be yourself, and you will be welcomed.
"Just have fun. Really embrace it. Be who you are. Don't worry about if people are going to think it's nerdy or not. Stick with it. The more you stick with it, the more you get out of it," McMorris said.