TOPEKA — It was solemn in the ballroom of the Capitol Plaza in Topeka on Tuesday as Kansas Republicans learned Secretary of State Kris Kobach had lost the governorship to Democrat Laura Kelly.
"This has been a battle to the finish looking at county by county, it's really been, as it has always been in Kansas, a very close governor's race," Kobach said. "Headwinds all the way for our team, but that's alright. We fought as hard as we could into those headwinds. We were outspent by $2.5 million approximately."
Kobach, who focused his campaign on cutting taxes and fighting illegal immigration, fell to Kelly by more than 50,000 votes. By 10:30 p.m., Kobach had secured only 43 percent of Kansas voters compared to Kelly's 48 percent.
Kobach said his loss follows a pattern of party leadership that Kansas has seen for decades.
"For the past 54 years, no Republican has succeeded a Republican administration in Kansas and no Democrat has succeeded a Democrat," Kobach said. "So it looks like that pattern will continue for another four years and we'll see how long it goes before it's broken."
For many supporters, the loss wasn't surprising, but still came as a blow.
"I'm kind of disappointed in how it ended up," said Caleb Schletzbaum, a freshman at Kansas State. "I was kind of not very confident coming into it, but I'm most surprised by the margin of his loss."
Schletzbaum attributed Kobach's loss to the unpopular reputation of former Gov. Sam Brownback, who left office to take a position under President Donald Trump.
"I know there were a lot of people who were really concerned [Kobach] would be like Brownback," Schletzbaum said. "I know Brownback was highly unpopular. I knew it would be a lot closer than what you generally suspect for an election in Kansas."
Kobach also gained early support from President Donald Trump, who came to stump for the secretary of state in early October.
"To put it simply, I want to do for Kansas what President Trump has done for America," Kobach said at the rally.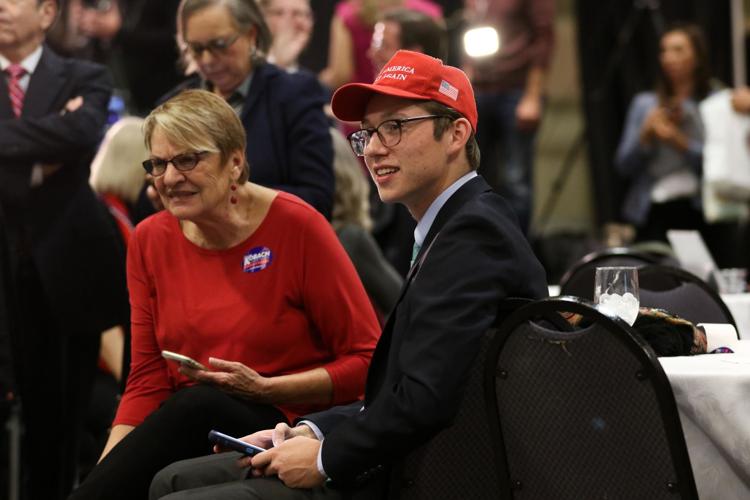 Valentin Lobatos, a Kobach supporter and paid campaign volunteer at the watch party on Tuesday, said while he thinks President Trump's endorsement came late, that it was crucial in Kobach's win over former Governor Jeff Colyer in the primaries.
"I think that's why we need this red wave," Wyandotte native Lobatos said early in the night. "We need good governors and good congressman to back the policies that [Trump is] bringing in."
By the end of the night, many in the ballroom were solemn. Others were simply angry.
"Kansas is not ready for what's about to hit them," said one woman, who only gave the name Celia. "They're not ready for the population that's about to leave. I mean why would they stay here, with taxes rocketing? Why would they do that?"
"Is this more about anti-Trump than anti-Kris, anti-Kobach?," she added.
Michael Jacobson, a 15-year-old from Gardner, Kan., said Kansans will realize Laura Kelly is a "disaster" for the state by 2022. He said Tuesday night was a disappointing one for Kansas republicans - and said the outcome proves polls are not always reliable.
"Kansas Republicans just didn't show up," Jacobson said. "Or, I don't really know what happened to Kansas tonight. It was an unexpected result, definitely."
Kobach thanked the crowd for their support and said he was proud of the effort they put into this campaign.
"We fought the good fight, I think we fought really well. We put together a team that did an extraordinary performance on the field and I'm so pleased to have fought side by side with so many great Republicans," Kobach said. "The state of Kansas has a bright future ahead. Republicans are going to be fighting for the values we hold dear regardless of which offices we Republicans hold."
"I just want to end by saying God bless Kansas," he said.