Contributed video
After watching famous YouTuber Casey Neistat's videos in high school, University of Kansas alumnus and former University Daily Kansan social media coordinator Nathan Mize was inspired. Neistat has created various films and vlogs, but Mize was mostly impressed with his aerial videography.   
"I figured if he could get these type of shots while riding a skateboard around downtown New York City, I could easily do the same with all this open space in Kansas," Mize said.
Mize said he got his first drone as a Christmas present in 2015. It started out as a hobby. With friends, Mize would fly it around his neighborhood and around Lawrence.
"I never expected it to turn into a business," Mize said.
After a couple years, Mize upgraded his equipment and started an Instagram account called Drone Lawrence that now has more than a thousand followers.
 "I would say it took me little under a month to learn the basic controls of flying a drone," Mize said. "But it wouldn't be until last year where I learned different shot techniques, maneuvers and camera settings to produce the best possible content."
On top of his job as a social media coordinator for Southwind in Lenexa, Mize now creates content for businesses, restaurants and events in Lawrence to help them stand out on social media. 
The small business prices vary depending on what the client is looking for. On average the company charges $500 for a fully edited video and $250 for edited pictures. Clients will see a fluctuation in price based on the number of videos they want and how many edited or unedited shots they want.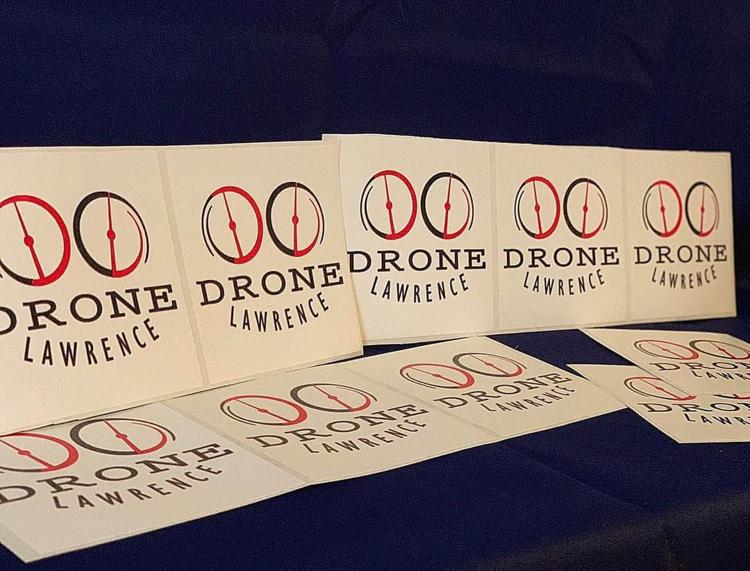 "I will say that Drone Lawrence is more or less the sole supplier for aerial footage in the Lawrence area," Mize said.
One of Drone Lawrence's first clients was First Management, a company that owns several apartments and housing complexes across Lawrence. Mize had the opportunity to shoot its lofts on New Hampshire Street. He also creates aerial footage for marking and promotional needs for the Lawrence Chamber of Commerce.  
Mize met his business partner Seth Sanchez while working with Free State Brewing Company on Massachusetts Street.
"The experience of working with a young man who was so driven and talented, yet so easy to work with, made me approach Nathan about getting involved in Drone Lawrence," Sanchez said. "I felt I could leverage the contacts I'd made over the years working for Free State and help Nathan grow his business in Lawrence and beyond."
The two devote their attention to drone projects when they are not working their other jobs at Free State Brewing Company and Southwind.
"We have some really exciting projects coming up, so my plan is just to keep growing the Drone Lawrence name and eventually branch into the Kansas City area," Mize said.