University students planning to live in the dorms next year will likely pay about three percent more than students who live in dorms currently. They should also expect a increase in meal plan prices.
KU Student Housing has asked the Board of Regents to approve price increases of 2.8 percent to three percent for housing at the University's various residence halls. KU Dining is also requesting a 2.8 percent increase in most of its meal plans.
For KU freshman Sydney Campbell of Hiawatha, the housing cost increase would mean shelling out an additional $184 on top of the $6,246 she is currently paying to live in a four person suite with a bathroom in Lewis Hall. She said she plans to move off campus instead.
"I've been extremely blessed to have scholarships that have helped me pay for multiple costs this year," she said. "If it weren't for those scholarships, paying for housing would be extremely difficult. Next year I'm having to live in an apartment off campus where living is more affordable. The new apartments and housing on campus would be great, but it comes with a heavy price that is difficult to pay, especially as a student."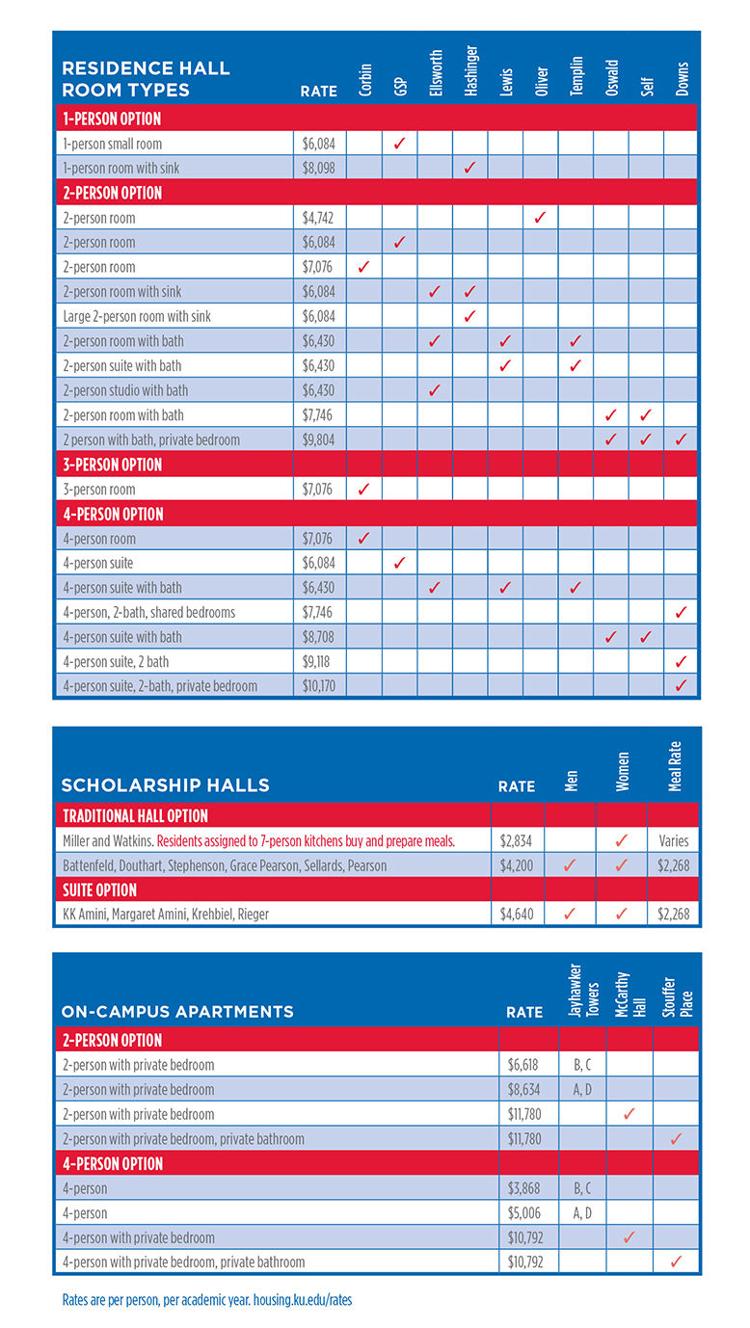 The housing cost increases are being driven largely by utility costs including rate increases to the University for water and electricity and funding a new water treatment plant by the Wakarusa River in Lawrence, KU Housing Director Sarah Waters explained.
"KU housing is an auxiliary, so we are funded by the money we bring in from students mostly," Waters said. "Our job is to keep student costs down to as low as we possibly can that allows us to operate fully, but we understand that it's unacceptable to have fee increases that aren't justifiable."
Due to higher costs of living on campus, Waters said laundry will no longer have an added charge for on-campus residents. The cost to wash and dry laundry will be included as part of the room rate, meaning University students will no longer have to put money on their KU ID.
Most residence halls could be receiving up to a 2.8 percent increase in fees, but newer halls like Downs and McCarthy Hall could receive a three percent, or a $300 increase in student housing fees, Waters said.
Next year University students will find the lowest hall costs available to them at the Miller and Watkins scholarship halls, which are available only to women. The halls will increase from $2,776 this year to $2,834 next year. Waters said the reason for the low increase is due to a trust that was set up by a donor.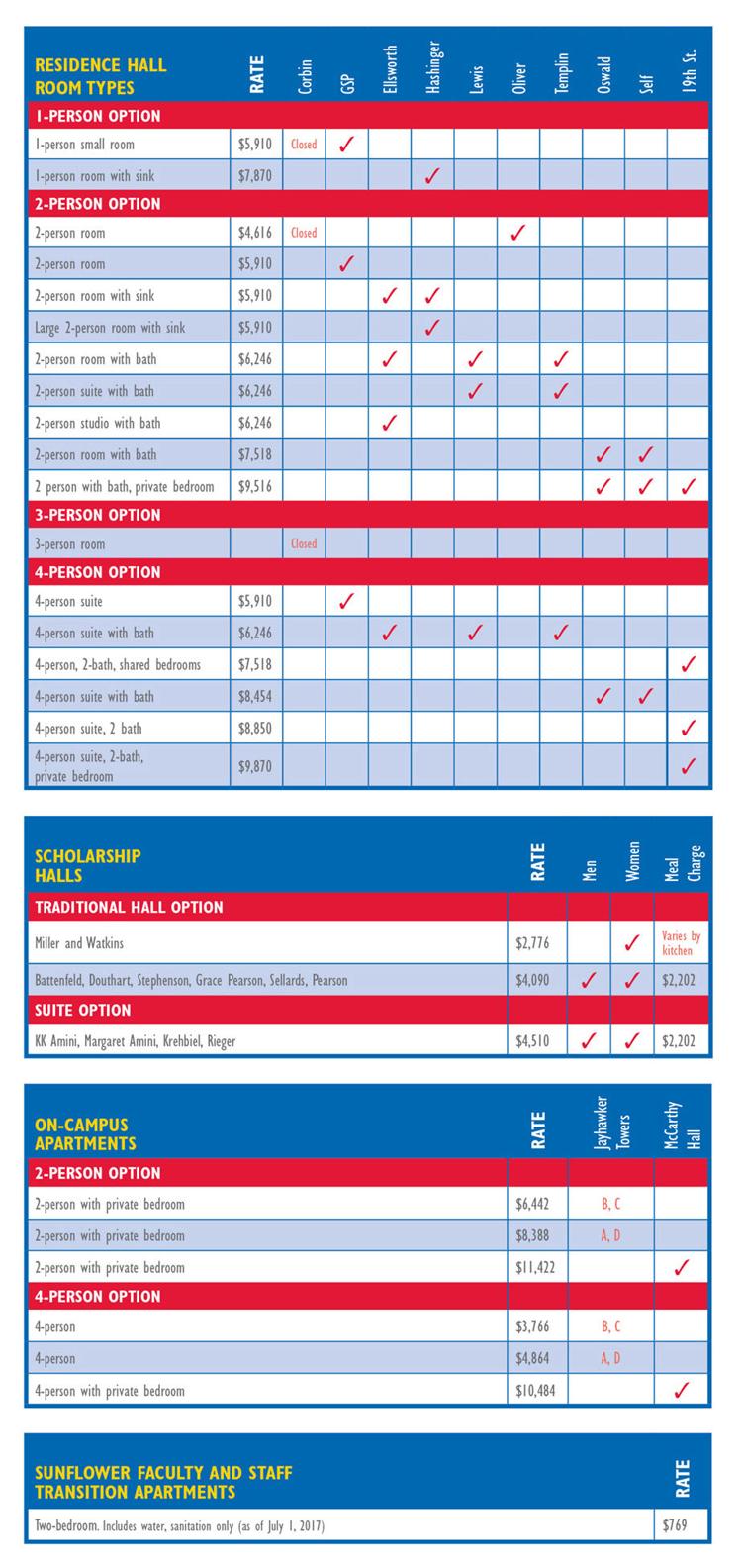 The next lowest increase in rates for students will be a traditional residence double room at Oliver Hall, which is available to all University students, according to Waters.
Waters said she understands that prices going up can be hard on students, but she is confident that her housing team has the best network of people to help operate its facilities.
"We understand it's a huge investment, but based on research, living outside of your parents' home for the first time, this is the best investment you can make," she said. "You know where your meals are going to come from. We help students start social foundations, and students who live on campus are retained at a higher rate and tend to graduate more often."
Mark Petrino, director of KU dining, said the decision to increase the cost of the three meal plans, which include unlimited meals, 14 meals a week or 10 meals a week, was driven by two key factors.
"One is the consumer price index, which gauges future food pricing and [the other is] labor increases and the labor pool," Petrino said. "These two factors are the driving force for the 2.8 percent increase."
The All-Access dining plan, which provides students with unlimited residential dining will increase $60 per semester, according to the proposed rates. Currently the plan costs $2,145 per semester.
The 50 Block dining plan is the only dining plan that will not see an increase.
Petrino said the increases will allow KU Dining to change menus regularly, keep pace with the cost of food and labor and continually offer new and different products, including locally sourced and organic ingredients.
"We are very proud of our program and the unique dining centers that we run, offering hundreds of options daily," he said.
Petrino said the University dining costs are comparable to universities like Iowa State, Kansas State and Baylor University, which charge $2,300, $2,300 and $2,481.91, respectively.
The Board of Regents is scheduled to vote on the proposed increases at its meeting on Dec. 20, Waters said.
— Edited by Abi Gleckler