Quinton Lucas, lecturer at the University of Kansas' School of Law, will be the next mayor of Kansas City, Missouri, following a decisive win in Tuesday's election.
With 92% of precincts reporting, Lucas led opponent and fellow city councilmember Jolie Justus 59% to 40%. Lucas focused on a platform to improve affordable housing in Kansas City, and campaigned as a departure from outgoing mayor Sly James.
"What we're seeing is that people liked our message about affordable housing, about public safety, about making sure that everyone in Kansas City has a voice in city hall," Lucas said in an address to supporters Tuesday night.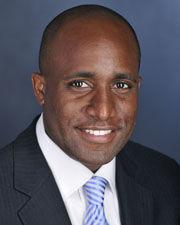 Lucas was in his first term on the City Council of Kansas City as a representative from the 3rd district. He served on committees overseeing the city's planning, transportation and infrastructure investments and economic development priorities.
Lucas joined the University faculty in 2012. His primary teaching focuses are in the areas of contracts, securities regulation and federal administrative law.
Justus conceded the race around 9 p.m. She represents the 4th district on the council, and also served as a state senator.
"So Kansas City, I really mean it when I say, that we are on a roll right now, and we're just getting started," Justus said in her concession speech. "Now let's keep walking, Kansas City."