University of Kansas Interim Provost Carl Lejuez announced in an email Tuesday, Jan. 7, that professor and Chair of Geology Jennifer Roberts was appointed the new vice provost of graduate studies.
"Incoming Provost Barbara Bichelmeyer and I are excited about the energy Prof. Roberts will bring to the Office of Graduate Studies as well as the ideas she has to advance the Graduate Studies at KU and support our graduate students," Lejuez said in the email.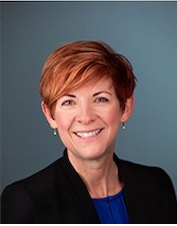 According to the email, Roberts has been part of the University's faculty since 2001 following a post-doctoral position at the U.S. Geological Survey in Boulder, Colorado. Along with acting as the chair of geology, Roberts was a member of the 2012 to 2013 cohort of Senior Administrative fellows.
Throughout her tenure at the University, she has been recognized for a couple awards. In 2013, the Emily Taylor Center for Women & Center Equity presented Roberts with the Kathleen McCluskey-Fawcett Women Mentoring Women Award. In 2019, the Association for Women for Geoscience gave her the Professional Excellence Award.
Roberts received her bachelor's degree in geology at Trinity University and her doctorate degree in geological sciences at the University of Texas at Austin.
Presentations for the new vice provost of graduate studies position began Dec. 10 and ended Dec. 12. There were three final candidates from the University: English professor Byron Santangelo, electrical engineering and computer science professor Hossein Saiedian and Roberts. 
"I also want to offer special thanks to search committee members led by co-chairs Simon Atkinson, vice chancellor for research, and Lisa Wolf-Wendel, associate dean for the School of Education," Lejuez said. "Finally, I am truly appreciative of the efforts of Interim Dean of Graduate Studies Audrey Lamb for her service over the past year."
Roberts will be taking over as vice provost of graduate studies in the first week of February, according to Lejuez's email.