Richard Godbeer, director of the Hall Center for the Humanities, lectured on his latest book at the University of Kansas' "Meet KU's Authors" lecture series Wednesday, Jan. 29.
Godbeer gave an hour-long lecture at the Lawrence Public Library on his latest book,"World of Trouble", which tells an intimate story of a couple living through the American Revolution.
"I'm very passionate about what I do and I want to share that passion with as many people as possible."
He could've talked for twice as long, he said.
"I care deeply about reaching out to audiences outside academia," he said. "I know how important it is...to let people outside the magic circle understand what it is we do."
Lawrence Public Library Events Coordinator Kristin Soper said Godbeer proposed the idea of a lecture.
"He really wanted to have a series that takes the academy to the people...I think it's really valuable to look at history and academic research," Soper said. "[To] offer it to a public library audience in a way that resonates with their lives."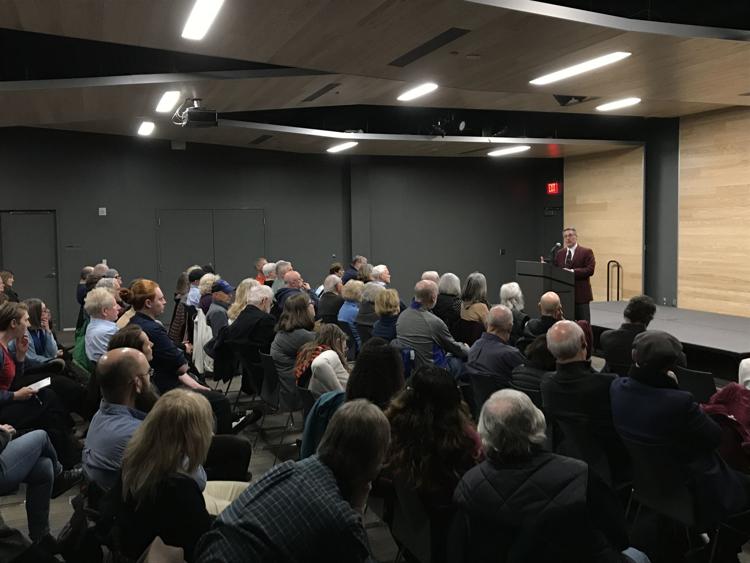 Tying topics in with current affairs is another focus of the series, and Godbeer said he hopes to highlight themes throughout history that are relevant to our time. 
"[The lecture] was informative in combining history with people's personal lives," said audience member and Lawrence resident Paul Scott.
While Godbeer wants as many people as possible to attend these talks, he wants students in particular to get involved.
"I'm very eager to engage members of the local community and beyond as well, but I also feel strongly that we have a responsibility to engage with and excite and inspire students," he said.
Godbeer said hosting events on campus is crucial to engaging students. 
"[I want to] make students feel that this is a natural home for them, so that if there's an event at the Hall Center for the Humanities they assume that they should be there," Godbeer said.
The next "Meet KU's Authors" lecture will feature Laura L. Mielke and her book "Provocative Eloquence," Feb. 19 at Lawrence Public Library.