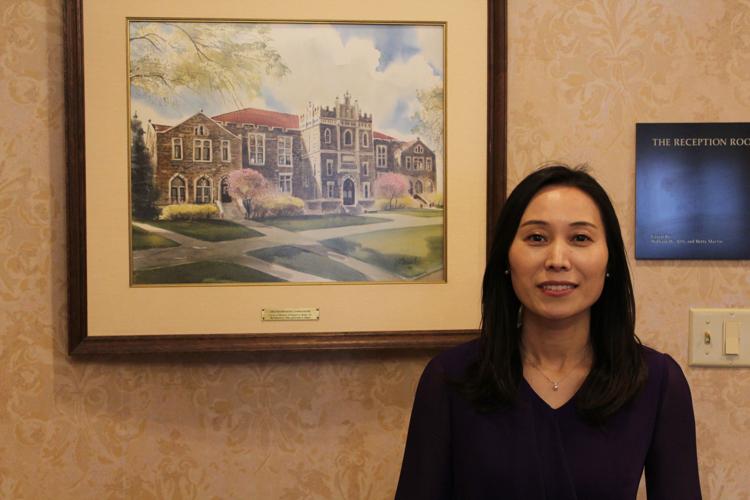 In September, a research team at the University of Kansas will begin a $1.4 million National Science Foundation (NSF) grant-funded project to provide online and offline technology education for women released from jail or prison. 
Hyunjin Seo, an associate professor of digital and emerging media, will be leading the three-year project.
Seo said the purpose of the project is to help bridge the gap between male and female inmates. According to the most recent statistics from the Federal Bureau of Prisons, there are 164,263 males in federal prison, compared to only 12,486 females. Because females are outnumbered, Seo said most post-incarceration programs are geared toward males.
Seo said her team will develop a curriculum tailored toward a total of 300 former female inmates who will be selected with community partners. During the first year of their project, the researchers will conduct surveys and interviews with the participants.
In the spring of 2020, they will provide them with weekly classes taught at Kansas City public libraries, as well as access to a site and mobile application for online and virtual meetups, according to a University of Kansas' press release. 
Topics to be taught include word processing, website creation, information privacy and online security. Participants can take a second year of classes to delve deeper and learn basic coding.
"What we know for sure is that from our conversations from employers, these are technology skills that are increasingly expected from their current or prospective employees," Seo said. 
Three graduate students, two undergraduate students and postdoctoral fellow Marissa Wiley will help the team with research. 
First-year doctoral student Darcey Altschwager will be one of the graduate students involved in the project. Altschwager first started working with Seo in 2017, when Seo was using smaller grants from the Center for Digital Inclusion to teach basic computer skills to a group of formerly incarcerated women. 
"I want to do the best that I can on this project to make sure that we can help as many people as we can in the Kansas City community or outward, and to make sure that this project can and that it reaches its full potential," Altschwager said. 
Other members of Seo's research team include KU associate professors Hannah Britton (political science and women, gender and sexuality studies) and Megha Ramaswamy (preventive medicine and public health). 
The team will also collaborate with the University of Missouri-Kansas City School of Computing and Engineering, Kansas City Area Education Research Consortium and the University's Advanced Learning Technologies in Education Consortium. 
At the conclusion of the course, each former inmate will receive a certificate. In the spring of 2022, the researchers will evaluate the results of the program. 
"I have always been passionate about how scholars can work with community partners to provide relevant resources for underserved populations, so this project is in line with that," Seo said.