The KU Rock Climbing Club hosted a competitive event at the Ambler Student Recreation Center rock wall Friday. However, there was a twist — climbers were "highly encouraged" to wear and climb in their Halloween costumes.
"It's a good time to come climb, have fun, compete," said Simon Matthews, president of KURC. "We just want everyone to come in, have a good time, meet some new people that enjoy climbing."
The competitors, competing for points to win prizes, are divided into divisions: beginner, intermediate and advanced. All prizes come from the sponsors of the event, which include Sunflower Outdoor and Bike Shop and IBEX Climbing Gym.
Top three in each division get prizes including t-shirts, stickers and patches.
"Currently everyone's climbing, and they're tallying," Matthews said. "It's an honor rule, so if you finish it, you write down the number of points you completed, and then at the end we tally up everyone's five best scores."
Points were awarded according to the difficulty of the task, which is called a boulder problem. More difficult problems are worth more points, but only the most skilled climbers will be able to complete them. The three highest scorers in the advanced division moved on to the finals — a single, extremely difficult problem, with the climber who completes it or goes the farthest walking away with a climbing rope from Sunflower.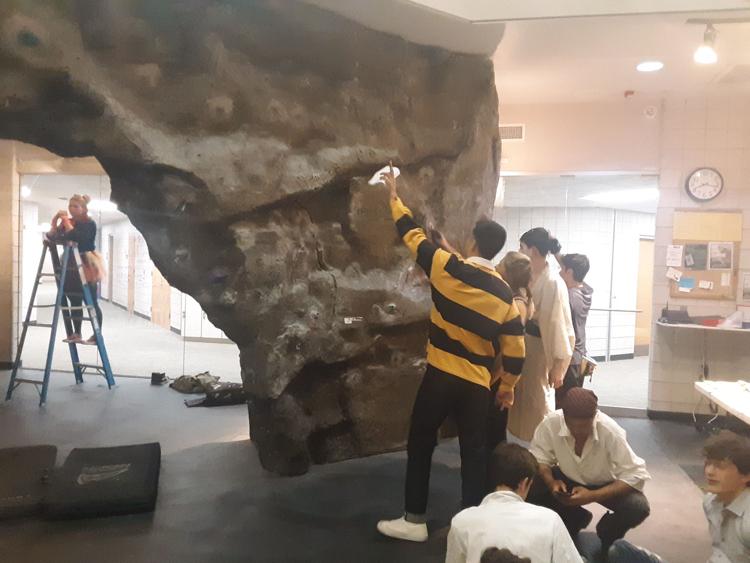 Out of the three finalists, no one completed the problem.
"There was just one hold that you can't get past," said freshman Casey Watson, who placed third in the finals. "I have major respect for the other climbers for managing to get that wingspan hold because, oh my goodness, I could not."
The two climbers, who went further than Watson, got the difficult hold, and they said it was not easy.
"Yeah, it was hard as hell, man," said Nathan Schellenberg, a graduate student who came in second. "But the guy who came in ahead of me, he was clearly in charge of the situation. He had control of it much better than I did."
Despite the difficulties of the final problem, Humberto Macias, who has five years of climbing experience, walked away from the wall with victory and sore arms.
"I'm just excited and tired," Macias said "I'm just so tired from before. I could barely do a pull-up right now."
The competition was tight, and all climbers were vying for first place, but Schellenberg, who climbs but isn't in the club, enjoyed the support that everyone gave to all competitors.
"Even with a little bit of competition going on, the vibe was super cool tonight," Schellenberg said. "It was awesome. I like that they cater to a really wide range of skill levels."