In the same week that student senators are debating how to allocate $22 million in student fees, they're also grappling with a call for impeachment of the individual responsible for organizing and maintaining communications between the entirety of Student Senate. 
A group of 20 senators sent a bill to Student Body Vice President Seth Wingerter Monday morning, alleging that Student Senate Chief of Staff Zach Thomason advocated for the removal of different executive staff members for his own political gain. The bill goes on further to say Thomason allegedly threatened a student senator and yelled at senators during a University Affairs meeting. 
The bill has caused polarization among Senate committee chairs and members of the executive staff.
Thomason said he believes the impeachment charges are unfounded, but he won't try to put an end to the impeachment process. 
"I refuse to call the impeachment a sham because I think that disrespects the political process," Thomason said. "But with that being said, I believe that my arguments, my record and my support base more than drown out any arguments that have been made by opposition."
This would be the third Senate executive officer to depart from their role in the past month. Last week, Senate Government Relations Director Grant Daily was fired from his role, and he is currently going through the University's appeal process. Graduate Student Body Vice President Chris Brown also resigned last week. 
The threshold for following through with an impeachment has always been high. In the past five years, Senate has only called for its executive officers to be impeached twice. 
The first happened in 2016 when then-Student Body President Jessie Pringle, then-Student Body Vice President Zach George and then-Chief of Staff Adam Moon refused to resign after the Student Executive Committee called for their resignations due to a lack of action from the three executive members on multicultural and minority issues on campus. But senators never followed through with it. They thought at the time there wasn't sufficient evidence to move forward.
The second happened in 2018. Senators called for the impeachment of then-Student Senate Chief of Staff Daniel Lee for an alleged violation of the student code. Sources said the allegations revolved around sexual misconduct, the Kansan previously reported. But before an actual impeachment occurred, Lee resigned. 
Student senators who wrote the bill believe they've reached that threshold with Thomason. 
University Affairs Chair Max Schieber said, while Thomason has been passionate in his role, yelling at senators during a meeting crossed a line of professionalism.
"There's things that are just inappropriate and not acceptable for Senate chambers," Schieber said. "Ultimately, we can't function as a Student Senate without respect in our chambers."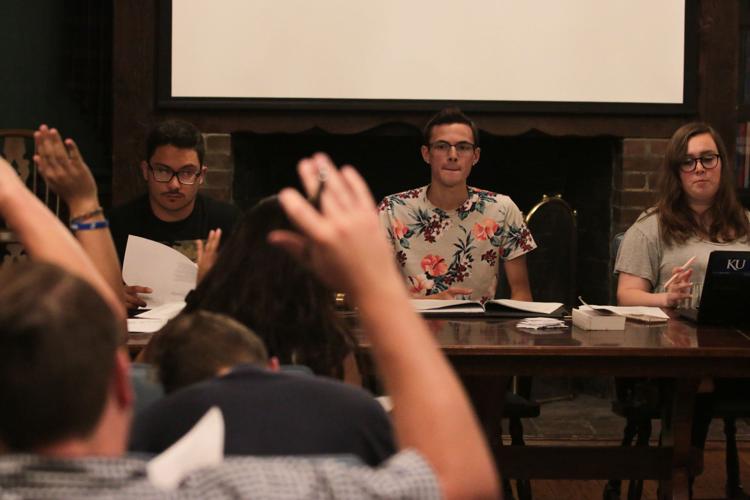 Schieber is joining the other committee chairs on the investigation committee. Finance Chair Andrew Moore, Student Rights Chair Derek Dunn and Diversity, Equity and Inclusion Chair Humberto Gomez-Salinas will also be a part of the committee. Five randomly selected senators will join after a lottery happens Thursday. 
Scheiber, Moore and Dunn are all authors of the bill.
"I think there are important things [the legislation] brings to light," Dunn said. "I'm excited for the investigation to make sure that the actual truth of everything and all parties involved can have their moment to explain everything." 
Student Body President Tiara Floyd said she was sad about a bill calling for Thomason's impeachment was brought forward. She said she thinks the call for impeachment was based more on personal feelings and debate events.
"I don't want to delegitimize [the writers'] experiences with Zach," Floyd said. "That's just not my experience with him. 
In the meantime, senators are preparing for the impeachment process. 
A lottery to assemble the impeachment committee was originally scheduled for Wednesday but was canceled. Wingerter said "due to extenuating circumstances," the lottery was moved to Feb. 13, at 4:30 p.m. Wingerter declined to share what led to the delay.
After the committee assembles, they will have five days to conduct an investigation and submit a report, Wingerter said. The report will be presented in front of full Senate. Members will then vote if there is enough evidence to move forward with the process.
The process should be complete within two weeks, Wingerter said. 
Regardless of the claims made against Thomason, he said he believes he has done his job of chief of staff to the best of his ability and has done more in his role than what is expected of him.
"I'm not saying I'm the best chief of staff there's ever been, but with that said, I've done this for two years, and I think I've done it well," Thomason said.