Lawrence and surrounding areas continue to be affected by severe flooding as more rain moves in this weekend. 
According to the National Weather Service, northeast Kansas will continue to be under a flash flood watch through Saturday morning, with heavy rain expected overnight Thursday and Friday. NWS expects between 2 and 4 inches of rain over the next three days.
A moderate risk of flash flooding exists across eastern Kansas for this evening and overnight. Numerous flash floods are likely, especially across regions that have already experienced flooding within the past 24 hours. Monitor forecasts and watch for flooded roadways! pic.twitter.com/jCI0CjEKTB

— NWS WPC (@NWSWPC) August 1, 2019
In early July, many areas of Clinton Lake, including swimming beaches and boat ramps closed due to severe flooding. NWA has also issued a flood warning at the Wakarusa River near Lawrence, which continues through Friday Afternoon.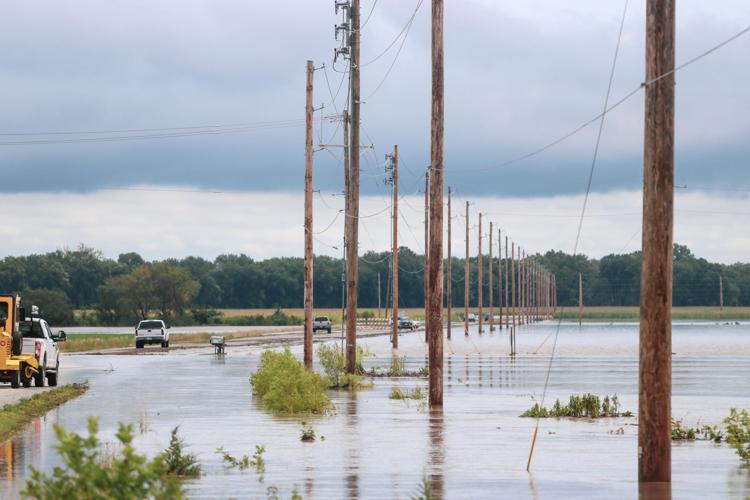 Residential areas, such as near 22nd Street and Kasold Drive, also saw flooding over roadways.
Water starting to recede, but very bad at times in #LFK. This is about an hour ago on 22nd street East of Kasold #kswx pic.twitter.com/kA2ruc7UDR

— JP (@jenniferjo1977) August 1, 2019
The Kansan previously reported in addition to this, flooding is affecting local farmers as it limits growth of some produce.
"Typically, we would've been picking green beans a month ago," local farmer Marcia Peters told the Kansan in early July. "Same thing with squash. We didn't have a big crop of potatoes this year because the ground is so wet."
The NWS recommends avoiding roadways that may be flooded in the coming days and staying informed.
"Do not drive into flooded areas," Thursday's NWS Hazardous Weather Report said. "Shallow flowing water can wash a car from the roadway. Also, the roadbed may be washed out under the water."
Multiple rounds of heavy rainfall expected through early Sat. Could see two to six plus inches. Keep alert to future weather forecasts. #kswx pic.twitter.com/6PqjJa6EhS

— NWS Topeka (@NWSTopeka) July 31, 2019