As a response to the coronavirus pandemic, the Lawrence Humane Society's annual Paw Valley 5k and Challenge goes virtual this month to help pets and people alike get outside and stay healthy after weeks in quarantine. 
Sydney Martin, the Humane Society's content creation coordinator, said the Paw Valley 5k and Challenge is a two-part festival fundraiser which lasts throughout all of May and aims to benefit abandoned and abused animals of northeast Kansas. 
The first part of this challenge involves walking 20 miles in May at one's leisure. The second part is a virtual spin on their annual timed 5k across Lawrence, which tasks runners to jog a timed 3.1 mile course through the week of May 24 to 30, according to its page on travelks.com.
Some of these suggested routes run through the University of Kansas campus, Martin said.
For the past five years this 5k was a one-time event followed by a festival in South Park, but this is the first time they've ever done a challenge aspect or multiple routes, LaFave said.
Michael LaFave, director of development and communications for the humane society, is responsible for raising the funds and promoting the event. 
He said the Paw Valley festival fundraiser is one of their biggest opportunities of the year. In years prior, they've held a massive event that typically brings in hundreds of participants with food, vendors and games.
But, as a consequence of the coronavirus, the thought of bringing so many people together raised some serious concerns. 
"We're not getting hundreds of people all together in one spot, and we wanted to make sure we're doing this in a safe way for the community," LaFave said. "The lost, abandoned and abused animals in northeast Kansas really couldn't afford for us to just cancel Paw Valley, so we had to start racking our brains on how we could do this a different way."
LaFave and Martin said the Paw Valley 5k and Challenge adapted to incorporate virtual elements to account for social distancing and accessibility.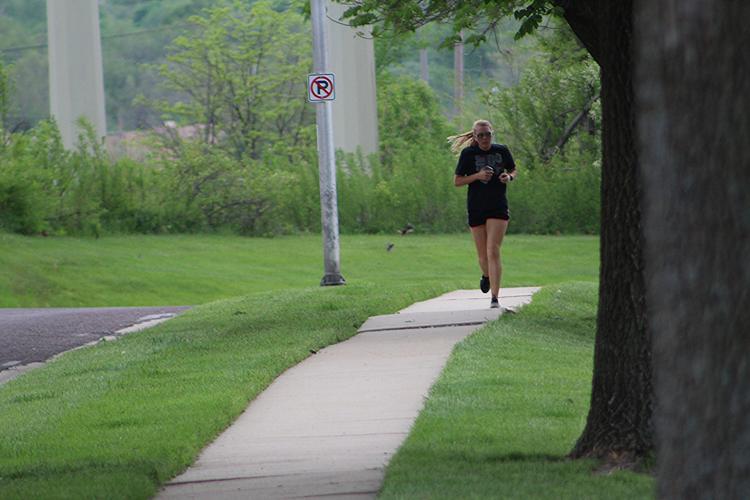 Now, whether local or across the country, participants can log in and record their times through the Strava app, a running and cycling social network. 
Martin said this downloadable app allows runners to track their times and participate in the month's challenge. Prizes will be awarded to those with the fastest times.
LaFave said they have suggested routes that wind all throughout Lawrence and South Park. However, in an effort to cut down on human contact, runners are also free to create and run their own courses. 
LaFave also said people are able to step outside and run the 3.1 miles at their convenience anytime during that week.
He said every participant who registers for the Paw Valley 5k and Challenge and walks 20 miles will win some prizes.
"We've got some additional prizes for the people who walk the most and for the people who walk the most often," LaFave said. "People can walk their dogs, they can walk their cats, and they can just go out on a walk, run or hike. It all counts." 
The event runs all through May, but on May 30 the festival will culminate in a live streaming event to award winners based on the Strava numbers. 
"We're going to be raffling off a really nice dog house and some other fun things going on in that livestream," LaFave said.
LaFave encourages people to keep a 6-foot distance and be mindful and respectful of other walkers, runners and hikers. 
"We can have a fun event for the animals and still be conscious of flattening the curve while still raising funds for our animals," he said. 
Interested participants can sign up on the Lawrence Humane Society website.