The University of Kansas' Americans with Disabilities Act Resources Center for Equity & Accessibility hosted a "Lunchtime Conversation" outreach event last Friday with Dawn Kuhlman, owner of Kuhlman Conflict Solutions, a business that specializes in conflict resolution. Kuhlman lectured faculty and students on improving communication skills and habits when interacting with colleagues who have dealt with trauma.
For the past 15 years, Kuhlman has worked in community and family mediation. The last time she spoke publicly in Kansas was in January at TEDxOverland Park.
Kuhlman said her goal in coming to the University was to have students and faculty think about how people's life experiences affect communication.
Catherine Johnson, Director of the ADA Resource Center for Equity & Accessibility, wanted to bring Kuhlman to campus for a special training in communication within the workplace — specifically on communication with people who have dealt with trauma.
"I would love to see a shift at KU where we are aware of trauma and how that impacts communication both at work and in the classroom setting just to make sure that we are," Johnson said. "I'm doing this as the first of hopefully many discussions led by Dawn [Kuhlman] and what are some things that we can take away from her and apply that to our world here at KU."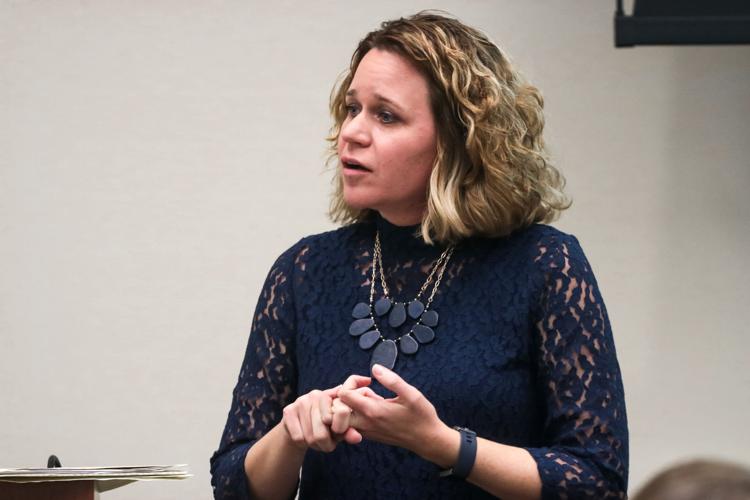 Kuhlman mentioned that people need to start practicing mindfulness, specifically, in thought, emotions and behaviors and how they affect other people. A lot of her clients come feeling helpless and hopeless due to their experience with trauma.
"When there's been trauma, we're not very in tune with ourselves and we're not really in tune with other people," Kuhlman said. "We're not very good at practicing empathy for other people or recognizing that people have needs or thinking about the choices that we have. People feel like they don't have control and their behaviors demonstrate that."
Talking to people in a way that promotes empowerment is the goal, Kuhlman said. According to Kuhlamn, if people want to be better trauma communicators, they have to increase their self-awareness in terms of their own thoughts and emotions, and ask themselves if what they are saying or doing is helpful or hurtful.
"I want people to feel a sense of compassion when working with other people," Kuhlman said. "A trauma-informed culture really means that we are having and taking a compassionate lens, rather than being [judgemental]. Taking a compassionate lens you are more apt to ask questions and to be engaged and try to practice perspective taking."