After two years of turmoil that reverberated through the upper ranks of the Democratic Party, there was a strong sense of hope among Douglas County Democrats on Tuesday night, Nov. 6.
Two members of the Kansas delegation — Laura Kelly and Sharice Davids — gained seats from Republican counterparts in a midterm election that proved to be a clear rebuke of President Donald Trump both in the state and across the country.
"Our top priority in this state was to get a Democratic governor so we could go back to how our state was," said Barbara Ballard, a state representative whose district includes the University of Kansas. "I think Kansas said today that it believes in the Constitution and that all people are created equal and that you can have liberty and pursuit of happiness. We believe that people should have opportunities and we don't like people who limit those opportunities."
Ballard appeared to be referring to Kelly's opponent, Secretary of State Kris Kobach, who has established himself as a staunch supporter of controversial voter identification laws, strict immigration policies and a strong advocate for Trump.
And, now they do — room now chanting "LAURA, LAURA!" Pure euphoria in this room pic.twitter.com/abrZM42TjL

— Conner Mitchell (@ConnerMitchell0) November 7, 2018
"We have never had government that went after immigrants. We have not had this before. And I don't think our state liked it. They want us to go back to being a very open state where there are opportunities for everyone, not just a few," Ballard said. "To have another person come along saying they want to go back to how it was — we remember how it was, and we were scared and terrified. And that's not how we want to run a state."
Kelly's win echoed through Maceli's Banquet Hall, where dozens of local Democrats gathered to watch pivotal election results roll in. Marci Francisco, who currently serves as a Democratic state senator, lost a race for state treasurer to Republican Jake LaTurner. But, since Kelly won the governorship, Francisco said she is excited to return to the Senate chambers since that seat was not up for re-election.
"I don't want to be in the Senate without her as my governor," Francisco said. "I think that people saw that we had really good candidates that we had a strong message of moving Kansas forward, and a party that had a lot of people working for it."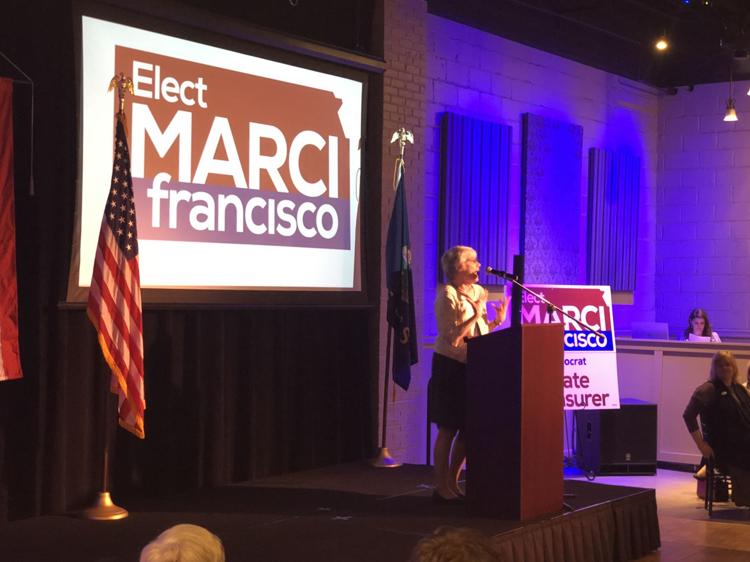 From a policy standpoint, Ballard said she is encouraged about state legislative initiatives moving forward under Kelly's leadership.
"We have to finish funding K-12. The state Supreme Court has said that is your priority," she said. "We've had two shots at it, and they've gone along with it, but this time there will be no more. We're going to have to accomplish that. We know that. The whole state knows that."
Ballard, who has been an advocate of overturning the state statute which allows individuals to carry guns on college campuses, promised that legislation would again return to the statehouse chambers when representatives convene in January.
"I have been on it for four years," she said. "When I introduced it in the first part of this year, it only went down by 16 votes … My bill is being drafted, and I will be back again. I think we stand a better chance. But I have to be realistic … it will be introduced again. Certainly if we can get it through, we don't have to worry about it being vetoed."
The one disappointment of Kansas Democrats of the night was in the 2nd Congressional District, which includes the University. Democrat Paul Davis was assumed to have a decent chance at winning the seat, but he ultimately came up around 4,000 votes short.
Davis announced it would be his final run for public office, after serving 12 years in the state legislature and running for Governor in 2014. He celebrated Kelly's win, saying the 65-year-old Democrat would be "an excellent governor."
"While I'm disappointed with the result tonight, my heart is really filled with gratitude right now," Davis said. 
Paul Davis getting ready to speak https://t.co/IOxObhEH1w

— Conner Mitchell (@ConnerMitchell0) November 7, 2018
"Your belief in me and your belief in this cause is something that I will never forget," Davis said. "Tonight marks the conclusion of my last run for public office. It's time for me to turn a page in the next chapter of my life, but I'm not going to back away from the things I believe in."