It has been a little over a month since the Lawrence City Commission made the decision to lower the fines for first- and second-time marijuana possession to $1. But despite the significant drop from the original $200 fine, the city has not seen a fluctuation in reports of marijuana possession.
In the month of April, Lawrence saw only four reports of marijuana possession filed, according to the City of Lawrence Crime Map. This compares to 16 reports filed in April 2018.
Lawrence saw 16 total reports of marijuana possession in the first four months of 2019, setting April on average with the rest of the year thus far. In 2018, there were 105 total reports of marijuana possession.
The idea for a decreased fine came from a member of the public, according to Assistant City Attorney Maria Garcia. In December and February, the commission met in two informational meetings to review and consider the marijuana charges in Lawrence and surrounding cities, including Wichita.
In 2017, community members in Wichita started a petition for the Wichita City Council to lower the fines for first-time marijuana offenses, according to Wichita Chief Deputy City Attorney Sharon Dickgrafe. When the city held a poll for community members to share their opinions, the majority were in favor of lowering the fines.
"I think that the consensus was that it was the will of the people to try to decrease penalties as much as they could," Dickgrafe said.
The council voted unanimously to lower the fine for first-time marijuana possession offense from $2,500 to $50 for people 21 and older, according to the meeting minutes.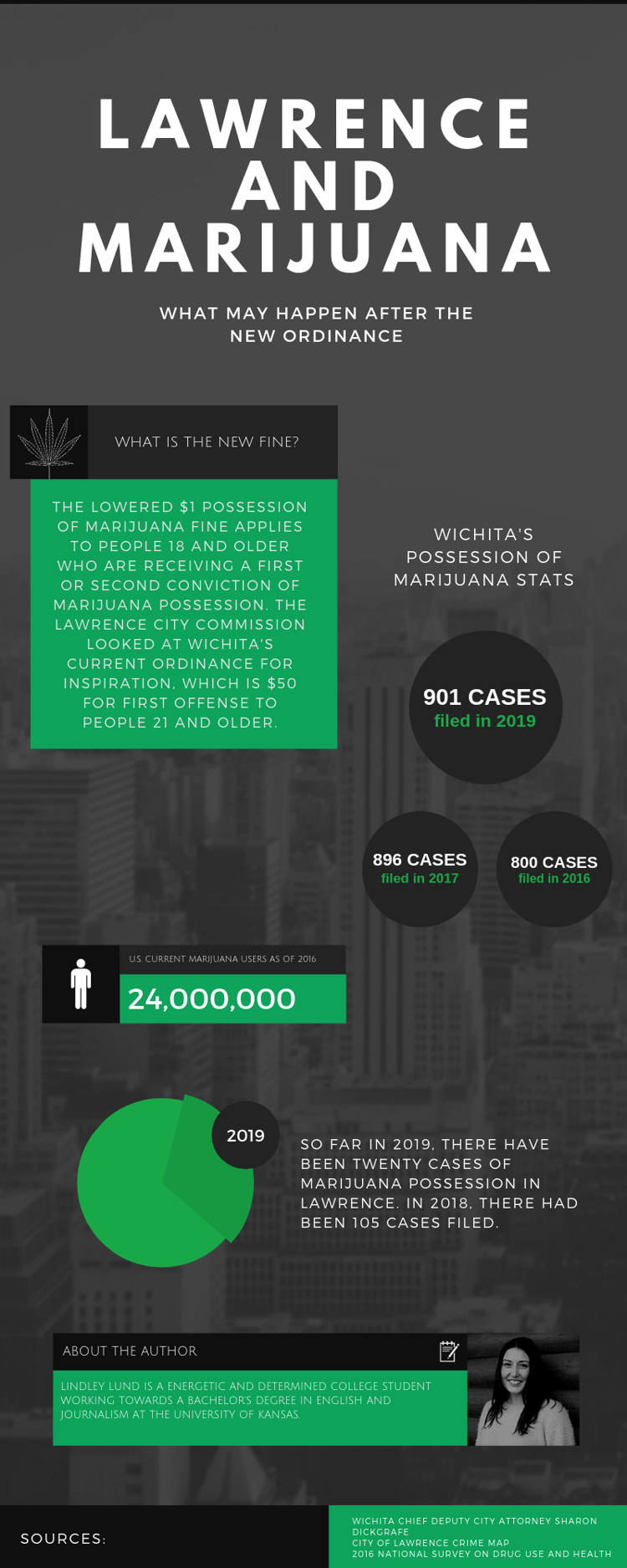 Since then there has been no significant change to the number of marijuana cases filed in Wichita, Dickgrafe said. In 2016, there were 800 possession of marijuana cases filed. In 2017, the amount raised to 896 and in 2018 to 901 cases filed.
Many of the people arrested for possession in Wichita are under 21 or have other misdemeanors, felonies or convictions that exclude them from the lowered fine, Dickgrafe said.
In Lawrence, the ordinance applies to people 18 and older, and possession is still considered a misdemeanor under state law. The third conviction of marijuana possession results in a fine of $200 and a felony charge.
Nate Gendler, a sophomore at the University of Kansas, is supportive of the ordinance. Gendler said he was happy when he found out the offense fines had been lowered.
"It is so dumb to lock people up and such for it," Gendler said. "It harms nobody."
According to the 2016 National Survey on Drug Use and Health, about 24 million people, or 9% of the population, in the U.S. report they are current marijuana users. This is higher than the percentages from 2002 to 2015. The survey has not yet been released for more current years.
"What I want to do with this is to bring some reasonable and equitable justice to this," Mayor Lisa Larsen said at the original commission meeting in March. "That's what this is about for me."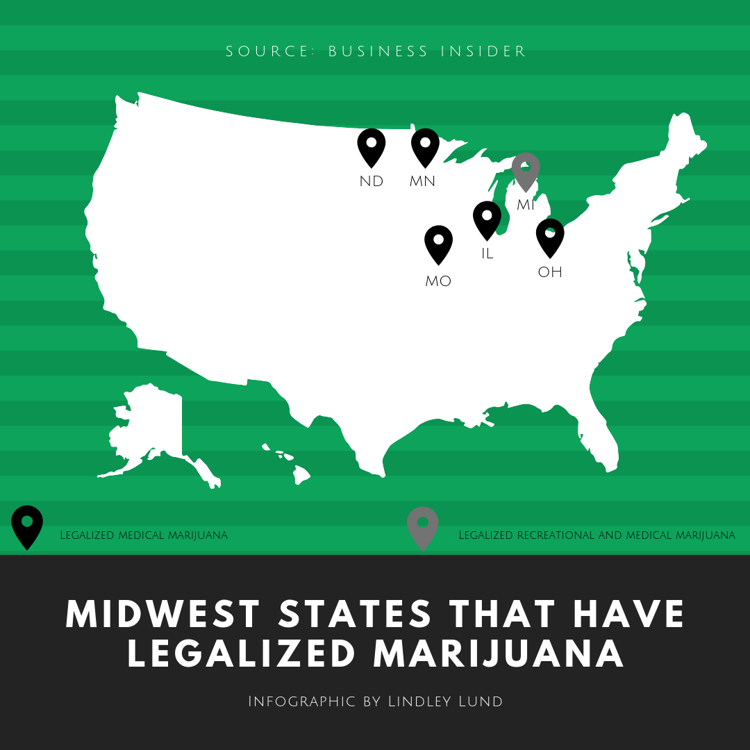 The Douglas County Sheriff's Office can still charge an offender for marijuana possession within Lawrence city limits with the original $200 fine as a felony. Additionally, a judge is still allowed to have a drug evaluation performed for a first conviction, and it is mandatory for the second.
"This is not something we're promoting as a healthy thing, but it is beneficial to some folks," Vice Mayor Jennifer Ananda said at the original commission meeting. "I don't think that it's encouraging the use of marijuana, but I do think that it reduces the impact of a criminal justice system that rarely imparts justice unless the community comes together to work toward creating a more equitable system, and that's what I see this is doing."
Those convicted of marijuana possession will have to pay an additional $63 for court costs. If charged with possession of drug paraphernalia, the costs could be more than $400.
It is still unclear whether lowered fines will result in a lower number of charges in the near future. However, it may shine a light on what is to come in the Midwest, as more states across the country choose to legalize marijuana for medical and recreational use.
"We have a role at the local level to legislate change that we want to see on the bigger picture," Commissioner Matthew Herbert said at the original commission meeting regarding Kansas lawmakers potentially legalizing marijuana.