When Karsan Turner showed his dad and stepmother Oliver Hall for the first time, they were shocked.
"We're so sorry that we made you live here," Turner, a University of Kansas junior studying journalism, recalled them saying. Because of the brick walls that had been painted white and low-hanging pipes, they felt like they had put him in a prison. 
"They felt so horrible," Turner said. "But by that time, I didn't think anything of it."
After a few weeks of living at Oliver, though, Turner stopped noticing the living conditions and found his place in the University of Kansas community.
"You have no choice but to get to know everyone on your floor and … in the building," Turner said.
Oliver was closed after the 2018-2019 school year for renovations, but now there are no plans to reopen its doors, University Spokesperson Erinn Barcomb-Peterson said in an email to the Kansan. The reasons why Oliver will not reopen were not disclosed to the Kansan.
Its closure resulted in a loss of around 600 beds, Director for Student Housing Sarah Waters previously told the Kansan.
The closure also resulted in the loss of the least expensive residence hall on campus. A two-person room cost $4,616 per academic year in 2017, according to a KU Student Housing infographic from 2017. The second cheapest options, GSP, Ellsworth and Hashinger, all cost $5,910 per academic year at the time, according to KU Student Housing.
Max Schieber, president of the association of university residence halls, said that he could not comment on the matter and directed the Kansan to other housing officials. The Kansan also reached out to Waters several times for comment, but she could not be reached by time of publication.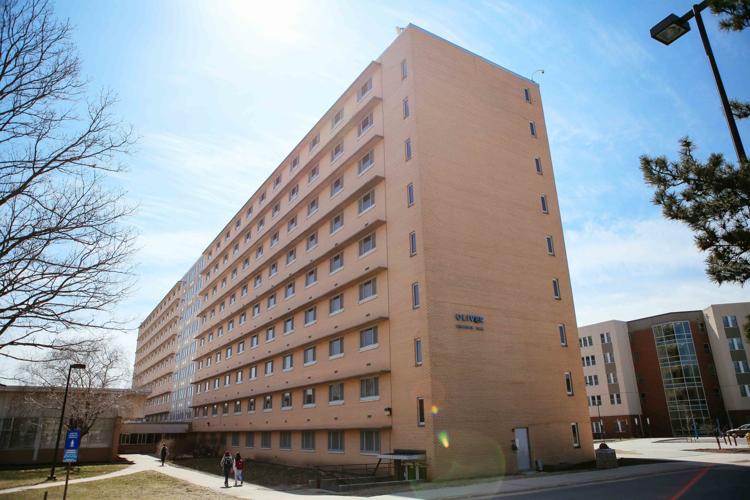 The news of Oliver's closure was met with alumni reminiscing on the Kansan's social media pages.
"I lived there in '84. [It was] very hard to get into this dorm at the time," Patricia Boler said on the Kansan's Facebook page. "Great location and we used to have window sign battles with our good friends across the street. Breaks my heart!" 
"Lived there in 1977-78 – room 1028. It wasn't the greatest, but it was clean," Bill Owens said on the Kansan's Facebook page. "Lots of good memories. Met my wife during our first 'country club week.'"
Several current University students echoed those sentiments, saying that living in Oliver provided a bonding experience.
"The building brings people together because of how gross it was to live in," former resident assistant Maddie Theisen said in an email to the Kansan. 
Colton Lovelace, a senior studying sports management from Lawrence, said living in Oliver shaped his college experience. 
"There are six people in my house now and we all lived within about four or five rooms from each other … It shaped a lot about us and who we are," Lovelace said. "We went through a lot of stuff together that year that you can't take away from us even by removing Oliver as an option to live in." 
Lovelace also said he had mold in his room. It took three weeks for maintenance to look at it, he said.
Other former residents also shared stories of Oliver's living conditions, which went beyond mold to low-hanging pipes that residents hit their heads on when they woke up at night, to vomit-soaked floors not being cleaned for days and even mice living in the drawers.
"[My roommate] left a lot of food in our drawers that are directly connected to the wall. When I came back, she told me 'our room has mice,'" said Ha Tran, a sophomore from Vietnam studying strategic communications. "I found a lot of mice shit in our drawers, every single one … We didn't dare to touch the drawers [from] that point on."
Some former residents said that they look back on their time at Oliver with nostalgia, despite the issues they faced.
"We're still really close," Lovelace said. "It's all because of Oliver, no matter how bad the situation was."