Editor's Note: This story is the first in a series of stories looking at the way concealed carry on campus will look once it goes into effect July 1.
With mere weeks until the University's campus becomes gun-friendly, administrators around the University are making their final decisions on what must be changed to make campus carry work. The answer? Not much.
Anyone over the age of 21 will be able to carry a weapon on campus beginning July 1 as a result of a 2013 state law that allows concealed carry in all public buildings unless security measures are installed. The University has been under an exemption for the past four years.
The preparations for this change began in the offices of Strong Hall years ago and are finally wrapping up this summer. Surveys were taken, town halls were held, a committee was convened and a report created.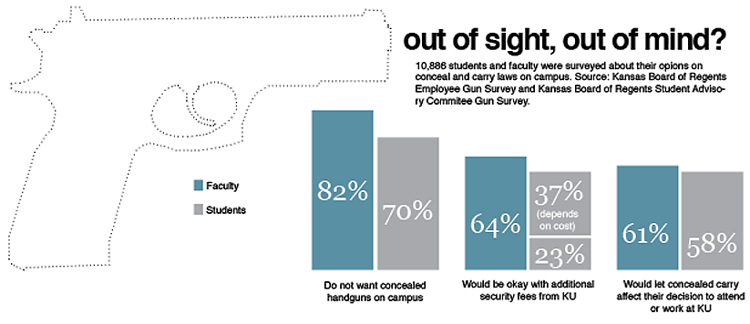 The final result of these efforts was a revised policy on weapons that mandates any concealed weapon be kept within its owner's control at all times on campus. The original version of the policy, which was passed by the Board of Regents in December, said the weapon, if stored in a backpack or purse, had to be kept on one's person at all times. The Regents voted in May to eliminate this clause from the policy in favor of more general wording. 
Now, administration is looking at other aspects of campus life that will have to be shifted as a result of this change. Largely, though, most administrators say there won't be major changes to the way the campus operates.
On Wednesday, the Kansas Board of Regents voted to take out a provision of the University's concealed carry policy that would have required gun carriers to keep bags containing their weapons in their possession at all times.
Police and security changes
Campus Police Chief Chris Keary said the law basically brings the University in line with the rest of Kansas, as concealed carry is already allowed in many public places. But he said the Public Safety Office (which oversees all police and security operations on campus) is making preparations to ensure University community members stay safe. 
"We want our officers out of the cars, walking around in the buildings, interacting with people, so that it gives people a sense that there are people around — and there will be people around," he said. "Hopefully, that presence will give the perception of safety to various members of our community." 
PSO is adding three new police officers and three new security personnel, as well as some equipment, to prepare for campus carry. Not all of the new personnel will be fully trained by July 1, but they will be able to supplement PSO's current operations within a few months. 
The new officers will be key in increasing the visibility of law enforcement on campus. Keary says he's going to be encouraging his officers to walk through buildings frequently while classes are in session and is looking to set up some spaces on campus where his officers can work and be approachable to anyone walking on campus, such as the KU Info booth on Jayhawk Boulevard.
"We're not going to be there 100 percent of the time, but it's an opportunity to be seen in a way different than we have before," he said.
The new security personnel who PSO is hiring will be trained to operate the new security equipment they purchased. Though no venues or events outside of KU Athletics have been approved to keep out guns using metal detectors and security personnel, PSO wants to be equipped to handle any situation that may arise and require temporary security measures, like controversial events or speakers.
"The necessity for having adequate security measures available should they be needed is very important," he said. "For example, if that event is being held in the Woodruff Auditorium and the people holding that event want to set up adequate security measures and keep people out of that specific auditorium… we have to be able to do that."
Deputy Chief James Anguiano said the majority of the force has had training in recent years as well that will equip them to handle situations involving guns. The training of existing officers has been necessary previously, he said, since concealed carry is so common in the general public, even if it's not previously been allowed on campus.
Gun-free zones
Many students will see the effects of campus carry most apparently when they must go through a metal detector to attend a Kansas basketball game.
KU Athletics, as previously reported by the Kansan, will have adequate security measures (metal detectors and security personnel) at the entrances to Allen Fieldhouse and Memorial Stadium during events. Anyone attending these events is also asked to carry their belongings in a clear plastic bag to speed up the process.
But athletic facilities will be the only part of the University to have such security measures and therefore the only part of the University to remain gun-free under current law.
However, a bill has been passed by the state legislature that would allow health facilities, like Watkins Health Center and almost all of the University's Medical Center, to continue restricting guns from their buildings. The bill is currently awaiting approval from Gov. Sam Brownback.
A group of nine protesters interrupted the Board of Regents' meeting to express concerns about campus carry and sexual assault.  
Changes in campus services
Although many buildings on campus will not be getting the security measures, some may still have adjustments to make. 
For example, the Ambler Student Recreation Center will have to put up signs by their lockers informing patrons that they cannot store weapons in the lockers. KU Libraries will have to make similar changes around the lockers that they provide.
Even Watkins will have to make a few changes if the bill on Brownback's desk fails. Director Douglas Dechairo said staff has made plans to put up signs in their facility as well. The signs will inform patients that if they will have to fully disrobe for an exam, they should not bring their guns into the exam room.
Though she says it's not necessarily in reaction to campus carry, Durham also said that trainings have been held for many employees in Student Affairs to help them handle dangerous situations.
But, by and large, the changes will not interrupt these services' operations. Spokespeople from the Rec Center, Libraries and Watkins all said they do not plan on changing their personnel or operating hours as a result of campus carry.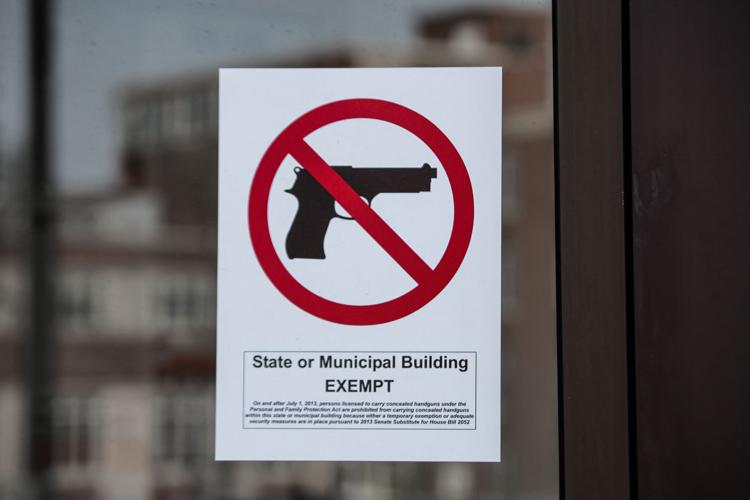 Tammara Durham, vice provost for student affairs, said the law doesn't change the role of offices like these on campus.
"Our job is still to serve students and we're following the law and University policy and that's the extent of it," she said. "We're not changing the services we provide for services, period. Students still need to be served and we will still serve students." 
Durham said most of the campus carry conversations in her unit have revolved around what kind of information students are getting, something administration has tried to emphasize through information sessions and an informational website.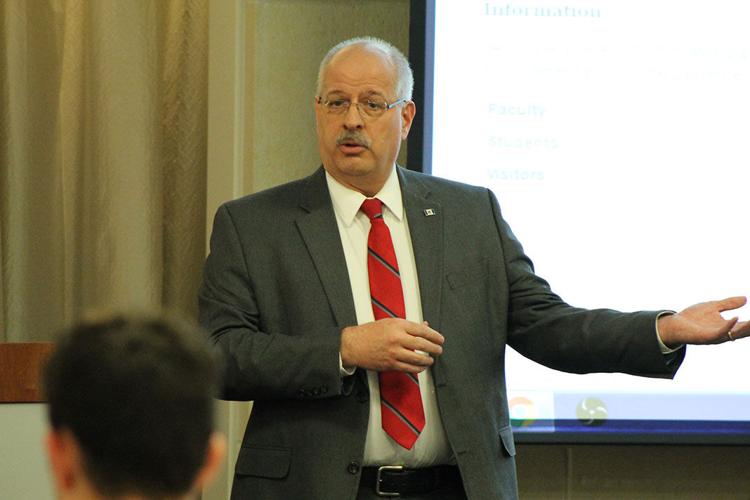 Generally, though, most administrators believe that campus carry will not bring massive changes to campus life.
Since concealed carry has been legal in many public spaces in Kansas for years and violence rarely results, Keary said, he doesn't see huge safety concerns being created on campus.
"I think what we'll find, hopefully, is that we're going to be much the same as the rest of the Kansas and Lawrence has been for the past ten years," Keary said.
Durham also said she can't imagine July 1 drastically shifting the campus, but she thinks it's impossible to tell exactly what it will be like. 
"I"m not willing to make the leap, come July 1, that this will be the O.K. Corral," she said. "I'm assuming those who choose to carry will be responsible."