The 2020-2021 Student Senate administration officially took office Wednesday night after the Joint Senate meeting was pushed back nearly a month due to the University of Kansas moving online in response to the new coronavirus pandemic.
Student Body President Apramay Mishra and Student Body Vice President Grant Daily, who led Free Staters in the 2020 election, assumed their roles after the 2019-2020 senate concluded its final meeting.
Outgoing Student Body President Tiara Floyd, who was the first woman of color elected as student body president at the University, called on senators to look at people's humanity rather than making everything political.
"Although this year has been painful, it hasn't been without reward, and I just hope that for the next black woman that enters your lives, you have more respect for her as a human being," Floyd said. "It's not enough to respect a marginalized person's experiences — you have to respect, and you have to see that person as a human being as well."
Outgoing Student Body Vice President Seth Wingerter thanked his administration and wished the 2020-2021 senate well, reminding senators to keep the spirit of healthy debate while still pushing for positive change at the University.
"Even though everyone has a different reason to be in this body, I firmly believe that every person in this body wants to see campus be better than it was when they stepped foot on it," Wingerter said. 
Following their final officer reports, three holdover senators were elected to represent the previous administration and ensure institutional continuity.
Derek Dunn, Martin Vasquez and Jacob Hammil were elected holdover senators.
Mishra and Daily addressed their administration and led their first senate meeting after Wingerter adjourned the 2019-2020 Senate.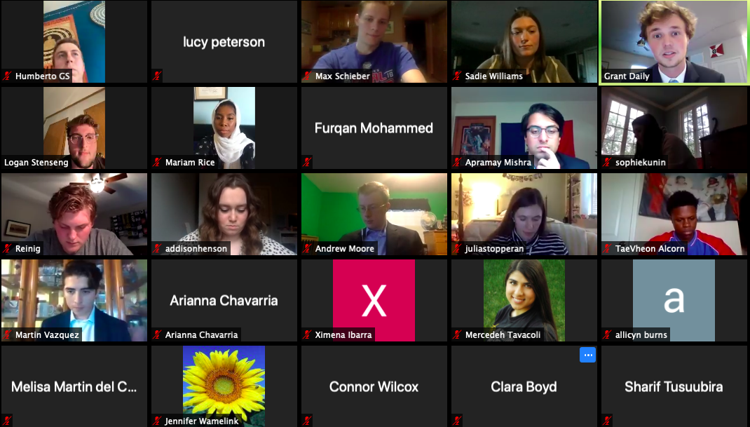 "When we're debating things in senate, oftentimes things can get contentious, but at the end of the day you have to understand that these are your peers and there's a lot more shared experiences you two have in going to this University than there are differences," Mishra said. "We hope that all of you in senate understand that we are here for you as well as the student body."
The executive staff, which was approved by the senators, was appointed as follows: 
Internal Affairs: Martin Vasquez

Chief of Staff: Addison Henson

Treasurer: Andrew Moore

Associate Treasurer: Sadie Williams

Director of Diversity and Inclusion: Humberto Gomez Salinas

Policy and Development Director: Furqan Mohammed

Communications Director: Mariam Rice

Government Relations Director: Logan Stenseng
Senators also elected University Senate representatives and University Senate Executive Committee representatives.