Protesters interrupted the Board of Regents' meeting Wednesday afternoon in an effort to speak with the Regents about concealed carry and sexual assault on campus.
"We're here to bring forth issues of safety for students who are paying to be on this campus and to be safe on this campus," protester Rachel Atakpa said. "We chose to come to this meeting because the Kansas Board of Regents has a lot of power, and we are demanding institutional change."
Atakpa said the group was made up of students and residents of Lawrence, many of whom had protested at other events in the area. The nine protesters stood in the back of the meeting room while reports where read at the beginning of the meeting, but some of the speakers took notice.
"The student's advisory committee, we have brought forth many similar concerns on the topics from members of our student body throughout the year, whether that be sexual assault and working with their Title IX directors, students concerns with weapons on campus or other things regarding students on campus," said the University's student body president Stephonn Alcorn during his report.
After the reports were read, the group demanded time to address the Regents. They were denied time, and two of the protesters were asked to leave.
The meeting continued while the group moved around the room.
"Let us be gun free," one of the signs read. "We won't rest until we get justice," read another.  
At the end of the meeting, chair of the board, Zoe Newton, gave the group five minutes to speak. The two representatives of the group said the concealed carry policies that will go into effect on July 1 will have serious impacts on students' safety.
The board also heard a presentation by Donna Ginther, an economics professor at the University, over the retention of transfer students. Ginther's research said transfer students are 16 percent less likely to complete their bachelor's degrees in less than six years as compared to traditional students.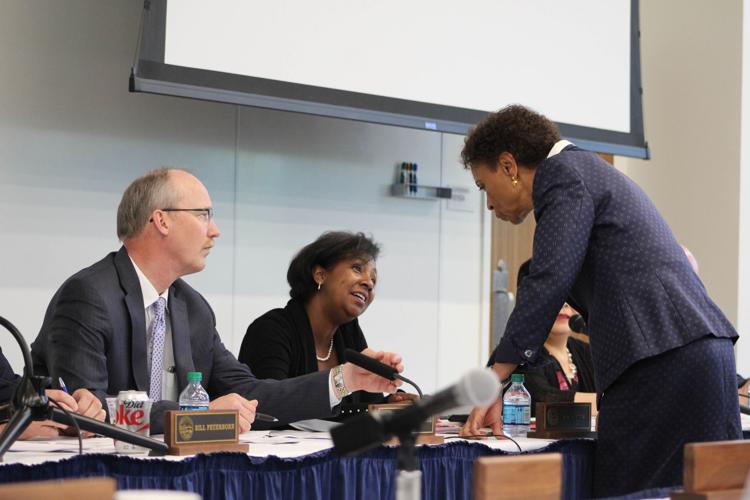 The board also announced the search committee for the next Fort Hays University president, received the governance committee's recommendation to oppose the KU's concealed carry policy and received the five year capital improvement requests from all six of the Regent universities. The requests will be approved at the next Board meeting.
– Edited by Brenna Boat