This is a two part Q&A with respective president and vice president elects for Student Senate. Read the Q&A with president-elect Tiara Floyd here.
The student body president-elect and student body vice president-elect will take on their official positions within the coming week, following last week's election in which Crimson+Blue, the only coalition, officially won.
Seth Wingerter is the University's newly elected student body vice president-elect, and is from Olathe. Wingerter is studying finance and is currently serving as the Finance committee chair.
Wingerter joined Senate as a freshman and served as vice chair of finance in his sophomore year.
The Kansan sat down with Floyd and Wingerter to ask the new leaders of Senate what they're looking forward to and how they've enjoyed their time at the University so far.
This Q&A has been edited for brevity and clarity.
SETH WINGERTER, STUDENT BODY VICE PRESIDENT-ELECT
University Daily Kansan: Why did you decided to come to KU?
Wingerter: "So I was raised a KU fan. At first when I was like back in 8th grade I was like, 'Oh I want to go to Stanford, I want to go to all that.' I quickly realized that was just not financially responsible, so as I was kind of narrowing my choices down I really realized how great this campus actually was. I was always hesitant because it's 45 minutes away [from home] but after I visited, I realized it's just as good as anywhere else, in fact better than everywhere else, so I really fell in love with the campus. Thought I wanted to be an engineer, kind of liked the engineering facilities, that didn't [work] out, turns out business has fantastic facilities too, so I switched over to that and I've really enjoyed my time ever since."
Kansan: What's your favorite part about KU?
Wingerter: "I really like the athletics especially, at least currently, probably the resurrection of the football program. I'm currently really enjoying that, but overall just the community. Everyone really enjoys, or I'd probably say for the last three years I've been here I've really enjoyed the community. Everyone just really enjoys being a Jayhawk, everyone's really passionate, and it means a different thing to every single person, but being a Jayhawk seems to pull everyone together from so many different backgrounds."
Kansan: What's your favorite part about Senate?
Wingerter: "Probably fee review, actually. So fee review is a blessing and a curse, it's a really stressful situation but I really like it because the quality of conversation I've had in there and just the ability to realize that we're making tangible effects on students lives, and recognizing that we're trying to do the best we can taking everyone's input."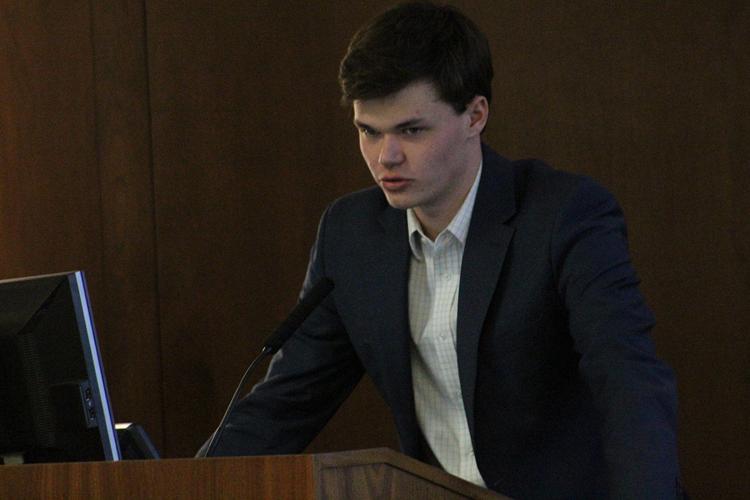 Kansan: What was the hardest part of the election?
Wingerter: "Honestly, probably motivation. Not necessarily on my part, but just trying to make sure everyone stay engaged. It was a lot easier last year with the fact there [were] three coalitions, and two of them were very tightly contested. You can only do so much when you're running by yourself, so I had to face that question so many times to where it was like, 'Why are you even bugging me if you've already won,' basically, and just trying to find that motivation [and] keep pushing. It made it a little tiring but really seeing, like I said, everyone who stayed true with us, seeing the look of accomplishment on their face after they continued to grind and continued to work as hard as they could made it all worth it."
Kansan: Where do your priorities lie in the year to come?
Wingerter: "My personal priority is to make sure that I, personally, am 100% satisfied with the job that I did at the end of the term next year. Realistically, the ultimate person I have to report back to is myself, and my goals are the same as Tiara's in that we want to ensure that every single student on campus, their life was made even slightly better. So ultimately my priority is to make sure that I am comfortable in my assessment that I realize I didn't do a halfway job on anything, but instead that I gave every ounce of my effort to making sure those goals are accomplished."
Kansan: Why did you decide to pursue finance committee?
Wingerter: "That was back when I was an engineer, and I always thought I wanted to be an engineer finance double major, so I was trying to get involved a little more with engineering and I wanted to get more involved with finance so really I just showed up because I didn't know what else to do and I thought it was a good opportunity. Then I started hearing about some of the things we were funding and I started realizing how much ability there was for Student Senate to impact students' lives, so I liked finance committee so I never really tried anything else out. That was the first [committee] I showed up to and I've never been in a different committee ever since, but really I just liked the tangible effects that this money can have on students' lives."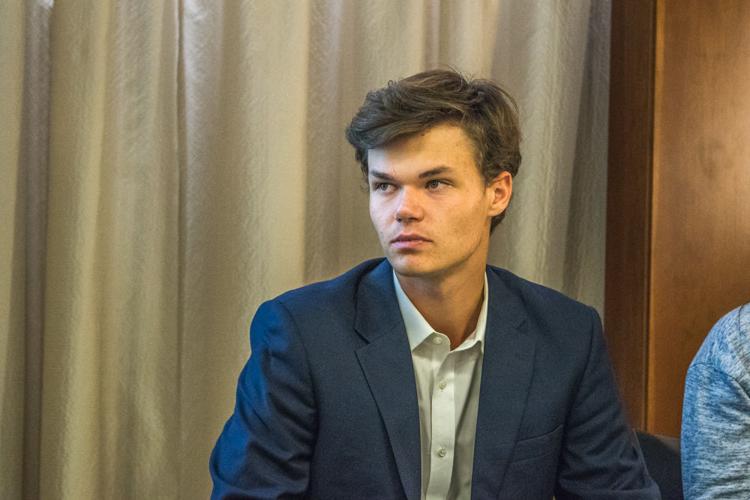 Kansan: How do you think your experience in Senate so far has prepared you for being vice president?
Wingerter: "So my breadth of knowledge at least of Student Senate as a whole, just given that I've spent so much of time in Senate on the finance committee side, but I feel like my depth of knowledge, specifically knowing the specific campuses entities that we work with often that we fund, I feel like that depth of knowledge is really going to help me. And even as I realized VP does require a breadth of knowledge, I'm very confident that I'll be able to use my depth of knowledge to expand my breadth and be able to work widely and work with as many people as I possibly can to make KU a better place."
Kansan: Is there anything else you want to tell students?
Wingerter: "I hope at the end of the day, all I can ask for from students is at the end of the year, as long as I feel that I put in as much effort as I possibly could to better the student body and to better campus, that's all I can ask for from the student body is for them to recognize those efforts and be a fair judge of my efforts. So I expect to be held accountable by the student body because being held accountable will only make me better and be able to help me to learn from my mistakes."