Two new reflection rooms will be available on campus during finals week, offering a quiet place for people to relax, meditate or pray.
The rooms will be located in Stauffer-Flint Hall room 210A and Fraser Hall room 407. They will temporarily join a number of other reflection rooms at the University of Kansas.
Yvonnes Chen, associate professor of journalism, and Mike Thibodeau, co-president of the KU Mindfulness and Meditation Club, helped make the rooms available.
"Mike and I, we have been thinking about how we can make our student population more mindful," Chen said.
Chen, who serves as an unofficial adviser to the KU Mindfulness and Meditation Club, said she saw a need for the rooms because of students' anxiety in general, and particularly as finals week approaches.
"We notice that students have a lot of anxiety toward the end of the semester, especially during finals week," Chen said. "And we have noticed a surge of activities on campus to try to ameliorate that anxiety level in our student population."
Chen said she wanted to use the end of the semester as an opportunity to show students how to incorporate mindfulness practices into their lives. Chen and Thibodeau plan to curate playlists with soothing music as well as videos for guided meditation for people to use, she said.
The goal isn't to get people to use the rooms, Chen said, but to introduce mindfulness techniques to students so they can learn to center themselves and ease their anxiety before final exams.
"I can also see that as a place where people can talk about their own mindfulness-based practices and maybe, is a group setting where people can exchange ideas to lead them to a more centered lifestyle," Chen said.
Thibodeau, a fourth-year student from Fairway, said the rooms will offer a space for people to take a moment for themselves.
"Sometimes when you're really stressed, you just kind of want a place to go sit alone and catch your breath for a minute," Thibodeau said. "It's something that's really helped me at KU is having those reflection rooms for needing to go catch my breath."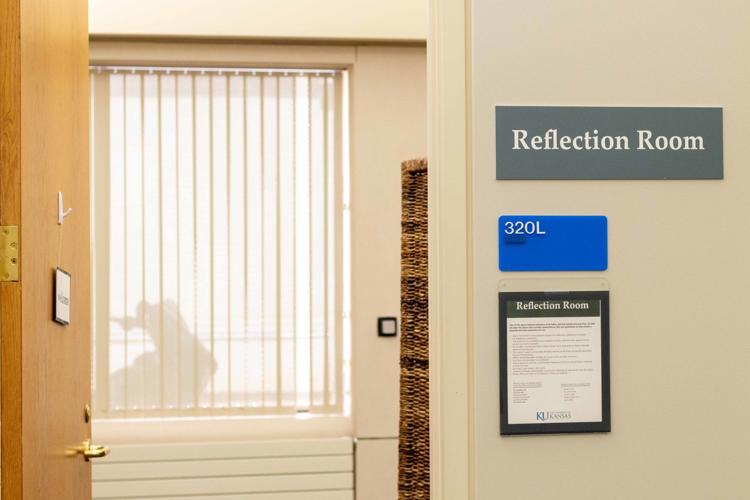 Chen also saw a need for additional reflection rooms because of students' technology use. When she walks into the classroom, all of her students are on their phones, she said.
"I was like, 'How can I bridge the sort of personal technology use and then the official start of class time?'" Chen said. "I feel like the line is so blurred because we are using technology in our classroom for, obviously, beneficial reasons."
So last year, Chen started leading mindfulness activities at the beginning of her classes, she said. Mindfulness activities can help students slow down and transition from one activity to another, but it's important to do them correctly, Chen said.
One of the activities Chen leads focuses on breathing, and another focuses on self-compassion.
"I found that it's a ceremony that brings everyone back to the present moment, regardless of the chatters that may be happening in your head," Chen said.
Other reflection rooms on campus are located in Anschutz Library, the Burge Union, Danforth Chapel and Watson Library, according to the University Office of Diversity and Equity.
Jennifer Hamer, vice provost for the Office of Diversity and Equity, said in an email the growing number of reflection rooms at the University is a result of the needs expressed by students.
"Reflection spaces are one aspect of providing a holistic student experience on campus — one that supports their overall well-being and academic success," Hamer said. "KU Mindfulness and Meditation Club's efforts to increase reflection rooms during a time in the semester when students are experiencing peak stress levels is a welcome addition to support services on campus."
Chen and Thibodeau both said they hope the additional reflection rooms will become a long-term part of campus.
"Hopefully, we will be able to broaden it up so that it's not just a space that's available only during finals week, but it's also a space that when students feel like there's a need for reflection [or] contemplation, that's a space that's available for our students," Chen said.
—Edited by Nolan Brey