In his first visit to the University of Kansas as a representative, Republican Congressman Roger Marshall of Kansas spoke to the KU College Republicans Tuesday, March 19, about energy production in Kansas and issues Republicans face.
The audience, a small gathering of 12 College Republicans, asked questions ranging from the Green New Deal to conservatives' representation in the media.
"It was good to have face time with one of our elected representatives," said senior business major Alex Dwyer, a member of College Republicans. "It's good to see a politician engaging with the youth."
Rep. Marshall, who is currently on recess, represents Kansas' first district, which is both the largest in size and in population in the state and was once represented by Bob Dole. Marshall's most noted moments in office include supporting the American Health Care Act that would have repealed the Affordable Care Act and supporting Kansas' clean energy, such as wind and solar.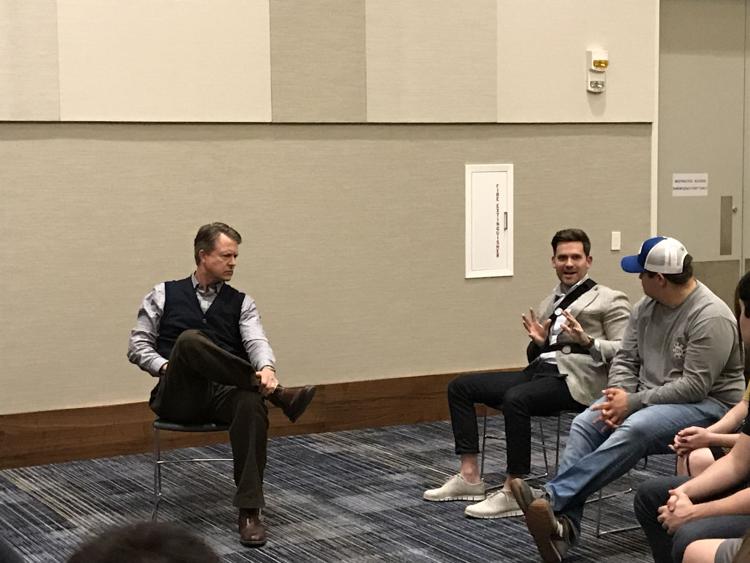 One of Rep. Marshall's main points in the discussion was his support for transparency in the healthcare system, but he does see free healthcare for all as an entirely good thing. Rep. Marshall, a graduate of the University of Kansas Medical School, discussed healthcare issues with President Donald Trump on March 8.
"Medicare for all is a healthcare program where the government decides everything for you," Rep. Marshall said to the crowd. "As a Republican, I want to give you choices on which doctor, which hospital, which pharmacy you go to."
Rep. Marshall has been a supporter of the United States-Mexico-Canada Agreement that would replace NAFTA and discussed it at length with Dwyer and the rest of the attendees. Brent Robertson, the congressman's chief of staff, chimed in on the conversation often to add information of Rep. Marshall's work and talk about both the politics and the legislation of being on staff.
"It's our time to be back in Kansas," Robertson said. "The Green New Deal is hot on everyone's mind. You either think it's ridiculous, or you think, 'Oh my gosh, we should really explore.'"
Rep. Marshall will continue his tour by going west through Kansas in the coming weeks while on recess.