This summer's severe weather has been devastating for farmers in the Lawrence area. A category EF 4 tornado that struck the south side of Lawrence in May and heavy rains have put farms well behind where they expected to be at this time of year. 
Pendleton's Country Market, a farm located in the floodplains of Lawrence that produces horticultural crops, was nearly ruined by the tornado hit. Now, over a month later, the Pendleton family is still facing the aftermath. According to Karen Pendleton, the damage was disastrous. 
"Our farm was pretty much destroyed," Karen said.
She said the farm used to have seven greenhouses, but now only has two – and both are damaged. The farm also had a machine shop, hay barn and event deck, all of which are now unusable. 
The Pendletons also used to have a home. Now, the family is living in a mobile home with temporary electricity.
"The hardest thing is when we see people and they say 'oh, you're in town you must be all cleaned up now' and they have no idea that I'm living in a trailer," Karen said. "We're kind of living in limbo for a while."
Karen was unable to quantify the total extent of the damage, but said it will take thousands of dollars to rebuild and replace everything – and that doesn't even include the crops lost. In one greenhouse, Pendleton's lost 2,000 bedding plants and approximately $22,500 worth of tomatoes.
But the struggles were not over yet. After the tornado, Lawrence was hit with heavy rains that made it nearly impossible for Pendleton's and other farms in the community to plant effectively.
"The plants don't do well when they're underwater, and the plants that aren't underwater were so waterlogged that they don't develop roots properly or they get water roots and they take up their [nutrients] differently than a plant that is rooted in the ground," Karen said. 
Water roots occur when plants do not have to work to take up moisture in saturated soil. This means when the weather becomes dry and temperatures reach typical Kansas heat, the plants do not know how to take in less-available water and die.
This has been especially difficult for Marcia Peters and her family farm. Peters' farm typically grows almost every kind of vegetable – from lettuces and other greens to corn, squash and green beans. The farm also grows fruits such as black raspberries, blueberries and apples trees.
But, with the rain, the variety of produce the farm has been able to grow is more limited, such as green beans that have been replanted three times. 
"Our current planting of [green beans] is about 6-8 inches tall and about ready to start blooming," Peters said. "Typically, we would've been picking green beans a month ago. Same thing with squash. We didn't have a big crop of potatoes this year because the ground is so wet."
Peters also said the farm is running three weeks to one month behind on some plants, but others in the area have yet to even begin planting, which could amount to an entire year of income lost.
Both Pendleton and Peters use high tunnels as a preventative measure against severe weather, but Peters explained even these can only do so much to protect crops.
"The high tunnels help because they limit the amount of rain that gets to the crop, to a certain degree. When we had eight inches of rain, all the ground is saturated, so it doesn't really make a difference," Peters said.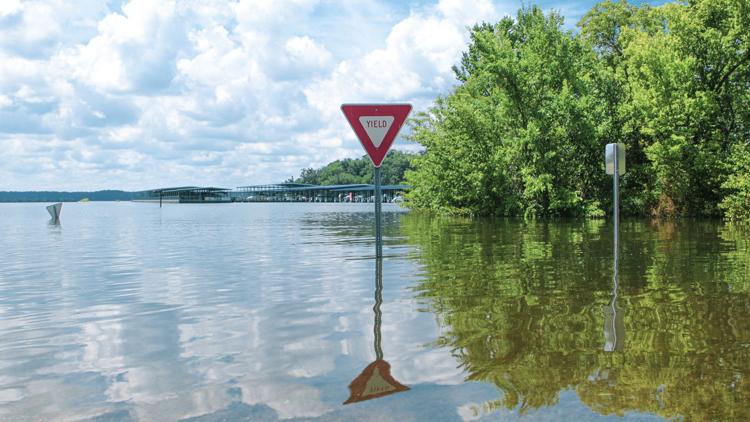 The severe weather has also affected Clinton Lake in Lawrence, where swimming beaches and boat ramps have closed due to flooding. There's now a trail to reach the marina because the road there is underwater, but the marina itself is still closed. 
People are now allowed to access their boats and use them, and parking is now at the dry storage location which is where the makeshift trail begins, according to the lake's Facebook page.
Because the rain is affecting local farmers to such a degree, Peters emphasized the need for farmers' markets and buying locally. There are farmers' markets in Lawrence Tuesday, Wednesday, Thursday and Saturday, Peters said. 
"The biggest thing is to support your local growers," Peters said. "Lawrence does a really good job of supporting local growers and we really appreciate that, but we always would like to see more."