Clarification: A previous version of this article said that 13 rapes occurred on campus. The story has been updated to say that 13 rapes were reported on campus. 
Sexual assaults and on-campus liquor law arrests rose in 2018, according to the University of Kansas' Annual Security Report for 2018, which was released on Friday. 
The Jeanne Clery Act, enacted in 1990, requires each university with federal funding to release yearly crime statistics.
The report shows crime statistics for on-campus, non-campus, public property (including thoroughfares, streets, sidewalks and parking facilities that are either on campus or right next to campus) and residential facilities for the last three years.
Sexual Assault Reports
Rapes that occurred on-campus, off campus and in residential buildings all increased in 2018, according to the report. Thirteen rapes were reported in residential facilities in 2018, which is an increase from the nine rapes reported in 2017 and five rapes reported in 2016. 
On-campus dating violence and stalking also increased this year. Dating violence reports rose from three in 2017 to 11 in 2018. Stalking reports on campus also increased, from 16 to 18.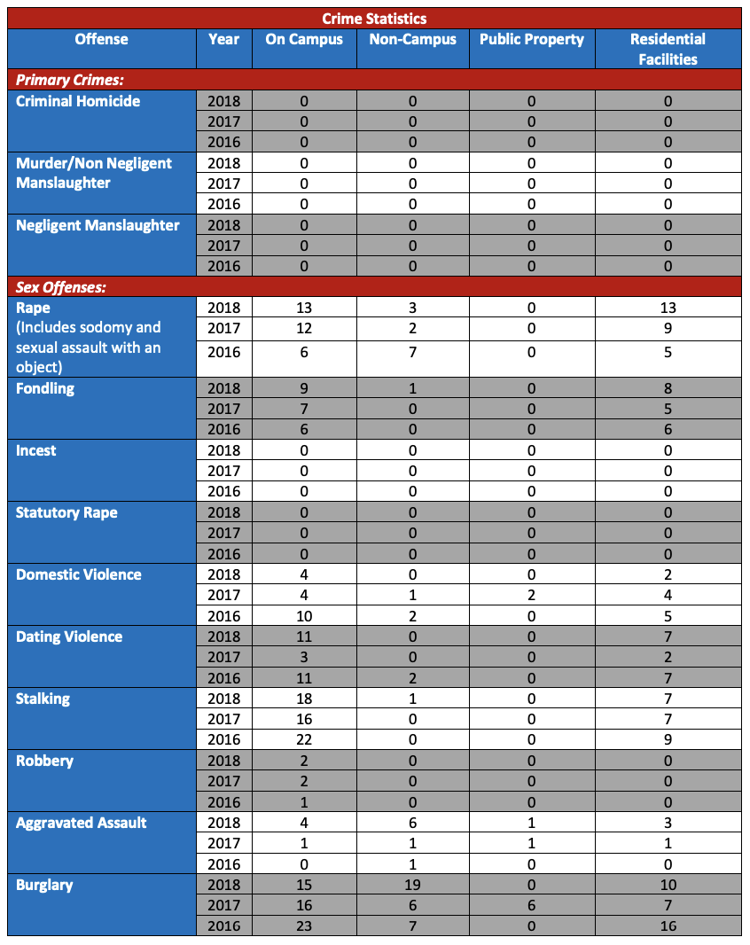 Liquor Law Arrests
Drug law arrests on campus decreased from 99 to 70, but liquor law arrests on campus nearly tripled from 32 in 2017 to 93 in 2018.
KU Public Safety Office participated in a new task force to combat underage drinking and fake ID usage in Lawrence, according to a previous press release
from the PSO. 
On-campus liquor law violations referred for disciplinary action increased from 480 violations in 2017 to 505 in 2018. 
For on-campus drug law violations, the numbers have been steadily increasing over the last three years. In 2017, 67 violations were reported and the number of violations increased to 113 in 2018. 
The numbers followed a similar trend for residential facilities. Twenty-eight more liquor law violations were reported in 2018 (487) than in 2017 (459). Drug law violations increased by 42 in 2018, with 109 violations reported.
Aggravated Assault
Reports of aggravated assaults increased in each category except for public property in 2018. 
Non-campus reports rose from one to six, residential facilities reports increased from one to three and on-campus reports increased from one to four.
Burglaries
On-campus burglaries decreased slightly in 2018, from 16 to 15 reports. Non-campus burglaries rose from six in 2017 to 19 in 2018.
Weapons Law Violations
Five reports of a weapons law violation were filed for both on-campus and residential facilities in 2018.
In 2016 and 2017, zero weapons law violations were reported. 
The report defines weapons law violations as "the violation of laws or ordinances prohibiting the manufacture, sale, purchase, transportation, possession, concealment, or use of firearms, cutting instruments, explosives, incendiary devices, or other deadly weapons." 
Hate Crimes
The number of hate crimes doubled, rising from two in 2017 to four in 2018.
Two of the crimes were for on-campus vandalism of property with religion as the bias. The other two were for intimidation with sexual orientation as the bias, with one reported on campus and one at a residential facility.