The Spencer Research Library's extensive collection of science fiction materials will grow with the arrival of "Imaginary Worlds," the newest exhibition that opens Monday, Feb. 3.
Elspeth Healey, special collections librarian and the exhibit's organizer, said the exhibition's theme explores science and speculative fiction as well as the writing process. Healey said the exhibition is important to the history of the genre and aspiring writers.
Healey described speculative fiction as an umbrella term that encompasses science fiction and sometimes horror. This includes everything from "Star Trek" to "Frankenstein," she said.
The exhibit's layout is divided into cases that detail a particular aspect of the science fiction writing genre.
One of the glass cases is filled with old tattered papers scarred with age and use. Its contents are typewritten documents with scribblings and annotations from some of science fiction's most prolific writers, including a range from Isaac Asimov to Mary Shelley.
"This has a number of writers at very early stages in their career, so Isaac Asimov when he was 20 years old," Healey said. "The earliest thing that we have in there is one of our copies of Mary Shelley's 'Frankenstein.'"
Other cases detail the process, business and controversies that the genre comprises.
Healey said one of the largest debates in the world of speculative fiction was inclusivity and diversity, which have shifted throughout time.
"The real core strength [of the collection] is sort of 1960s and earlier," Healey said. "But as we move forward in time, we acquire new writers' papers and expand the voices that are visible in our collection. That's something we really want to continue to do."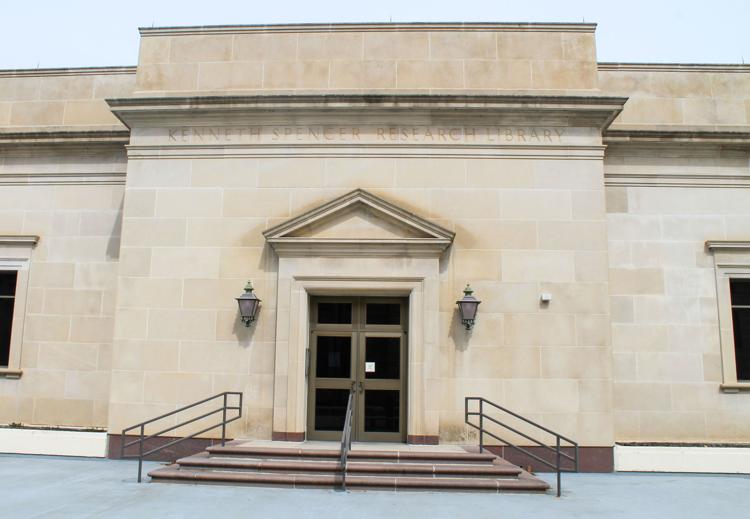 Healey said the collection began from a passionate science fiction fan and alumnus of the University of Kansas, Larry Eriesen.
"He was concerned that the libraries in general weren't collecting science fiction, so he made a donation with the idea that they would buy some science fiction books," Healey said.
Healey said the Spencer Research Library also worked closely with James Gunn, a science fiction writer and founder of the Center for the Study of Science Fiction.
"Gunn...has not only supported the collection by generous gifts of books and periodicals but has persuaded others to support it as well," according to the library's website.
Healey said the collection continues to grow, but its sheer size proved most challenging.
"There's just so much material," Healey said. "With that we could fit all of the amazing things that we have. That is never possible."
The exhibit will remain open until July 31, but Director of the Spencer Research Library Beth Whittaker said she hopes people will continue to make use of the library's other resources as well.
"You're always welcome to come in and explore the materials here," Whittaker said. "Chances are, anything that you're interested in, we might have something."