Student Body President Noah Ries has issued a veto on the student fee review bill passed at a full Student Senate meeting on March 21.
The veto was sent out March 29 in an email from Senate Chief of Staff Zach Thomason. The email included handwritten notification from Ries of his use of veto power.
Ries issued the veto in response to an email from KU Athletics regarding the measures they would need to take if their $7 fee was cut to $0.
"When they came to me the first time, they did provide numbers and did everything they needed to do on that end, but what we really didn't see was [what] the direct outcome would be if we decided to zero out the fee," Ries said.
Ries said Athletics gave him three options for the fee in an email and what the impact on students would be for each of those options.
The first option would keep the Athletics fee at $7 for fiscal year 2020 and would be a four-year sunset with the Athletics fee reducing to $4.75 in fiscal year 2021, $2.25 in fiscal year 2022 and $0 in fiscal year 2023. This option would cause Athletics to keep the All Sports Combo package price at $155 in fiscal year 2020 and raise the price to $175 in fiscal year 2021. No student section seats would be taken from Allen Fieldhouse with this option.
The second option would reduce the Athletics fee to $5 for fiscal year 2020 and would sunset to $2.50 in fiscal year 2021 and $0 in fiscal year 2022. The All Sports Combo package would also increase by $20 with this option, but it would be increased for fiscal year 2020.
The final option is what Senate originally passed through the last Full Senate Cycle which would cut the athletics fee to $0. Athletics told Ries a complete cut to their student fee could potentially result in reducing the number of student section seats in Allen Fieldhouse, increasing the price of the student combo tickets for men's basketball and football, or reduce the number of student employees in Athletics.
This option could also result in the Student Body President no longer holding a position on the Athletics Board of Directors.
"Obviously Athletics wants to keep their fee at $7, and Student Senate voted to keep it at $0," Ries said. "We came back to the table, and I said, 'You know what, if I veto this, let's find an alternative solution we, Student Senate, could look at and vote on,' so what we're looking at now is having Student Senate choose between those three options."
Ries said he issued a veto as a response to Athletics, not because he didn't agree with the original bill that was passed.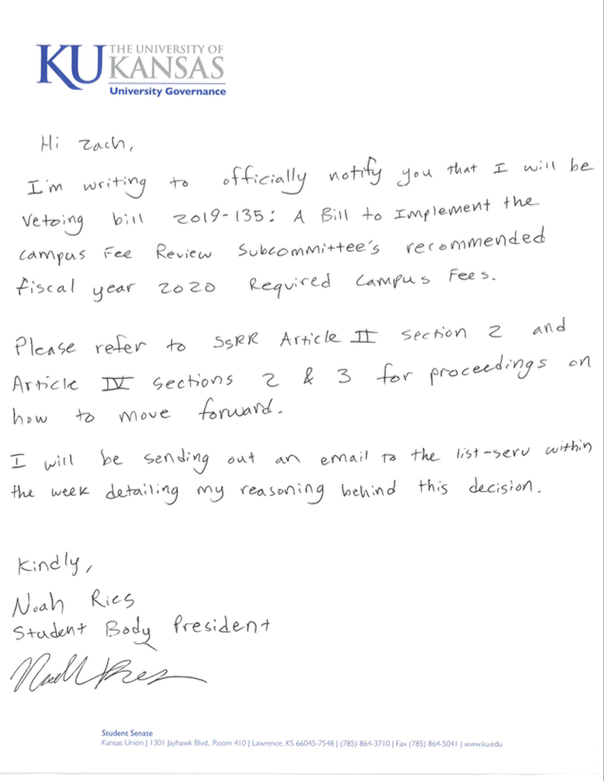 "After hearing all this new information, I don't know if not going back and looking [at each option] is best for students," Ries said. "Going back and looking again, as Student Senate, we're supposed to be on the lookout for students. This is the best way to do so."
Thomason said in the email that members have the option to motion to override the veto. The motion would require a two-thirds majority from present and voting members.
"As this is the last cycle, and because this is the fee bill, it will have to be reviewed again in the Full Senate, where it can be amended," Thomason said in the email.
After issuing the veto, Senate will have three weekdays to weigh its options and decide which is best for students before voting again in the final cycle of Full Senate Wednesday, April 3.