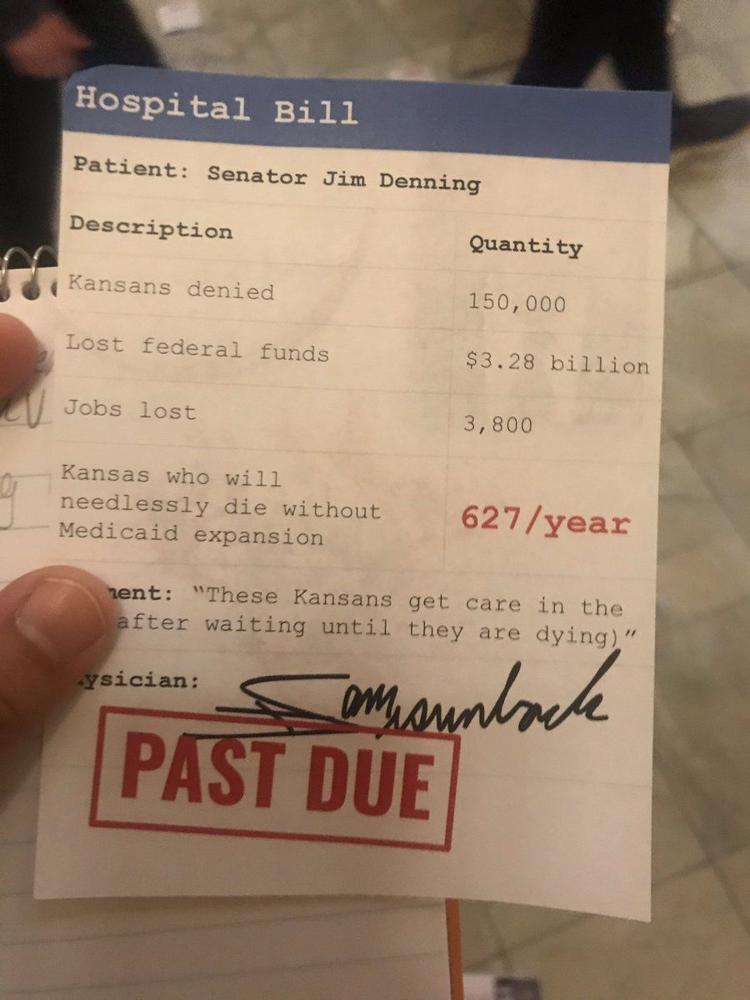 TOPEKA — Demonstrators came to the Kansas State Capitol on Friday, dropping thousands of faux-bloody papers intended to look like hospital bills. The bills were addressed to three state senators in an effort to push for Medicaid expansion.
The bills targeted Sen. Jim Denning (R-Overland Park), Sen. Gene Suellentrop (R-Wichita) and Sen. Larry Allen (R-Winfield). Demonstrators dropped the bills in the rotunda at roughly 10 a.m. and left the building soon after.
"That was just to reference the consequences of their political decisions, and in that it would actually price people out of receiving their healthcare," said Logan Stenseng, a University of Kansas sophomore studying public administration.
Stenseng was one of the demonstrators present at the Capitol and said he and others, including fellow University students, came to spread awareness of the issue.
"If you delay, you deny," Stenseng said. "The issue is 627 Kansans are estimated to die annually as a result of not expanding Medicaid."
I'm in the Rotunda of the Kansas State Capitol. People just dropped bloody hospital bills addressed to Senator Jim Denning, Senator Gene Suellentrop and Senator Larry Alley. pic.twitter.com/5FfeeNPtTX

— Nicole Asbury (@NicoleAsbury) May 3, 2019
After the demonstration, Kansas House Majority Leader Dan Hawkins (R-Wichita) tweeted, calling the act "a shocking display of disrespect" as he said those below were preparing for "a ceremony honoring fallen law enforcement officers." 
Ethan Patterson, Denning's chief of staff, said when legislation and policies are under deliberation, it agitates the process when third parties decide to come into the Capitol to demonstrate. He said the demonstration being ahead of the 37th Annual Law Enforcement Memorial Ceremony sent a bad message.
"Frankly, it's their right to protest," Patterson said. "I think the timing of that is not classy, but it was probably from a strategy standpoint, not the smartest to do at this time." 
Denning also responded via Twitter with the same sentiment as Hawkins, condemning the acts of the demonstrators.   
In a shocking display of disrespect, extremist Medicaid expansion protestors have dropped thousands of flyers from the top of the rotunda onto those on floors below who are preparing the Capitol for a ceremony honoring fallen law enforcement officers. #ksleg https://t.co/Ht8SoNb3nT

— Dan Hawkins (@DanHawkinsKS) May 3, 2019
Yesterday, Kansas Senate fell short by one vote of pushing a Medicaid expansion bill on its calendar, resulting in the issue being set aside for possibly another year, according to The Kansas City Star, unless supporters can find an alternative way to move it forward.
Stenseng said the demonstration was not owned by any parent organization.
The demonstration comes about a month after students from Kansas State University unfurled four banners protesting Medicaid expansion decisions.
Three Kansas State University students received a one-year ban from the State Capitol in Topeka after displaying four banners protesting Republican leaders' failure to expand Medicaid in the rotunda Wednesday.