After hearing former Student Senate Government Relations Director Grant Daily's termination appeal Thursday, Feb. 13, Chief Justice of the Student Senate Court of Appeals Zach Kelsay said the court will not release its decision if Daily and Student Body Vice President Tiara Floyd come to an agreement on their own to resolve the issue. 
Kelsay said, after listening to Daily and Floyd's testimonies and rebuttals regarding Daily's firing last week, the two did not seem to be disagreeing about much.
"It sounds more like [Grant is] trying to do a good job and [Tiara is] also trying to make sure he does a good job," Kelsay said. "If you two, before Friday at 7 p.m., are able to work this out and settle it, and figure out something between the two of you that's going to resolve this, we will not issue our opinion."
According to Daily's termination letter, which was given to the Kansan by Daily, Floyd fired him because he "cancelled a November 20, 2019 Student Legislative Action Committee meeting in order to meet with a campaign team on November 20, 2019" and "left a December 6, 2019 meeting early, which was addressing Social Mobility, was attended by a Vice Chancellor, and an interim Vice Provost in order to meet with a campaign team."
Floyd said in the hearing that she received Treasurer Furqan Mohammed's GroupMe password in December 2019. Floyd found a message from Daily in the GroupMe in which he cancelled a SLAC meeting on Nov. 20, 2019 to meet with a group of senators to discuss election business, and a message in which Daily said he would leave a meeting with the Vice Chancellor Matt Melvin and Interim Vice Provost Susan Klusmeier early to meet with his coalition.
When asked by Appointed Justice Jameson O'Connor if Daily did either of these things, Daily said he did not directly cancel a SLAC meeting to meet with a coalition but did leave his meeting with Melvin and Klusmeier early to meet with his campaign team.
In a public SLAC GroupMe, Daily sent a message cancelling a Nov. 21, 2019 meeting in order to "give people who are working on individual projects more time."
On the same day, Daily asked members of a private GroupMe how they felt about him cancelling the SLAC meeting in order for the group to meet during that time instead.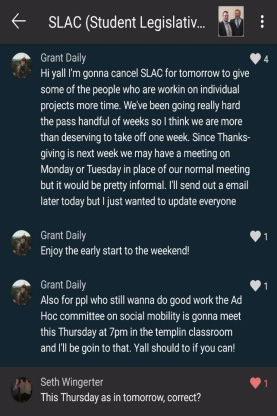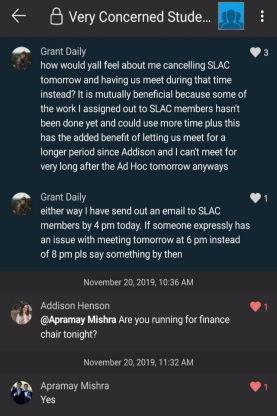 Screenshots of the GroupMe messages were provided to the Kansan by Daily.
Although Floyd said Daily cancelled the SLAC meeting on Nov. 20, 2019, not on Nov. 21, 2019, Daily said in the hearing that Nov. 20 was a Wednesday, and SLAC historically has never met on a Wednesday.
"When I was given access to those messages, I vetted through them and looked at them, and I think, from just my own interpretation, there was a blatant disregard for jobs," Floyd said.
Daily said in his rebuttal that Mohammed was "coerced" into giving Floyd his GroupMe password. However, Floyd said Mohammed called her and asked her what she'd like to see. Floyd said she told Mohammed to give her "whatever he was comfortable sharing."
"My perspective is that the student body president used their position of power to force one of their employees to give over private communications," Daily said. "That's not okay to do."
Daily said in the hearing that he believes he was fired for not doing his job to the best of his ability. He said he has received multiple letters from members of student government at several Kansas Board of Regents Schools stating Daily was doing his job and doing it well.
"Grant wasn't fired for the quality of his work. I will agree that he has great connections politically, he has done a great job," Floyd said. "He wasn't fired because he was involved in a campaign, he was fired because he chose that campaign over his job."
Floyd and Daily have until Friday, Feb. 14 at 7 p.m. to reach an agreement before the court of appeals reaches a decision on Daily's firing.
—Edited by Brianna Wessling