It's the Tuesday morning before fall break, and students in Murphy Hall's music library are sitting beneath a water-stained ceiling.
All of them stay fixated on their books and computers, barely glancing at the large plastic sheet encompassing one of the shelves tucked away in the corner. After all, this is the eighth week in a row they've dealt with this kind of thing.
While some books on the shelf are relying on a layer of plastic to protect them, others have been entirely relocated. The culprit? A leaky roof that has yet to be fixed.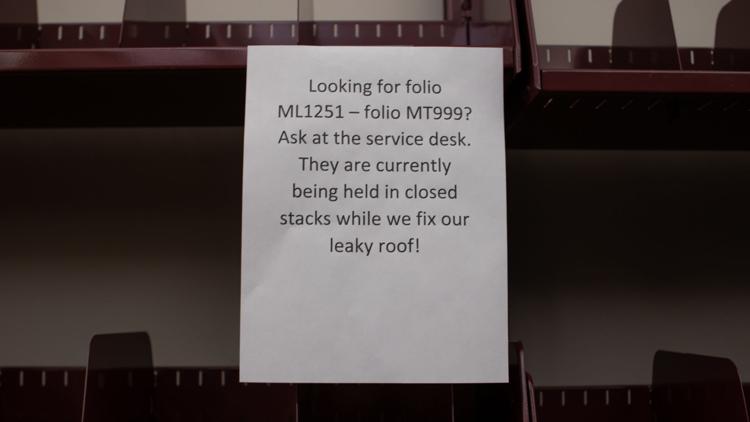 Murphy Hall isn't the only place where students have casually adapted to unaddressed repairs. Maintenance costs on buildings throughout campus have been deferred through the University budget for years, but those buildings are now in desperate need of new air conditioners, piping and plumbing systems.
As the University works to pay off debt from new buildings in the Central District and handle a $20 million reduction in its base operating budget, it's also struggling to maintain existing buildings — like Murphy Hall and Green Hall — which currently need an estimated up to $300 million in repairs.
A Kansan analysis found that the University banked heavily on an increase in international students to fund its ambitious building plans.
While faculty say the backlog of repairs has resulted in potentially unsafe and antiquated working conditions, Interim Provost Carl Lejuez said the situation is not abnormal for a university.
"At the same time, it really doesn't matter what's happening elsewhere when issues with facilities have the potential to negatively impact the learning environment for our students and the important research being conducted on our campus," Lejuez said in an email to the Kansan. "These are simply issues that deserve our attention now."
The exact total of deferred maintenance depends on perspective. Lejuez said the lowest number is an estimated $100 million, and is composed of the bare minimum just to keep buildings safe. The Requirement Forecast Report, which provides an itemized list of deferred maintenance only up to 90 percent of the building's assessed value, totals to about $200 million in repairs.
Lejuez said the $300 million he cites gets the buildings on campus to the level he feels faculty and students deserve — but it doesn't include cosmetic work, like painting or carpeting.
"I've often said in the town halls that we can quibble over the right number, but at the moment even the lowest numbers (e.g., $100M) are so astronomically high that regardless of what estimate is right, we need to start focusing our energy and resources on deferred maintenance because it will take considerable resources and time to make progress even if the lowest estimates are correct," Lejuez said.
The University reports its deferred maintenance to the Kansas Board of Regents each year, according to University spokesperson Erinn Barcomb-Peterson. Typically, the state will give KU an average of $9.4 million annually, but this year, KBOR allocated $11.2 million to help with deferred maintenance issues on campus, Barcomb-Peterson said.
The University dropped eight spots in the 2019 rankings despite new additions.
Even after the state funding boost, the University allocated an estimated $10.6 million to fixing maintenance this year, according to a document obtained by the Kansan. From boiler replacements in the Visitor Center to electrical improvements in Fraser Hall, the University is working on a number of projects around campus.
But the $11.2 million isn't enough to cover the estimated $39 million to $52 million of building deterioration that accumulates each year across the Lawrence and Edwards campus  — especially when inflation only increases those costs.
At this point, the University is starting to run into emergency after emergency, according to Kirk McClure, the faculty senate president.
"That's not planned reinvestment — that's band aids upon emergencies," McClure said. "It's too bad, and not a good way to run a major facility like the University."
In Snow Hall, for example, the air-conditioning is constantly in disrepair, according to McClure. In his opinion, the University should have dealt with existing problems before investing in new buildings like the Integrated Science Building and Capitol Federal Hall.
After a Kansan analysis found the University gambled on an increase in international student enrollment to fund its Central District project, former provost Jeffrey Vitter defended the project.
"It's a rare circumstance where you want to build a new building when you have inadequately maintained an old building," McClure said. "That rare circumstance is when you want to destroy an old building, if it's not fully operational. That's not what we're doing here."
As University administration works to get the budget back on track, Lejuez said he hopes to allocate a portion of the base budget toward reducing the estimated $300 million in needed repairs in the new budget model to be developed by the end of this academic year.
Barcomb-Peterson said the University is working on producing a funding plan for infrastructure — which KBOR does not take into account — and seeking out cost-effective repairs.
"We are conducting repairs and maintenance in ways that reduce operational costs and energy usage for greater savings in the long run," Barcomb-Peterson said.
While Lejuez said it would be ideal to fix these issues now, his focus is currently on carrying the University through a cumbersome $20 million budget cut.
"Thus, it will take us some time to be investing to the extent I would like, but we have to start somewhere and remain consistently focused on increasing our commitment until we bring our facilities to the level that our people deserve," he said.