Tom Babb turned on the television for the first time since being paralyzed.
Staring out the window from his hospital bed he could see Honolulu's grass-covered mountains reaching into the clouds. But the landscape was out of reach, particularly now.
The movie "Forrest Gump" fills the TV screen. After losing his legs in the Vietnam War, Lt. Dan Taylor sits motionless in his hospital bed. He realizes that without legs, his future, his life isn't the one he had planned.
Babb began to sob. He understood his life, too, had changed forever. Being paralyzed from the chest down as a 19-year-old carries a daunting realization. Babb reflects about his life before the accident. Then he contemplates his future. 
After a couple of hours, Babb comes to a conclusion. He finds a new determination, one that says he is stronger than his disability. He wasn't going to give up. He wasn't going to feel sorry for himself. He was going to beat this.
Life before the accident
Babb arrived at the University as a freshman in fall 2015 ready to pursue either a business or marketing degree. He just finished rushing and moved into the Beta Theta Pi house, excited to begin a new chapter in his life with his new brothers.
Babb's father Steve Babb said he is a good student, had a full pledge class worth of friends and was ready to spend the next year meeting some of his older brothers. He was involved in a community service group called Natural Ties, which is a Greek life program that pairs students with people who have disabilities.
His pledge father, John Killen Jr., was excited to introduce Tom both to older brothers and traditions of the Beta house. Killen and his pledge brother, Mitch Simmons, described Tom as a "brand in himself," saying he always held court during dinner and group activities.  
"He just has a very charismatic personality and always had something interesting to talk about," Simmons said. "He has a lot of life experiences like living in Spain for a year or family vacations that he liked to talk about."
Babb's parents said he has never been afraid to try new things and take risks. As a high school junior, Tom left his family's Evergreen, Colo., home to study abroad in a rural Spanish town for 10 months. He wasn't getting along with his parents and felt complacent in his life.
"He was in a small rural town two and half hours south of Madrid. That is what made it even more challenging and an accomplishment," Steve said. "There was not a big urban sprawl to help entertain him or places where he could turn to find English. It was a small town of a few thousand people. No one spoke English."
Tom said that exemplifies one of his best traits. 
"One of my best characteristics is that I'm really adaptable," he said. "I can adapt to any new situation."
The accident
It was 80 degrees on December 27, 2015. There wasn't a cloud in the sky. The Babbs had finished a late breakfast at their resort and were excited for a day of cliff diving. They left the restaurant and walked a half mile to Black Rock, a popular spot for cliff diving in Maui.
The cliff was 15-feet high and sat atop 20-foot deep water, making it perfect for novice cliff divers.  After taking a few leaps from the cliff, the Babbs made their way to Kaanapali Beach outside their resort. Tom was in waist-deep water and remained in the ocean as the rest of the Babb family headed to a beachside restaurant for fish tacos.
As Tom began heading toward shore a few minutes later, a two-foot wave crested toward him. Instead of getting pushed toward the beach, he spun around and dove head first into the wave.
The waters grabbed Tom and ripped him downward, knocking his forehead against a rock, breaking his neck on impact. He laid motionless in the water for more than a minute, unable to move his extremities.
He floated to the top of the water, face down. He heard kids laughing and playing. He thought this was going to be the last thing he heard. He thought the ocean floor was going to be the last thing he saw.
Tom thought he was going to drown.
Then, he heard his name being called. "Tommy! Tommy!," his father screamed. Steve and a few tourists the Babbs did not know ran into the water and carried Tom out, carefully laying him in the sand. Soaking wet, Tom was covered in sand, but he could not feel the grains clinging to his body. He was gasping for air, hyperventilating. He didn't know how to breathe without the function of his abs.
Moments later, Tom was surrounded by vacationing doctors. The doctors centered Tom's neck, helped him maintain his breathing and comforted him until the paramedics arrived. Tom was in shock but knew he was paralyzed.
He was taken to Honolulu's Queen's Hospital, which specializes in spinal cord procedures. After surgery, Tom was in a drug-induced state for a few days. When he came out of it, reality sunk in.
"This really sucks," Tom remembers thinking. "I am going to be paralyzed for the rest of my life; what am I going to do?"
Unable to breathe on his own, the 19-year old was hooked to a ventilator for 23 days. He had a feeding tube in his nose. He could not speak so he developed an eye-blinking system and a letter board to communicate. When Tom began using the letter board, his initial message will stick with his parents forever.
"I'm so fucked," he spelled.
As Tom sat in the hospital for the first week, he cried. He cried, and his family cried. Steve described it as a period of mourning. The Babbs were mourning the life that Tom had planned, his dreams, his aspirations.
Then, Tom turned the TV and saw the the scene from Forrest Gump. Initially, he was upset, thinking Lt. Dan's live was now his life. After he gathered himself, his mindset changed. He stopped feeling sorry for himself. He began thinking about how he could better himself and how he could change the stigma that comes with being in a wheelchair.
"I want to succeed and get better," Tom said. "I still want to be the best I can be."
TomStrong 5K
On April 24, Tom will return to campus for the first time since his accident. He will be surrounded by more than 400 supporters. His family, fraternity brothers, other friends, and complete strangers will be there.
That day Beta Theta Pi will sponsor a 5K run, walk and roll in Tom's honor. Beta's philanthropy chair Killen organized the event to help Tom and raise awareness for students with disabilities on campus.  Funds from the event will go to the Tom Babb Student Accessibility Scholarship.
Earlier in the semester, a group of 50 Betas jumped on a bus to visit Tom in Colorado. Killen said Tom told him it was the best day of his life.
"If 50 people going to visit him was the best day of his life," Killen said, "I can only imagine what over 300 people showing up for him will mean to Tom."
When Killen first began his tenure as philanthropy chair in April 2015, he wanted to find a passion project to support.
"Once I heard of Tom's accident I said to myself, 'This is it,'" Killen said. "Tom is going to be our inspiration; he is how we are going to better KU."
Tom is Killen's pledge son, or little brother, in Beta. With both Tom's father and grandfather being Beta Theta Pi fraternity members, Killen knew the fraternity needed to get involved.
The TomStrong 5K website has Tom's story and a video the family had made to further explain what happened. The website allows for donations, registration for the race and purchase TomStrong merchandise with the proceeds benefiting the scholarship.
Killen and the Beta chapter developed the Tom Babb Student Accessibility Scholarship to continue helping students with disabilities on campus. The chapter set guidelines for the scholarship, and $1,300 will be granted to an incoming student every year that best fits the description set forth. Killen said the Babb family wants to help Jayhawks with disabilities any way they can.
"I am putting my name with the 5K and the scholarship to make sure that it continues," Killen said. "I hope to turn TomStrong into a non-profit organization soon."
Beta's house is neighbored by the Kappa Alpha Theta sorority, and when sophomore Olivia Feathers from Overland Park caught wind of the 5K, she wanted to help any way she could. Feathers is the philanthropy chair for Theta. She told Killen she has 200 spare volunteers for them any time they need it.
"Tom's story got to be pretty well known through word of mouth," Feathers said. "Our girls are chalking before the race, stuffing race packets, and we have a few shifts on race day as well."
To prepare for Tom's return to school in fall, Simmons said alumni are helping install a wheelchair ramp at the house and make renovations to one of the senior's first-floor rooms.
"Tom doesn't want extra attention from any of this," Simmons said. "He just wants to be a normal kid."
Inspiration is a two-way street
Like Tom, his parents mourned the loss of the life their son had planned. Steve said knowing all the goals Tom had set for himself won't come to fruition as planned. The goals remain; the path to achievement has changed.
Tom's parents have had to learn how to care for him. While the Babbs are learning valuable lessons from doctors and specialists, the most important lessons have come from their teenage son.
"I never thought I would learn such incredible lessons from a 19-year old," Steve said. "His attitude is amazing."
Tom's father recalls one specific moment in particular when he truly felt inspired by Tom. When using the letter board Tom spelled out, "I have a new outlook on my life." This was only a week after the accident. Tom decided he was ready to push forward.
When Tom is not in therapy, he is still doing his exercises and learning how to get stronger to navigate a world of paralysis. He has begun using his arms more. He expects to eventually regain full use and strength of his hands.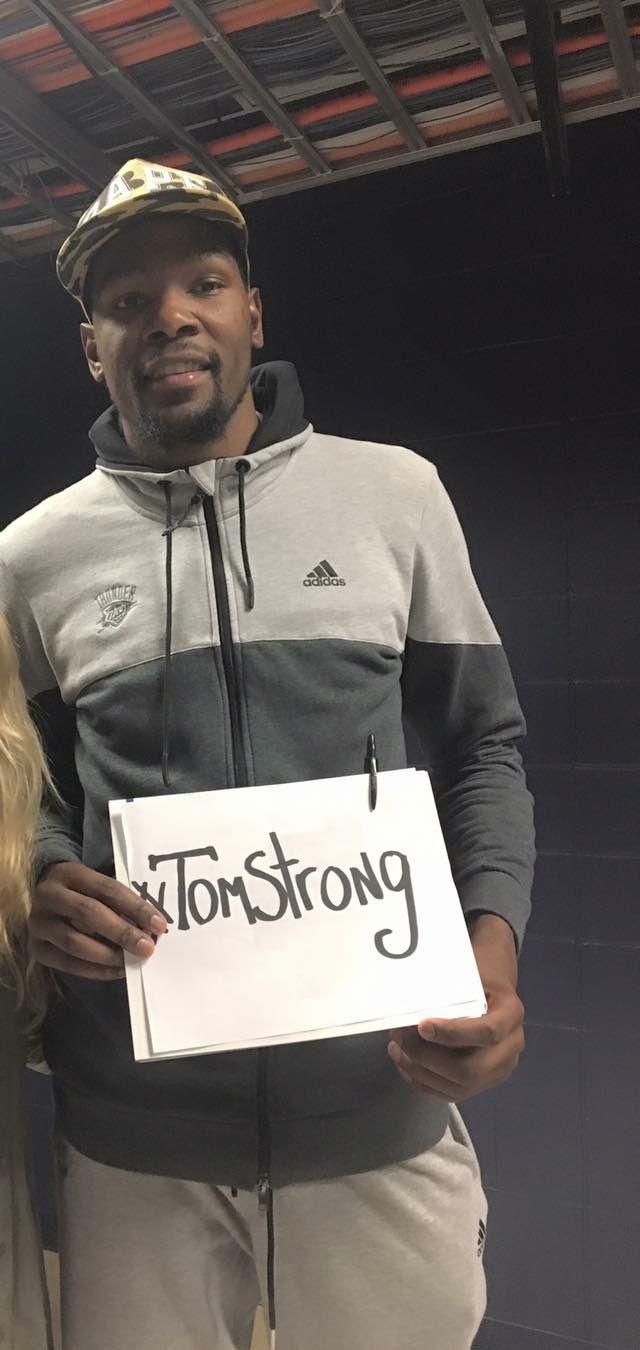 Tom is receiving support from some of his athlete-heroes as well. He was recently invited to be a special guest at an Oklahoma City Thunder game and got to meet Kevin Durant and Russell Westbrook, who both signed Tom's forehead. Durant has also been pictured holding a Tom Strong sign in support of Tom in the past.
With his family at his side each day, his friends visiting, the Tom Strong 5K, and the scholarship foundation, Tom says he's not alone. He has the support of people close to him, and they have the inspiration of a 19-year old college freshman regaining his life after an accident tried stealing it away. It wasn't a fight he was expecting, but he knows it's his fight. And he's ready.
"I'm really excited to get out of this bed and start kicking ass," Tom said. "I am not going to let this accident define me; I am going to define it."