Monday marks not only the beginning of a new semester, but also the start of the University's last year as a gun-free campus.
Starting July 1, 2017, anyone 21 years or older will be able to conceal and carry a handgun on campus, as a result of an expiring exemption on a 2013 law passed by the Kansas state legislature.
Concealed carry will be allowed within any campus building unless the building is equipped with adequate security measures, including metal detectors and security guards.
The Kansas Board of Regents has required universities to form individual implementation committees to decide how the law will be implemented and enforced on their respective campuses.
The committees must decide which buildings would be restricted, how the changes would be communicated to students and more.
On July 28, the committee for the University submitted its recommendations to Provost Neeli Bendapudi, according to Student Body President Stephonn Alcorn, who served on the committee.
Bendapudi will review the proposal, which will then go to Chancellor Bernadette Gray-Little by Sept. 1. Gray-Little will also review the proposal and send it to the Kansas Board of Regents by October, Joe Monaco, director strategic communications for the University, said.
The committee represents the Lawrence, Edwards and Yoder campuses of the University (the medical center has its own committee), and in addition to specific provisions, has recommended that the implementation process began in January of 2017 to ensure the University is prepared for the July 1 expiration.
As the proposal is still a work in progress, its specific provisions are not public yet, but Alcorn shared some of the conversations that have been included in the committee's work, including funding sources, security measures, policies and communication.
"I think the primary goal that we stressed was safety across the board," he said.
As one of two students on the board, Alcorn said he tried to represent student voices as much as possible, but said he struggled with doing so, given that student opinion was so strongly against allowing concealed carry on campus.
"Last year, we administered a survey to students Regents-wide about their opinions and preferences about concealed carry on campus and overwhelmingly, the answer was that students did not want guns on campus," he said. "Now it became, while still representing what KU students and students across the state said, now how do we make sure that student safety comes first?"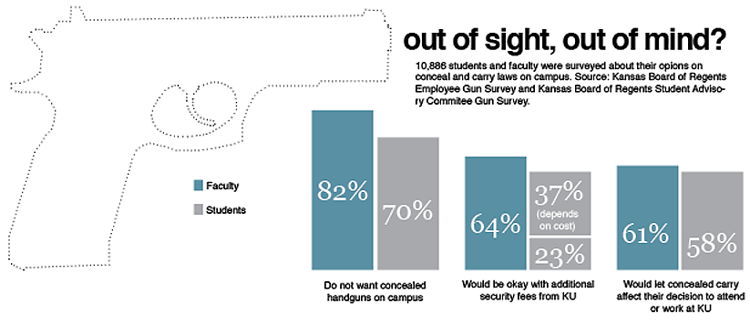 Alcorn said the proposal tries to account for student safety by creating secured zones where safety would be a large concern, such as at sporting events or buildings in which certain research is being done.
In trying to implement safety measures, however, Alcorn said funding has become another concern. The required equipment and personnel required to secure a building under the law do not come cheaply.
"It's almost as if we were being tasked to pay for safety," he said. "So I really focused on making sure that students don't have to pay for their safety. That was definitely difficult having to work through."
One of the committee's proposals was that any department or unit that wanted to secure their building would have pay for it themselves, rather than drawing that funding from the University or the state, Alcorn said.
2015-16 University Senate President Michael Williams co-chaired the division of the committee that addressed communications, campus locations and legal issues (all of which were separate from the policy decisions).
"The main thing that was really the most critical was the communication stuff. The second and third things were locked up with the University's rules and the state law," Williams said.
Williams' committee provided specific recommendations for using social media and other forms of communication to provide current and future students with information about the law change, resources and even problematic situations once the law goes into effect.
"One of the things we were trying to do is set up an awareness that we do still care about people's safety," he said. "We're trying to do that in the framework of what the state law allows."
Texas recently enacted a similar law in which state universities were required to allow concealed carry on their campuses.
The implementation of these types of laws can have a large impact on how students feel about their safety, said Kevin Helgren, the student body president at the University of Texas in Austin.
Texas' law allowing concealed carry on campus, which they call "campus carry," went into effect Aug. 1.
Helgren, who served on UT's implementation task force, spoke to the Kansan shortly after the law went into effect and he said he felt just as safe on campus after Aug. 1 as he'd felt before, even though he is opposed to campus carry itself.
"The silver lining to it was that if campus carry has to be implemented, I find an immense amount of assurance in knowing that my voice was heard and accounted for as much as possible," he said. "I don't believe that campus carry will manifest itself in concrete daily changes in our daily lives here."
UT's plan creates gun exclusion zones in buildings like the student center, Helgren said. It also allows faculty members in single-occupancy offices to give oral notice prohibiting guns.
Helgren said he wished the plan would have been a little more exclusive by prohibiting guns in large lecture halls or the communal living areas of dorms, but he knows that the plan was unlikely to satisfy all the stakeholders.
Although the two laws bear similarities, Texas and Kansas are not exactly in the same situation, because of their state concealed carry laws.
Unlike Texas, Kansas doesn't require training or a license to conceal a weapon. Texas also allows their universities to exclude buildings from campus carry without Kansas' strict security requirements.
Overall, Alcorn said he was happy with the process the University committee went through and hopes the implementation of the conceal and carry law will still allow students to feel safe on campus.
"I think there will be a lot of preparation for this to happen and I just want students to know that their safety is the primary thing," he said.