The sole University of Kansas student body presidential candidate and vice presidential candidate announced new platforms and pushed for students to vote in the upcoming election. The candidates hope to cement their authority during a town hall hosted by the Elections Commission Monday, March 25.
The Elections Commission hosted a town hall with Crimson+Blue to allow students to ask the presidential and vice presidential candidates questions about their campaign. A town hall was hosted instead of a debate, considering no other presidential nor vice presidential candidates have filed to run in the upcoming election.
During the town hall, Elections Commission Chair Kelsey Rolofson asked student body presidential candidate Tiara Floyd and vice presidential candidate Seth Wingerter questions regarding their platforms, the lack of an opposing coalition during this election and how both candidates plan to represent the entire student body.
Rolofson began the town hall by asking the candidates if they believe that running unopposed is fair to the student body. Recently, student senators have inquired whether Floyd or Wingerter would have any authority as student body president or student body vice president, due to the lack of competition in the upcoming election.
"There has to be competition, fair debate and stuff like that in a democracy," Floyd said. "But being a woman of color, I feel like I'm able to support a lot of marginalized students, so I think me running is probably a bigger statement than me running unopposed."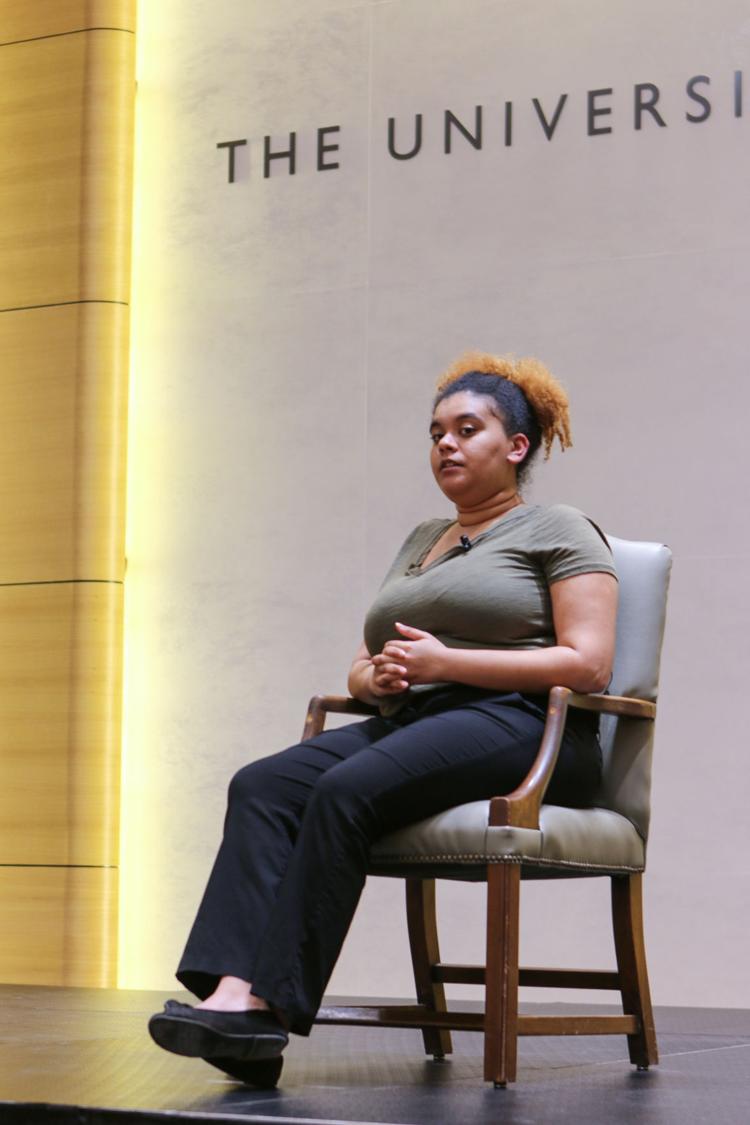 Crimson+Blue was the only coalition to file by the Feb. 22 deadline. No other presidential and vice presidential candidates filed to run independently by the March 18 deadline. But the current candidates, who are assumed to earn the position, said the lack of competition won't impact their work on behalf of the students.
"Despite the fact that we are running uncontested, I feel we are ready to get going and to support students," Wingerter said.
The focus for Crimson+Blue in the upcoming election is to ensure a high voter turnout, Floyd said. Floyd and Wingerter pushed for students to still vote in the election, even though both are unopposed for the official seat because the candidates want to gain students' trust and build off of student support.
"Ultimately this is your university," Wingerter said. "We just want to build off of the cohesive unit that Student Senate has come to be and work to represent every student on this campus."
Floyd and Wingerter said their coalition will ensure the entire student body will have a voice. Since they are running unopposed, they said they felt it was extremely important to run on platforms which reach a wide range of students.
Floyd said she's most excited for Crimson+Blue's platform to find a new home on campus for the Center of Sexuality and Gender Diversity.
"Giving them a concrete home at KU will send a message that they're here, they're welcome, and they're there to help students," Floyd said.
The Center of Sexuality and Gender Diversity is currently housed in Sabatini Multicultural Resource Center but has outgrown its space, Crimson+Blue campaign manager Zach Thomason said.
Wingerter announced a portion of Crimson+Blue's platforms during the town hall, including:
Online therapy chat service for students who can't find time to get to Watkins Health Center or Counseling and Psychological Services or who don't feel comfortable talking face-to-face about mental health issues
Free transportation for students to basketball Final Four games or championship football games. 
Free transportation services from Watkins and CAPS to Bert Nash Community Mental Health Center in Lawrence
While the coalition holds the same name as the 2018 winning coalition, Floyd and Wingerter said during the forum that they are separate from the current Senate administration.
"I think Tiara and I are both kind of outsiders in Senate," Wingerter said. "I'm the finance chair, and I've never really been involved with executive staff or elections, and this is really Tiara's first year in Senate, but I feel like we can still effectively represent and serve the student body."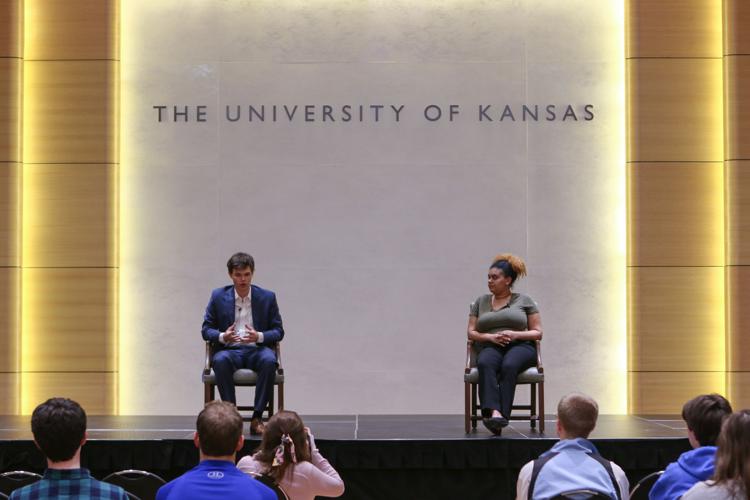 Rolofson pulled questions from the audience after she asked her own. Audience members asked questions relating to platforms, the recent cut to the athletics fee from the student fee allocation process and how the two plan to enact change on campus.
"I welcome anyone in the student body to come into Senate and come into the chambers because the only way change will happen is if you use your voice and stand behind that," Floyd said.
Wingerter, Thomason and Crimson+Blue communications director Liza Overton said they felt confident following the town hall. The Kansan reached out to Floyd for an interview, but she left shortly after the town hall ended.
"I think [Floyd and Wingerter's] leadership and experience really showed on stage tonight," Thomason said in an interview following the forum. "Everything they had to say was well-reasoned, well-thought out, and I think they are very fit to lead this campus."
With elections quickly approaching on April 10 and 11, Crimson+Blue is working to increase voter turnout as much as they can in order to get students to "endorse Seth and Tiara as candidates and support them being elected into these roles," Thomason said.
"Nothing in the world can take the place of persistence," Wingerter said in an interview following the forum. "We're going to need every person to work hard, and I guarantee that the three of us standing here are going to work our tails off."