This story has been updated to reflect the most recent reports of vaping related deaths.
The use of electronic cigarettes, more commonly known as vaping, has possibly led to increased respiratory-related hospitalizations recently, with one person dying and nearly 300 people hospitalized in the United States, according to the Center for Disease Control.
The Kansas Department of Health and Environment alone has received three reports of vaping-related hospitalizations, according to an article from the Wichita Eagle. The article did not specify where the hospitalizations occurred.
The most distressing case came on Aug. 23, when the Illinois Department of Health announced that an individual died after being hospitalized with a severe respiratory illness.
In the same statement, the department said the number of vaping-related cases reported had doubled within a week to 22, and 12 more were being investigated.
Mitchell Tener, a doctor specializing in critical care medicine, pulmonary medicine and sleep medicine, confirmed that one case was at Lawrence Memorial Hospital and that he consulted on the case.
"I know of one case for sure that we had last month that we were attributing to vaping," Tener said. "Or, at least, that was fairly prevalent in the history before the patient presented with respiratory issues."
Tener also said the team of doctors used a "diagnosis of exclusion" method, where they used imaging and lab results to confirm that the patient had no infections, autoimmune disorders or other conditions that could be present in the same way before attributing the illness to vaping.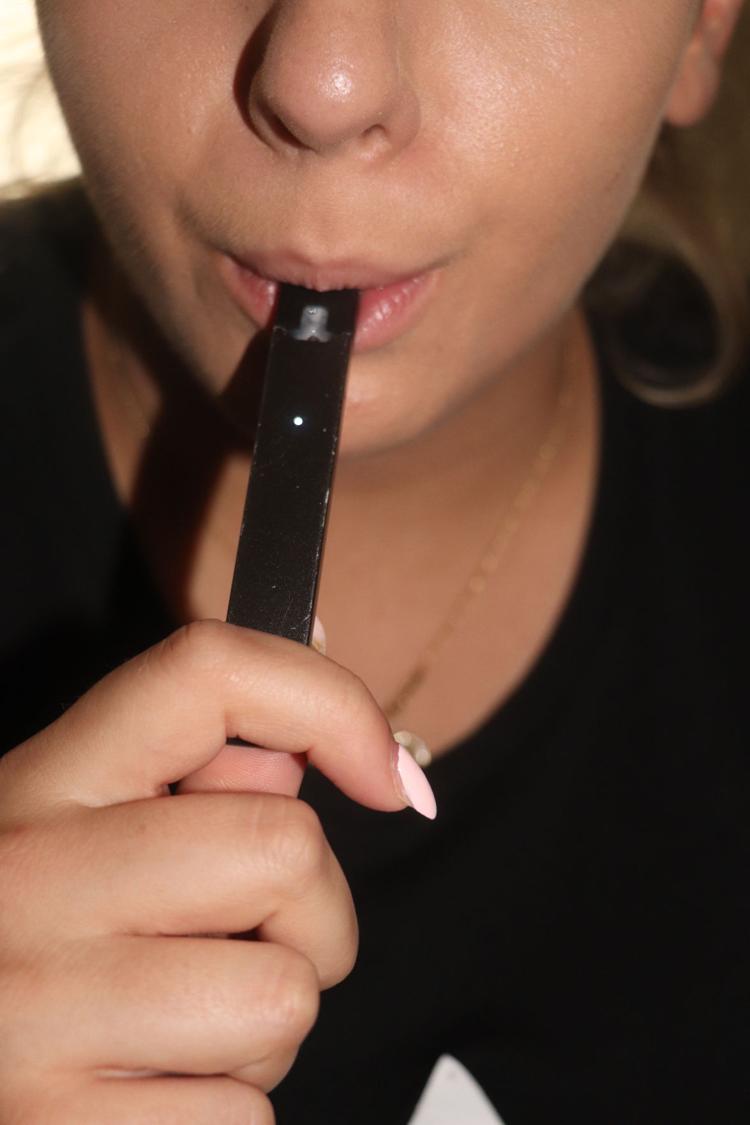 Treatment, he said, is "largely supportive" at the moment. Doctors are focusing on treating the symptoms rather than the cause, since government agencies have been unable to attribute the illnesses to something specific in e-cigarette products.
Two more vaping-related deaths have been reported since the Illinois case. ABC News reported Thursday that a victim in Oregon died in July following the use of a vaping device containing marijuana. Then on Friday, the Washington Post reported a third confirmed death and that a fourth death is currently under investigation. These deaths have been tied to lung issues caused by vaping, and The Post reported there are now around 450 possible cases of vaping-related lung illnesses across the country.
In Tener's case, the doctors provided the patient with steroids once infection was ruled out in an attempt to decrease inflammation and allow the body time to heal on its own.
"And in some cases, depending on the specific type of pneumonia that's being caused by this, steroids … can cause rapid improvement," Tener said. "Other times … they might not have as robust of an effect, and we're just trying to quell the inflammatory response to the immune system and allow the bodies time to heal themselves."
At the University of Kansas, a ban on tobacco that included vaping began in July of 2018. However, many students still vape around campus and during off-campus social events.
One of these students is Coleman Lyon, a junior studying marketing from Overland Park, Kansas. Lyon used other vaping products before trying a Juul, but said the Juul was what got him addicted to nicotine. He said he feels like he has to vape constantly and when he is away from his Juul, he feels anxious, irritable and angry.
"Once you start, you can't stop," Lyon said. "I don't want to [be], but I'm physically, psychologically dependent on it."
One Juul pod has the nicotine equivalent of one pack of cigarettes. He goes through one pod every day and a half.
To help students such as Lyon, staff members at the University are taking action. Aftan Jameson, a health educator at Watkins Health Services, is currently involved in a tobacco cessation program that helps students who want to quit smoking. Now, she wants to re-frame that into a vaping-cessation program. 
However, Jameson is facing challenges because she believes students will not use a vaping-cessation program. They still believe vapes are harmless, she said.
"Why would I offer a cessation program when we're in that phase right now where students don't want it? They need to be educated first," Jameson said. "I hate to say it, but it needs to get worse, or [students need to] experience something themselves for them to realize."
Right now, the program is set to begin next fall.
"We're setting up a campaign for social media where we tweet facts every week from Watkins Health Center, so then when students are reading that, they can't say they didn't know anymore," Jameson said. "This absolutely is an epidemic."